Channeled via Phillel on May 21, 2013

SUMMALT: Summalt, Eastern etheric space command, on emergency-relay channel via Hannibal, preprogramed code matrix 1236. Security pickup in effect as our hierarchal agents travel into mass thought field of China, once termed under code phrase "Chinese cultural exposition."

Ming-Xi, seventh-plane astral guide, as per custom, stands at gateway.* Operating as our customs agent, he greets travelers with official orders in hand. Ming-Xi provides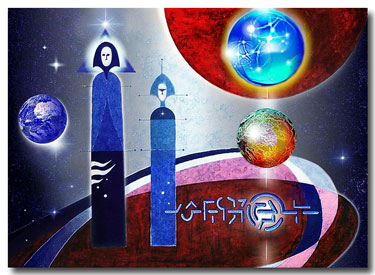 hand-picked seventh-plane astral security detail, an impenetrable phalanx of troopers who surround Robert and MariLyn with shield-like protection. They have effectively cordoned off access to combined force field, allowing only those of us of the etheric realm, plus specially assigned higher astral contingents, to pass into purified zone.

We have swept clean any undue influence from lower astral elements and thought impingements, and shall swiftly deal with any untoward attempts to downgrade these enhanced security measures now in place for our projections of light into China.

Zorrah, in high intunement with me and strictly adhering to Neptunian command under El Morya, provides what he earlier termed "route management." His assignment: clear physical route for safe navigation by air, sea and land. Think of him and his crew as a SEAL team, providing clearance for landing zones of First Ray action.**

From the heights you have entered this mass thought field of the Valley of Sorrows. Yet the Lord, manifesting as the Law, is with you as you inject the light of love and spiritual upliftment, dispersing the entanglements of thought patterns generated from astral and physical planes. Be steady. Express resolute determination, but also the sheer joy of doing God's holy work in this land begging for opportunity. For love transforms all through the grace of the Infinite.

Ming-Xi stands ready to provide wise counsel, for he knows this collective well and has a secure handle on our etheric directives to advance the Second Coming program in this area of the East. Therefore, lend an ear in his direction as well as in ours.

Summalt, ending transmission, on relay through code matrix 1236 under Hannibal's personal command. He monitors all energy transfers through Motah. Over and out.

Note: On and off today, I felt a hieronic beam. Since Dr. Hannibal's message of May 15th, announcing a series of energy transfers from his hieronic sister ship #1236, anchored above I Am Nation headquarters, I have experienced strong, intermittent downloads of light.

I entered meditation at 3 p.m. As the space beam increased in intensity, I was contacted by Summalt on hieronic telepathic relay through Hannibal's ship #1236. I sat at the computer to take his message at 4 p.m.

At this time Robert and MariLyn were scheduled to be on a flight from Irkutsk, Russia, to Beijing, China, the next leg of the East Asia Mission. If on time, their plane left at 2 a.m. local time and arrived in China at 3:45 a.m. Beijing is twelve hours ahead of Eastern Daylight Time in Tennessee.

____________________
* For information on Dr. Robert's contacts with Ming-Xi, see I Am Nation News #87, page 5. "Gateway" refers to the fact that the seventh astral plane is the gateway into the etheric or Christ realms.
** SEAL team: a special-operations group of the United States Navy. SEAL is an acronym for "sea, air and land." On the East Asia Mission, Robert and MariLyn will be traveling via plane, car and boat.

Photo: Guardians 2 © by Hartmut Jager.