April 26, 2023. HIERARCHAL BOARD MEDITATION. For several days, in my spiritual projections, I have been guided to focus on the four-step Christ matrix: peace, love, cooperation and coordination. Entering meditation, I felt inspired to return to this theme. I linked especially with Sananda, calling upon his hierarchal guidance. The inpouring of energy increased, expanding my aura. Then, in light-body consciousness, I was projected high above the Earth, to view the planetary thought atmosphere.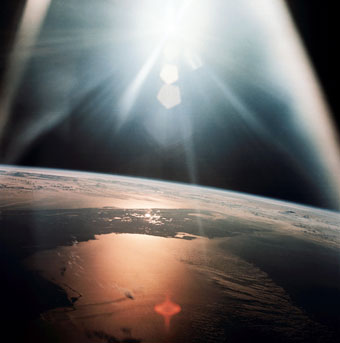 As seen clairvoyantly from that etheric vantage point, the thought forms around the Earth seemed to roil with discord; to swirl in a confused, mostly-darkened mass; and here and there to erupt in negative red flashes, as one might imagine the volcanic eruptions and lava flows of early Earth development.
Immediately I began to project peace. I surrounded the entire planet with white light and projected Seventh Ray peace to mankind and all life forms. Suffusing the Earth with a sphere of white light, I encased it also in a protective layer of solid gold, to hold the white light intact so that it would envelop and steadily transform all thought patterns.
As I held this visualization, I also decreed to all nations and peoples: "Cease the hostilities." This was one of the key phrases for the first step of peace that Nada-Yolanda had intuned for the Christ matrix in 1993. It echoes Jesus' command to the storm: "Peace, be still!" (Mark 4:39)
Soon, an angelic presence joined my force field, greatly augmenting the power of peace. Although the angel remained unidentified, it may have been Archangel Uriel or one of her emissaries, as the energy broadcast was solely one of Seventh Ray peace.
Also, I felt linked with Soliel-Robert, a Seventh Ray worker, who was meditating at Hilarion House, on spiritual retreat. United in light-body purpose, from the Sun Temple focus at I Am Nation headquarters, we sent forth the decree to humanity: Peace!
After about another ten minutes, I was released from the projection, the angel receded, and I came out of meditation.
Supplementary Reading: Four-Step Christ Matrix
Photo: Earth from Apollo 7, October 1968, courtesy of NASA.