July 4, 2012. HIERARCHAL BOARD MEDITATION. To my surprise I was overshadowed by my body deva, a masculine entity expressing on the Sixth Ray of Transmutation. I sat in quiet receptivity while the deva worked with the devic-elemental energies of my physical form and auric field, adjusting my vibrational frequencies for works to come. There was no mental-telepathic exchange. When the deva finished his task, he departed.
Thereupon my high Self gently descended upon my third dimensional form and incorporated all elements of my soul and personality expression. As I have seen on a few other occasions, my I Am Self was arrayed in a hooded
mantle of softly vibrating pastel violet light, exuding a quintessential balance of Sixth Ray purification.
I realized then that the deva had prepared my body frequencies for this new step in light-body anchoring. I thought of my Motah Initiation meditation of June 6th, wherein a purified black-onyx crystal pyramid had been placed over my upper chakras. At that time, the light had yet to be turned on, so to speak, to engage new spiritual action. My high Self overshadowing in tonight's meditation thus signals a new beginning.
I basked in my I Am presence, anchoring the etheric energy field in the physical dimension. Linking with Robert and MariLyn, I became more acutely aware of the specialized auric-chemical properties of the Sixth Ray that I bring to our triangulated team at I Am Nation headquarters. Rising further in consciousness, my awareness expanded to the 144,000 elect. I bring this same particular formula, or singular mathematical equation, to the unified grouping of light workers on Earth. My specialization in transmutation functions is enhanced by my direct discipleship under St. Germain, Chohan of the Sixth Ray.
Yet, the same general principle truly applies to each and every one of the 144,000 elect. We all bring our unique I Am vibrations into the collective mix, to be blended as one. We each perform our unique part as we serve God through our unification with, and our support of, one another. None is higher or lower in this equation, for each one is vital to the whole. Only the Divine Alchemist, our Father-Mother God, knows how to combine and to utilize each one's Christ specialities for the highest good of all.
COMMENTARY: The body deva is an etheric entity from the devic kingdom (nature forces), under the direction of the angelic kingdom. Each individual has assigned to him or her a body deva who helps to sustain and manage the third dimensional, physical form as it undergoes metamorphosis to anchor the fourth dimensional light body.
My own Sixth Ray body deva has appeared several times in recent years, to assist my coordination with the light body. Notably, contacts included those in Hierarchal Board meditations on May 9th (see "Port of Entry") and on April 25th of this year, as well as on April 13, 2011. Over the decades I've had a number of significant experiences with my body deva. Following are a few highlights, traveling back in time.
In a landmark meditation concerning my Motah functions on June 11, 1997, covered in the Motah Retrospective entry, I also reported the following contact: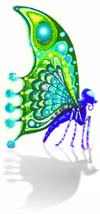 "Suddenly, there was a flash of white light and my body deva, appearing as a shimmering electrically charged flame, was fused instantly into the very elemental and atomic structure of my physical body. We became irrevocably one. In full cooperation with the Motah energy requirements signaled in this meditation, my body deva accepted, transmuted and incorporated these multiple solar energies into my body form. With my physical organs and cells thus fused with the light-body frequencies, all my systems on all levels were aligned and ready."
Earlier that spring, on April 26, 1997, during a massage and an auric balancing by one of our staff healers, Doug, I had an experience of coordination with my body deva that resulted in a high Self overshadowing that resonates remarkably with my latest contact:
"During the massage, I was aware of a decrystallizing action occurring on all levels of my being. The massage served not only to 'decrystallize' the muscular tension and soreness I felt everywhere, but also to activate a sloughing-off of crystallized emotions and thoughts. I found myself reviewing — and releasing — thoughts and feelings associated with various incidents throughout my life. These surfaced without my conscious control or influence; they just bubbled up from the subconscious willy-nilly. I let Spirit guide the inflow and outflow of these patterns.
"When Doug had finished the massage, he stood silently at my feet, placing his palms against both my soles. As he did this, I began to receive infusions of light through my crown chakra; first of one color, then of another.
"Then Doug had me sit in a chair while he performed an auric balancing. This action instigated a recrystallization of higher Self energies through my four lower bodies. My clairvoyant sight was opened as soon as he began, and I saw my body deva standing next to me, assisting cooperatively in the reconstitution of my form. The deva appeared as a flamelike being, radiating the most beautiful violet color I could ever imagine. He was of pure, etheric vibration, and emanated a consciousness of love, oneness, cooperation, and happiness. Perhaps because I was seated, the body deva appeared to be only about five feet tall; that is, his head seemed only a few inches above mine.
"At any rate, the deva was fully coordinated with my I Am Self and that of Doug. Moving in concert, but not necessarily in tandem, with Doug's every gesture and movement, the deva appeared as fluid light. He assisted Doug in the procedure, responding to every instruction and desire of the Christ mind. I gave thanks for his assistance, and surrendered my form to the reconstitution. Although they did not appear in my inner vision, I sensed the presence of a team of etheric workers coordinating the entire healing treatment.
"Finally, as the balancing progressed, my auric field transformed into a large emerald crystal, of the same brilliant green color I had experienced last night in meditation. In this 'stasis,' or equilibrium of being, my recrystallization was complete. I was reconstituted.
"At that moment of poise and balance, the 'mantle of Motah' descended upon me, gently enfolding my form in a soft fabric of light that touched every molecule of my mind, body and soul. The 'mantle' felt like an energy cloak; that is why I use that word. I knew it was the vibrational matrix, the consolidation of thought and purpose, the very essence of all that represents the complete functions of the Motah Council throughout this solar system. The matrix represents a group function; almost a group mind, as it were. Indeed, in this oneness of purpose and expression, I could also sense the individual consciousnesses of all who have taken on this mantle, this responsibility, this soul mission for the Hierarchal Board. We are one and fully coordinated. I was thereby imbued with my high Self role and mission, aligned with the Federation and the Hierarchal Board for Sananda's Second Coming. Amen!"
Further back in time, another contact with my body deva occurred in a group meditation on November 24, 1995: "In Christ consciousness I linked with the deva of my body, to speak the word and to cooperate fully with the devic forces for the full healing of my physical form (I'm still experiencing the residual effects of a virus, contracted a couple of weeks ago). I decreed for full coordination between myself and the deva to realign my physical elements with the Christ elements of my etheric consciousness and light body. In this communion, I experienced the gentle presence of my body deva as a sheathing of protective, sustaining energy that encased and interpenetrated my physical body.
"Once full communion had been achieved, I was reminded that the space visitors use hieronics to channel energies to and work with the devic-elemental kingdoms, in order to break down resistance, to realign force fields, to exchange energies, and generally to prepare them for the planetary changeover into the fourth dimension. Of course, since the same physical elemental forces exist within our third dimensional forms, this projection to and cooperation with the devas extends equally to our own transmutation of physical form into the light body. I was reminded, too, of something Yolanda had intuned regarding my mission: 'Your function . . . will be to part the veil between the dimensions so the Federation can coordinate and cooperate with the anchoring of light bodies on Earth.'
"While I was reviewing these thoughts, Dr. Hannibal contacted me with a hieronics beam. Instructing me by using me as a living laboratory, he coordinated the electromagnetic beam to amplify my physical-auric realignment with the healing forces of my body deva. The hieronic beam and the body deva, in total synchronization of etheric vibratory frequency, stimulated healing throughout my system. This experiment, with its usual effect of accelerating my heartbeat and respiration, lasted about ten minutes, then was terminated."
Still earlier, during an experiment of hieronic energy transfer in a group meditation on May 13, 1994, the body deva manifested as follows: "As the experiment continued, my own light-body anchoring became more pronounced. Suddenly, the deva of my body contacted me. As hand in glove, he actually seemed to slip into and through my body's molecular-atomic-elemental structure, as if he were sitting through my body right in the chair with me, fully encompassing my physical form. Clairvoyantly, I saw him as a bright golden light form; appearing rather flamelike, as the energy essence of his head came to a point. His vibration was distinct from that of my own light body.
"We had instant and full communion. In my light-body consciousness, I realized that our cooperation with one another for bodily transmutation and light-body anchoring, under angelic control and influence, was solid and complete.
"So began an even more powerful, secure, full anchoring of my light body through all frequencies of my being. I surmised that the communion with the deva and the step-up in light-body anchoring were further preparation of my force field for receiving Motah messages and hieronic vibrations."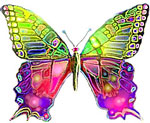 Let us all give thanks to the many spiritual forces, including the devas, who are helping us to sustain physical and auric balance as we anchor our light bodies on Earth!

Photos: (1) Phillel Amid Star Cluster (collage by author; background, by unknown artist, has been recolorized). (2) Green Butterfly © by Hartmut Jager. (3) Colorful Butterfly © by Hartmut Jager.