June 6, 2012. HIERARCHAL BOARD MEDITATION. Overshadowed by my Motah Self, I underwent a spiritual initiation. Through my force field, my Motah functions were materialized to a higher degree than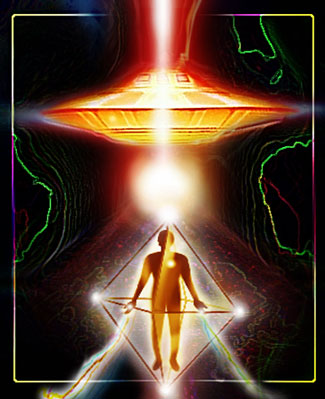 ever before. Although I sensed the presence of other etheric teachers observing me or conducting the hieronically amplified energy transfer, no one revealed himself or herself directly. My awareness was focused totally on Motah, the vibrational code that my I Am Self incorporates in service to the Saturnian Council of this solar system.
Mentally I received: "Everything you've done as Motah in this solar system culminates here and now. You are at the peak of many incarnations on Earth since Lemuria and Atlantis, including all your training in this solar system that has brought you to this moment. You will write a new chapter now." My mission as Motah, through countless lifetimes of experience, has risen to a new octave for the Second Coming program on Earth.
As the energies increased, a brilliant sphere of white mist enveloped me, extending down to my waist. Through I Am Self inspiration, my hands moved in a universal sign language of unique Motah symbols, helping me to anchor the new level though mind, body and soul.
Finally, a flawless crystal pyramid, appearing as if made of highly polished black onyx, was anchored firmly over my head and throat. The crystal was completely devoid of any light or color, yet was magnificent to behold with my clairvoyant vision. When I questioned why it was pure black, the answer came: "Because we haven't turned on the light yet. This new anchoring of the energy field has to be secured first." The blackness referred, then, to the cosmic void or womb, from which will issue new life, new works, new manifestations.
The black crystal flickered briefly with sparks of white light as hieronic masters tested adjustments through my crown chakra. An analogy later came to me: electricians have to secure the fixture before they safely can send through electrical current to turn on the light.
I am reminded, too, of what Lord Uriel channeled on May 27th: "I come for my 144,000 elect, to assist you in finalizing your spiritual resurrections during this spring cycle. I am joined upon a unique wavelength band with Dr. Hannibal/St. Germain, celestial and etheric forces combined with hieronic amplification, to bring you into a new octave of light."
Photo: Diamond Encounter © by Hartmut Jager.