April 12, 2012. DREAM #1. My flight instructor, a knowledgeable and kindly man, was giving me a biennial oral exam, part of my flight requirements. I answered each question correctly, including an explanation of aerodynamic principles that produce lift and thrust to fly an airplane. He was pleased with my answers. Next, by way of demonstration, he took his own pair of silver flight wings, such as an Air Force pilot would wear, and polished them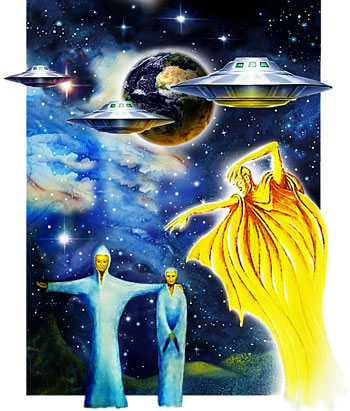 till they shone spectacularly. He turned to me, smiled, and said, "When you get home, you should polish yours also, and wear them with appropriate pride so others can see your accomplishments."
Interpretation: I am making progress in anchoring and integrating the new light-body step, the "flight" or resurrection initiated at Easter. [Click here.] I have passed the interim examination, have earned the right to wear a polished set of silver flight wings, which are symbolic also of soul resurrection. More than likely, the flight instructor represents either Dr. Hannibal or my own high Self. I am advised to "polish my wings" and to recognize my accomplishments as I continue to anchor this phase of spiritual development.
DREAM #2. While I was in conversation with Nada-Yolanda, something she said triggered in me a memory recall of a channeling I had just received. Excited, I told her about it. She smiled knowingly.
Interpretation: More evidence of Nada's guidance in my channeling functions.
April 25, 2012. HIERARCHAL BOARD MEDITATION. We focused on preparation for the Minnesota Mission. Robert and MariLyn leave on Saturday the 28th to help anchor a dome of light over the North American continent. Also, on May 6th, they will give a workshop at a Unity church in Minneapolis.
A female angel appeared and began working on my auric field. She was the same one who had visited me in two meditations in 2011, on April 6th and May 25th. As in those appearances, she was dressed in a flowing white gown and manifested short, curly, golden brown locks. Her smile and vibration were beatific. I tried to receive her name, but once again only sensed it as a lilting, melodic sound, comprising at least two syllables and a repetition of the consonant L.

She addressed me telepathically: "Phillel, it's time to move away from your tomb." She was referring to my Easter meditation and initiation, wherein I had teleported outside my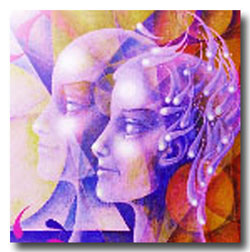 tomb of soul crucifixion and into a garden of resurrected light. Since that meditation, symbolically speaking, I had never left my position just outside the tomb's entrance, but had continued to absorb the vibrational frequencies of my new light-body manifestation. It was now time for new action, higher demonstration.
As soon as the angelic guardian made her statement, she whisked me into another realm. Eventually, we met with a council of angels. Though the guardian gave a report to the council, I was not privy to the specifics.
When my awareness returned to the physical plane, my Sixth Ray body deva suddenly overshadowed me and solidified itself through my physical form.* I knew then that the angel's work with my force field was to lock me into direct contact with my body deva. Thereby my physical structure would be set at a higher frequency vibration in order to anchor the hierarchal energies at headquarters during the upcoming Minnesota Mission.
After some minutes, Conrad, who is stationed in the etheric above our headquarters, contacted me with a space beam and began putting me through a series of hieronic tryouts and manipulations. The team commander was preparing me to handle the accelerated energy to be anchored in the coming weeks. Everything the Hierarchy would accomplish through Robert and MariLyn in Minnesota would be transferred hieronically through Conrad and locked into me here, performing a necessary grounding function.
During Conrad's hieronic manipulations, I experienced considerable chakra stimulation. Different sensations streamed through my auric field and physical body. At one point Conrad forcefully overshadowed me. As if sitting right through me, he transfigured my whole body, altering even my physical posture and facial expression. That level of direct energy exchange was possible due to my new solidification with the body deva.
____________________

* Body deva: an etheric entity from the devic kingdom (nature forces), under the direction of the angelic kingdom. Each individual has assigned to him or her a body deva who helps to sustain and manage the third dimensional, physical form as it undergoes metamorphosis to anchor the fourth dimensional light body.

Photos: (1) Space Guides © by Hartmut Jager. (2) Angels © by Hartmut Jager.