Wield Sword of Truth
January 3, 2022. DREAM. A crazed man kidnapped a young woman and was going to kill her. I quickly intervened, yelled at him to let her go. He refused, dragging the woman closely by the neck. Her life was in imminent peril. I picked up a pistol and shot the man dead, thereby saving the woman's life.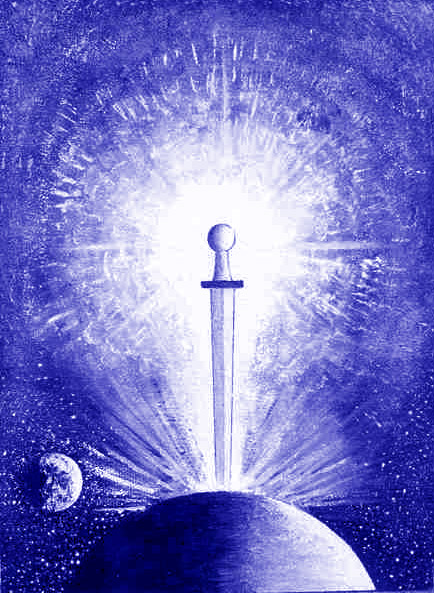 Interpretation: Negative astrals and deranged thought patterns require swift spiritual action with the sword of truth, as represented by the pistol. This is a warning to enhance spiritual protection, also to protect the innocent.
Negative Astrals
January 6, 2022. DREAM. A group of murderous thugs captured, tortured and killed several of my friends. They came after me next. I managed to escape by jumping into a swiftly flowing river, but they leapt in also and followed. Downstream, I got ashore first. I was in Mexico. Although I was out of immediate danger, I hid amongst some people in a cafe. The thugs were still looking for me, but by the time I awoke I remained undiscovered.
Interpretation: Because they are so resistant to the incoming light, negative astrals (and negative thoughts in mass consciousness) can attempt to infiltrate our force fields, especially toward the end of a high-energy cycle. (Today is Epiphany, the official close of the Christ Mass cycle.) Negative forces also try to make inroads and prey upon any vulnerabilities we may exhibit in consciousness. (Mexico, as a convenient symbol, is one location of the nefarious, brutal and murderous drug cartels.)
This dream, along with the dream of January 3rd, is a reminder for all light workers to remain vigilant, protected at all times in the Christ light; to work with these situations in I Am consciousness as they arise and confront us. "Love is the mantle of protection." Call on Lord Michael and El Morya for additional First Ray assistance in wielding the sword of truth to eliminate negativity.
The Tempest
January 15, 2022. DREAM. Overnight, I awoke to a violent thunderstorm. Great flashes of lightning, peals of thunder rent the atmosphere; winds howled, and a driving rain lashed the windowpanes. I lay still in bed and prayed for protection and for restoration of peace. Shasta, who was in bed with me, did not stir.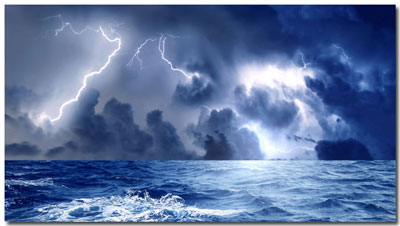 The storm raged for quite a while, but finally stopped. All was quiet. I opened my eyes and saw moonlight streaming through the blinds. I was momentarily astonished to find everything so suddenly peaceful. Then, to my shock, I realized I had been dreaming! There never had been a storm! I had not been awake during a tempest that seemed entirely physical and real, but had been asleep the whole time.
To double-check, I actually got up, opened the apartment door, and looked outside. The concrete porch was completely dry: there had been no rain.
Interpretation: The thunderstorm represents the tempest of mass negativity roiling now in the planetary thought atmosphere. It depicts the unsettled cleansing of mass consciousness. In my apartment, though I witness the storm, I am completely protected and am not in danger.
Certainly, one may interpret dreams of storms and other catastrophes as symbolizing the cleansing of one's own error thoughts and subconscious patterns, but I have the inner sense that this particular dream is more a warning about conditions in mass consciousness. Over the decades, I've had scores of catastrophe or disaster dreams, and many times these have related to group or planetary conditions, which subsequently were verified. It is part of my function on the Sixth Ray of Transmutation to be aware of such mass patterns, so as to focus light-body powers to purify and cleanse them.
This time, the shock was my wide-awake realization that the storm was not physically real. I had been asleep, yet entirely aware in my astral-soul consciousness of the turmoil around me, in the astral planes, just beyond my protective auric zone.
Supplementary Reading:
Protection Technique: Cocoon of Light
Photos: (1) First Ray on Earth by Don Hanis (colorized). (2) Storm and Blue Lightning; source unknown.