Visualization by Nada-Yolanda

Piggybacking on the previous blog post, Protection Technique: Cocoon of Light, I offer another classic meditation exercise by Nada-Yolanda, in podcast form. Recorded on October 29, 1972, Yolanda leads us in a seven-step visualization technique to breathe in the white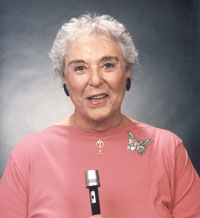 light in order to anchor on Earth the resurrected, etheric, light body of the I Am Self.
This technique and other visualizations are reprinted in our University of Life textbook Anchoring the Light Body on Earth. For more information, send for our free catalog. (See contact information here.)
LISTEN TO PODCAST: Click on the "Play" button below to listen to Nada-Yolanda's "Breathing in of White Light" visualization technique. This recording was re-released on I Am Network of Light tape #947A, for the week of 8/31/08.
Photo: Nada-Yolanda, 1997. Mark-Age Archives.