January 26, 2022. HIERARCHAL BOARD MEDITATION. In a hieronic relay through Conrad and Dr. Hannibal, I was connected with Summalt, etheric space commander in the East, who was conducting a large-scale hieronic broadcast into Ukraine, Russia and Europe in order to ease escalating tensions. Russia recently has built up military forces, over 100,000 strong, on the borders of Ukraine, threatening an invasion.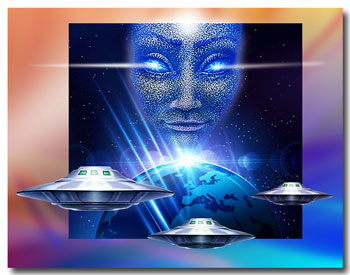 It is widely recognized that Russian president Vladimir Putin has brought on this brinkmanship as a way to force pro-NATO Ukraine back under Russian influence, as in the days of the old Soviet Empire. The United States and the European Union are attempting diplomacy, while at the same time are sending military weapons to Ukraine and are threatening stringent economic sanctions if an invasion occurs.
When I was connected hieronically with Summalt, he transfigured me with his light body. The electromagnetic energy manipulated my facial and throat muscles, as typically has occurred in outer-space channeling contacts. For a few minutes, while adjusting to Summalt's force field, I thought he might channel vocally. Instead, through the space beam, he raised my left hand in his characteristic signature and projected energy silently.
In this fashion, through our grounding at I Am Nation headquarters in Tennessee, Dr. Robert and I, plus other light workers in the West and the East, participated in the hieronic broadcast to help stabilize the turmoil in the planetary thought atmosphere. From his master ship #7423 over Ukraine, Summalt projected into mass consciousness the Christ matrix of peace, love, cooperation and coordination.
After about twenty minutes, the broadcast ended and I came out of meditation.
Photo: Keeping Watch © by Hartmut Jager.