New JerUSAlem: the United States of America will become the spiritual pattern for implementing spiritual government on Earth in the coming Golden Age.


Energy Transfers from Conrad
November 9, 2013. For the third straight day, I've experienced hieronic beams that consistently have been strong, even lasting a few hours at a time. It's been a challenge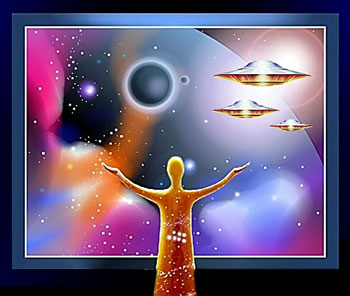 for me to operate on the third dimensional, physical plane. I've been discombobulated, at times antsy, feeling as if I wanted to crawl out of my skin or that my head might explode from the higher energy influx. Last night after I got into bed, Conrad contacted me and ramped up the energy pulses considerably; so much so, that I had a very hard time getting to sleep. I must have been grounding the energy subconsciously all night long, as I awoke in the morning feeling exhausted.
In the midmorning, the space-beam contact continued. As the energy increased, I felt as if my crown chakra had been peeled back. Around noon I lay back in my reclining chair and linked with Robert and MariLyn, who are in Washington, D.C., anchoring a pyramid of light to foster Fifth Ray unity, integration and cooperation among our government leaders. On the inner, I was connected with the Astral Council of Presidents; particularly, it seemed, with Thomas Jefferson, our third president. His statement from the Declaration of Independence, that "all men are created equal," rang in my head. Mainly, I anchored into our headquarters force field another transfer of hieronic energy.
Later, stimulated by my mental linkup with the astral council, I reviewed Nada-Yolanda's soul intunements about the various presidents: Washington, Jefferson, Lincoln, Jackson, LBJ, Kennedy, and Nixon.
Transmuting the New JerUSAlem
November 10, 2013. MEDITATION. While in meditation this afternoon between one and two o'clock, St. Germain overshadowed me. In his role as Chohan of the Sixth Ray, he projected great waves of transmutation energy into Washington, D.C., where Dr. Robert and MariLyn are on a weeklong hierarchal mission. Although he did not channel a word-for-word dictation, through direct thought transference he conveyed the following (paraphrased):
Through our hieronic projections in the past few days, we have set the foursquare foundation in the auric atmosphere of Washington, D.C. Using the principles of the Fourth Ray of Crystallization, we have solidified and have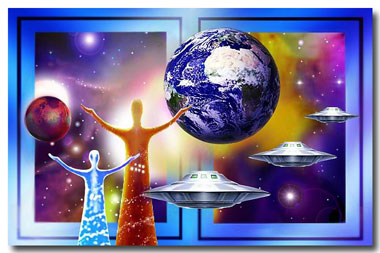 amplified the function of your nation's capital, and through your governmental leaders we have brought into better focus the necessary radiations of Fifth Ray unity and integration.
"Now I am here, acting as Chohan of the Sixth Ray, to stimulate the transmutation of the USA into a higher demonstration of its role as the New JerUSAlem. By first amassing and coordinating the energies of the Fourth and Fifth Rays, and subsequently purifying these functions through the Sixth Ray, we thereby prepare for the coming Aquarian fulfillment of Seventh Ray peace and love under Sananda.
"From the etheric through the astral and unto the physical, our projections of light have caused a tremendous shift in the thought patterns of those who, in governmental projects, are responsible to manifest the Christ matrix of peace, love, cooperation and coordination. So, I bring in my role and participation for further transmutation of discordant thought elements in these segments of mass consciousness. For the New JerUSAlem conscientiously must refine its pattern-making example for other Earth
governments. Once the nations of planet Earth are united in spiritual principle, they will be prepared to interact in unity with the solar system government and the Federation of Planets.
"From my current etheric post, I am able to exert great influence on your governmental thought leaders in order to promote this goal. I have demonstrated this facility also in my past lives on Earth, where I interacted directly with principals of Earth governments in order to effect change and transmutation. So, the development of my hierarchal capacity is well-grounded on the physical plane and is duly reflected in my soul record.
"For example, as Rama Tault, a teacher in the early periods of Egypt, I had concourse with Pharaonic and priestly leaders through my spiritual-educational school. As Matthias, the disciple of Christ Jesus who replaced Judas, I dealt with Jewish and other governing authorities as I traveled to preach the good news. As the Greek philosopher Apollonius of Tyana, I walked with confident bearing amidst rivaling political and military heads of state. My spiritual wisdom for transmutation carried considerable weight to influence events.
"As Christopher Columbus, I dealt deftly with the Spanish king and queen in order to procure the wherewithal to launch my unprecedented sea expeditions of discovery to lands that later became known as the Americas. The historical record clearly reveals the intricacies of these court maneuvers.
"As Count Rakoczy, known also as the Count of St. Germain, I had ready access to the regal courts of eighteenth-century France. Europe was in a gathering turmoil; so, by way of spiritual wisdom, I sought to introduce a stabilizing factor to the inevitable transmutation that was about to break out on the physical plane in the form of the French Revolution.
"Unknown to the present historical record is my influence with governing bodies in Atlantis many thousands of years ago. Even then, I was exerting my hierarchal role to coordinate transmutation energies in the Western Hemisphere, as I am fulfilling now through my role as Dr. Hannibal, commander of etheric space forces in this area of the globe.
"You too, Phillel, were involved with me then as a prime disciple in this work to transmute Earth governments, to help set the stage for future spiritual government based on cosmic principles. You portrayed this discipleship function not only in your training role under Nada-Yolanda in the Sun Temple, the spiritual capital of Atlantis, but also in other ways through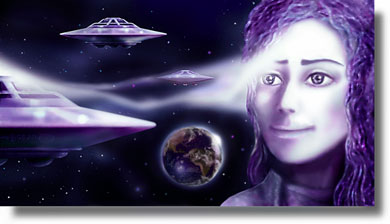 coordination with me on the higher planes and planets, pursuing hieronic space functions in between lives on the Earth plane. I remind you that the area of the Sun Temple, generally located in present-day South Florida, was one of the last friendly landing ports for interdimensional and interplanetary spacecraft in Atlantis, prior to the fall of that civilization.
"Your participation in this work, influencing governmental leaders with stabilizing transmutation, is reflected otherwise in your soul record on Earth and elsewhere in this solar system.* And you have this experience even in your life pattern now, through your in-person interactions, however brief, with influential political and governmental officials since you were a child.**
"Now, of course, you perform for me in your Sixth Ray Motah functions at I Am Nation headquarters, both for Sananda's return and for Earth's reentry into the Federation of Planets. That is why Sananda and I have placed you strategically at I Am Nation headquarters in this lifetime, working your way steadily through the ranks to the point where you have been designated as coexecutive director of the I Am Nation through Mark-Age.
"Your stewardship function is purposeful. For until Sananda returns in his light body to lead and to inaugurate officially the I Am Nation upon his Second Coming, it is necessary that we maintain at headquarters an equalized copartnership of Sixth Ray [Motah/Phillel] and Seventh Ray [Soliel/Robert] functions in order to portray a balanced coexecutive force field of I Am demonstration. Thus we safeguard and insure a purity of spiritual focus, grounded through the triangulated team, as we advance into the New Age of Aquarius. [MariLyn, the third member of the triangulated team, portrays Third Ray functions.] As Sananda/Jesus said aptly, 'Where two or three are gathered, there I Am.'
"This microcosmic demonstration at headquarters actually reflects the macrocosmic planetary demonstration. For in these Latter Days prior to the Second Coming, simultaneously we must maintain planetwide a stable focus of Sixth Ray transmutation, a purified birthing ground, as we prepare Earth for the incoming fulfillment of Seventh Ray functions, embodied by Sananda, Chohan of the Seventh Ray and Prince of Earth. As in all proper evolutionary procedures, there is a balanced overlapping of functions as we phase the planet into its full expression of Seventh Ray participation in our solar Federation.
"So, finalizing my hieronic projections today, I will sum up. Given your soul background, your current life pattern, and your spiritual functions as my disciple at I Am Nation headquarters, you can see how, with our interactive backgrounds and grounding principles, I can easily and effectively work through you for the transmutation of your United States government so that it may better portray its evolving role as the New JerUSAlem. So be it."
Supplementary Reading:

Clearing the Corridor

Spiritualize Earth Governments

Inner Plane Coordination
Plus:
"Transmutation of Earth Governments," channeled by Dr. Hannibal/St. Germain via Phillel on 2/26/09; see page 37 in the free downloadable e-book
Motah Communiqués: 2007-2012
.
____________________

* On Earth, for example, if my soul recall is accurate, I have participated directly in the court of King Charlemagne in France (circa A.D. 800) and in the personal orbit of President Thomas Jefferson (circa 1800).

** Without mentioning names, in my lifetime I have met three state governors; some state legislators and a U.S. congressman; city mayors; a state supreme court justice; a former U.S. attorney general; a future CIA director and U.S. ambassador to China; two future U.S. presidents (neither was President at the time I met him); a former presidential advisor and U.S. ambassador to the United Nations; an assistant secretary-general of the United Nations; a vice president of South Vietnam; plus an astronaut who had walked on the moon.