Motah's Rightful Heritage

October 30, 2013. HIERARCHAL BOARD MEDITATION. Robert, MariLyn and I centered our thoughts on healing, balance and protection. Sananda appeared and blessed the three of us as a triangulated team; and, through us as a test unit, he extended his blessing to the 144,000 elect of the light brigade, to strengthen us for the coming Christ Mass cycle. As he finished, he impressed me with the thought that all is in sync for hierarchal actions to come.
Eventually, St. Germain telepathically beckoned, "Rise into your rightful heritage." Focusing on my master's command, I was infused fully with the violet flame of my home ray.
As I rose in consciousness, my Motah Self overshadowed me. Clairvoyantly I saw myself clothed in the brilliant radiance of a one-piece, formfitting white space suit. My face then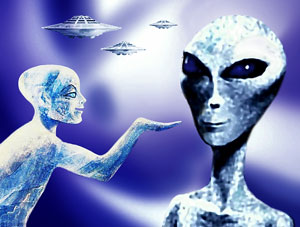 became transfigured by an extraterrestrial guise of my high Self that I'd never seen before in this lifetime. It was neither the characteristic Venusian nor even Saturnian transfiguration to which I've borne witness in previous meditations. My humanoid appearance perhaps transcended an individual planetary vibration, intimating higher solar system functions. My skin appeared almost translucent. I had large, dark, sparkling eyes, and my oval-shaped head was more elongated than my present human one. A warm smile graced my face.
Undoubtedly this unexpected transfiguration is part of the "something new" that St. Germain had said last week he was planning for me. What this portends in my spiritual development as Motah, I do not yet know. But my conscious awareness rose another notch into my "rightful heritage."
Avoiding Astral Attack

November 4, 2013. DREAM. Robert, MariLyn and I, along with several other light workers, were together in a house (not at our headquarters). Cheyenne also was with us. Way off in the fields, I saw dozens of individuals of low consciousness advancing to attack us. At that same moment, Robert or MariLyn had opened the door to let Cheyenne outside, but I quickly grabbed her collar to restrain her. "No, I want to keep her inside with us," I said protectively. Pointing to the onrushing horde, I explained, "Look, they're coming! We all need to leave here immediately." We gathered our belongings and fled.
Interpretation: This is yet another warning to be vigilant about spiritual protection. Lower astrals, plus lower thought patterns of those on Earth, are up in arms about recent advancements in the hierarchal program. They are intent on disrupting the light workers. The dream scenario takes place outside of I Am Nation headquarters, representing perhaps a reconnaissance of the reactions in mass consciousness. The presence of Cheyenne, a protective animal spirit, also indicates the astral frequency.
Krator Returns

November 6, 2013. HIERARCHAL BOARD MEDITATION. (On November 7th, Robert and MariLyn will depart for a weeklong mission to Washington, D.C., with a stopover in the Blue Ridge Mountains of Virginia, in order to anchor spiritual light in our governmental capital. The hierarchal projections will foster Fifth Ray unity and integration among our nation's leaders, and will implant the four-step Christ matrix of peace, love, cooperation and coordination.) [Click here for itinerary.]
During our weekly Hierarchal Board meditation, Krator of Mars contacted me with hieronics. In the etheric frequency, he was aboard a low-level surveillance craft above I Am Nation headquarters, dispatched from the hieronic mother ship #1236. He had been assigned by Dr. Hannibal to establish with the triangulated team on the physical all the necessary hieronic lines of force for the mission to Washington, D.C. On his short surveillance flight, Krator was in coordination with the Conrad space team that monitors our headquarters.
"We have cleared the corridor," Krator relayed telepathically as he bilocated from the scout craft and overshadowed my form. He explained that from the etheric through the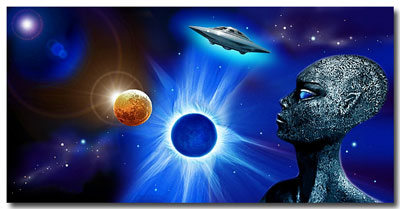 astral and unto the physical plane, he and his space team had cleared the "flight corridor" between our Tennessee headquarters and the nation's capital. The clearance would allow for a clean, unadulterated transfer of hieronic energies, and also would assure safe physical travel for Robert and MariLyn. Although Krator is not the one who is assigned to pace Robert and MariLyn, another space crew will function in that capacity. Following his reconnaissance, the Martian would return to ship #1236 in order to help coordinate hieronic projections for Dr. Hannibal.
Using imagery I could easily grasp as a pilot, Krator explained to me the so-called flight corridor. In aviation, there is a well-established network of radio beacons used for navigation. The VHF omnidirectional range (VOR) beacons, marked on aviation charts as a compass rose, show convenient airways or magnetic headings to navigate between points. For example, if there were a radio beacon on our Tennessee property, one generally would fly to Washington, D.C., on a northeast compass heading. In addition, marked federal airways are governed by FAA regulations; thus, by analogy, the spiritual Hierarchy governs the aforementioned hieronic airway or electromagnetic corridor.
I was startled by Krator's unexpected contact, as I hadn't heard from him since last June. The Martian seemed amused. "Why should you be astonished that I am the one to contact you?" he said with a cosmic twinkle in his eye. "As a Martian, I am a representative of my planet, which radiates the Fourth Ray of Crystallization in this solar system. It is appropriate, therefore, that I bring in this energy influence as we prepare to initiate our projections of light into your nation's capital, which also manifests its governmental function via the Fourth Ray, as revealed in Nada-Yolanda's intunements."*
Krator greatly increased the hieronic beam and proceeded to rev up my chakras, especially my throat and higher centers, as if to prepare me for a vocal channeling. Responding to the electromagnetic pulse, the muscles of my throat and around my face and lips were rhythmically convulsed. My breathing and heart rates changed. Yet Krator did not want to extend my energy, or that of the group, by channeling vocally; he merely set in place the lines of force for hieronic energy transfer.
At one point, however, he levitated my arms and hands and performed universal sign language. The movements were very geometric or angular; to my perspective, they appeared distinctly Martian. Via the signage, he connected solidly with the triangulated team. Holding my palms straight outward and directing them to Robert and MariLyn, he solidly imprinted his vibration into them and gave his blessing of support for the mission.
Gradually the hieronic beam subsided. My body jerked several times as the contact was withdrawn. Krator departed, presumably to return to ship #1236 to report his findings.
____________________
* WASHINGTON, D.C. On November 19, 1969, Nada-Yolanda received this intunement about our nation's capital: "Washington, D.C., must express the Fourth Ray of Crystallization and Manifestation. The first three rays, represented in consecutive order by Boston, New York City and Philadelphia, develop for the crystallization of those activities through the Fourth Ray in Washington, which is a composite of other areas and formed as a separate and complete entity of its own. Four represents the completion on the physical of the spiritual will and idea (First Ray), the intelligence of planning and communicating the ideas (Second Ray), the love and the emotional fervor to put the plan or the idea or the will into action (Third Ray), and finally the manifestation of the first three steps in a crystallized pattern (Fourth Ray). This manifestation is the sum of the efforts of the thirteen original colonies. The digits of 13 add up to 4.
"Washington, D.C., itself is not a spiritual focus. It is the physical focus through which the spiritual ideal is being manifested or crystallized in a material way. Washington has a physical job to do, and the men associated with government and planning for the nation and the world cannot divide their energies, at this present time, by concentrating on the spiritual plan. They must receive spiritual inspiration, assistance and projections from the light workers.
"Then the leaders and the workers in Washington will perform a spiritual mission in a concrete and physical manner, which is the demonstration Washington is to make for the planet as a whole in the Latter Days. It is to express true brotherly love for mankind on Earth. As our government will express this, it will inspire other governments to follow in like manner. This city is perhaps one of the most important focuses on the planet. It represents a form of government very acceptable to the spiritual Hierarchy of our solar system. Although not the ultimate in government, it is a method by which good can come and be done."
Photos: (1) Children of One Universe © by Hartmut Jager. (2) The Observer © by Hartmut Jager.