Channeled via Phillel on June 2, 2013

LORD RAPHAEL: Raphael, celestial Lord of Fifth Ray concepts and radiations, archangel in charge of healing and integration and unity. I do bellow myself through the light workers of planet Earth. At the behest of hierarchal councils from the angelic and
etheric spheres, I place my celestial cocreativity in synthesis with hieronic projections of light through the combined space forces of Summalt and Hannibal, on call in the East and the West, to bring a new measure of healing to mankind incarnated within the orbital thought field of astral and physical Earth.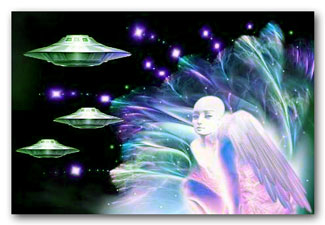 Soon we embark on yet another delicate phase of our East Asia Mission, as we next send our physical hierarchal team into the collective environs of the nation you know as Vietnam. The healing operation is delicate due to the congregation of conflicted thoughts and raw emotions that still are in the process of being sorted out, resolved, rebalanced and uplifted into higher integrative principles that befit the now-required expression of the Aquarian Age.
In the often tortured and tortuous history of East-West unification maneuvers, Vietnam recently has symbolized for you a crossroads flash point, a clashing of swords manifested outwardly from the inner, soul-level conflict that has raged for eons of time since the fall of man, but particularly so in the Battle of Armageddon of these Latter Days. We seek now to bring the resolution of this conflict into a measured operation of manageability.
That is why I, Archangel of the Fifth Ray, have been called, if you will, as a physician in attendance to bring into focus my specialty in the healing arts. The Healing Haven team of Robert and MariLyn, about to insert itself into this operating room, requires my all-seeing eye to guide the healing synthesis of head, heart and hands as we perform this delicate operation on the mind, soul and body of mankind, as represented in the collective consciousness of the peoples you refer to as Vietnamese.
Vietnam, of course, is but one outward symbol, a convenient focal point by which we can manipulate these healing resolutions at this time for the collective soul of mankind on planet Earth. For it is established truth here upon celestial and etheric planes, and now also on astral and physical realms through your subconscious acceptance and conscious realization, that what we accomplish for one segment or region during the East Asia Mission, we truly accomplish for all sons of God on Earth, in every sector of incarnated manifestation.
Always we see the Earth planet as an integrated, holistic, synthesized orb of radiant influence. Though we may focus on one part, we never lose sight of all parts of the manifested whole. We view all parts in harmony and oneness, and so must you if you are to demonstrate the holistic functions of your Christ Selves as a congregated body of the Son of God on Earth.
Thus, I blend the Fifth Ray specializations of my celestial and etheric team as a fulcrum, or balancing point, between the First and Seventh Ray projections of will and power and divine love and peace that we continue to promote on this hierarchal mission to lay new groundwork for orbital balance of planet Earth in its whole, and holy, expression within this unified solar system, which has passed beyond the point of no return in its progression into Aquarian cosmic space.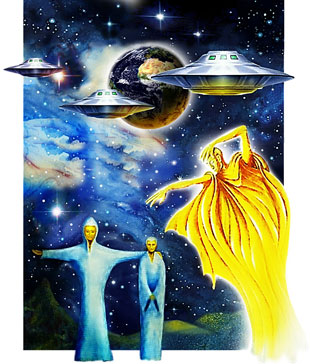 So, beloved light workers of Earth, be now cognizant of the harmonizing influences that I bring into your midst at this critical stage of our operation to heal the mind, body and soul of Earthman. Through the action of our loving hands, we manipulate with surgical precision the step-by-step procedures that will produce the desired results. At the same time that we use First Ray power to cut out error and to instill truth, and Seventh Ray love to hold the matrix energy of divine fulfillment, we apply the healing balm that will save the patient: mankind of Earth. We operate as a fully integrated team to stabilize the condition of our patient and to restore him to harmony. Using this metaphor, we help you to see clearly our point: heal man of Earth.
In this delicate operation, staged through the thought construct of Vietnam on this East Asia Mission, we of the angelic realm provide increased protection and safe conduct through the miasma of mortal man's thought patterns. For in this healing effort, we are dealing primarily with energy patterns of thought and emotion that must be brought into balance in order to effect productive manifestation on the physical plane. And management of thought, and proper direction of energy therein, is our specialty and our responsibility in these angelic spheres where we guide the spiritual evolution of man on all dimensions, realms and planets not only of this solar system but of the universe of universes in God's creation.
So be it according to the truth that I, Raphael, Lord of Healing and Integration, have spoken and have embedded now within the combined hieronic projections of Summalt and Hannibal, for implementation on the holistic Earth. Through the healing agents of your head, heart and hands, be forevermore the Christ in action. We are one with you through all time and space. Raphael speaks, that all may be healed. Return as one to the One. Amen.
Note: When I entered meditation at I Am Nation headquarters shortly after one o'clock in the afternoon, a hieronic beam immediately was clamped onto my crown chakra. About a half hour later I was contacted by Archangel Raphael. His overshadowing, amplified through a combined hieronic projection of Dr. Hannibal and Summalt, completely immersed me in a vibrant green energy sphere. Around 2 p.m., after he had fully stabilized his angelic infusion through my force field, Raphael signaled me to sit at the computer and take his dictation. (The channeling was concluded at 3:15 p.m.)
At the time of this communication, it was already the wee hours of June 3rd in Shanghai, China. In the late evening of June 3rd, Robert and MariLyn will fly from Shanghai to Ho Chi Minh City, Vietnam, on the next leg of the East Asia Mission.
One thought that was not transcribed in the message, but which Raphael conveyed on a telepathic dual track, is that the youth of Vietnam, a generation or two removed from the Vietnam War, will play a major role in healing the mass consciousness of the nation. Many of them are souls who, from past-life and inner plane experiences, are well trained in New Age principles. They will reawaken to that knowledge and will put the healing in motion. That work is occurring right now.
This is the first channeling I've ever received from Archangel Raphael. In fact, my only other direct contact with him, at least in recent decades, was an overshadowing during our Hierarchal Board meditation on April 7, 2010.
Archangel Raphael's contact greatly impacted my consciousness and auric field. Aftereffects lingered for hours as I sought to integrate the combined angelic-hieronic energy input. Feeling spaced-out, I took a walk with my dog, Cheyenne, breathing in the vibrant green color of nature. Subtle waves of energy, vibratory fluctuations, wafted through all of my chakras. Particularly my head and solar plexus were affected: I experienced mild dizziness and nausea.
Photos: (1) Angel Guide with UFOs © by Hartmut Jager (color adjusted by author). (2) Space Guides © by Hartmut Jager.