Nuclear Reaction

May 28, 2013. DREAM. At a secluded facility, I was doing scientific research. Suddenly, way off in the distance, at a civilization center perhaps forty miles away, a nuclear explosion occurred; then, one after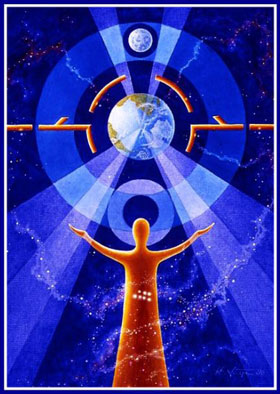 another, more horrific blasts lit up the night sky. Mushroom clouds plumed as the city was destroyed in a nuclear attack. War had broken out. Although I was well away from imminent radiation exposure, I took immediate steps to secure my protection.
Interpretation: The obvious symbolism relates to the War of Armageddon, the struggle between good and evil within the soul of Earthman in these Latter Days. Man's negative thought patterns and the lower astral forces are being stirred up by the current implantations of light during the East Asia Mission.
"Scientific research" indicates my hierarchal functions at headquarters as a hieronics and communications channel. The symbol refers to my service as a grounding rod by which the Hierarchy is taking the thought temperature of mass consciousness, and thereby makes adjustments in their spiritual projections based on their soundings.
Operating in spiritual consciousness, I am at a safe location, away from the volatile shifting of thought patterns and reactions in the masses, yet must secure my spiritual protection all the same.
In his communication of May 15th, Dr. Hannibal, referring to mankind's reactions to the hierarchal implantations, warned of "improperly motivated reactionary measures on the part of those who, to date, continue to resist the incoming era of Aquarian principles."
Hieronic Energy Transfer

May 29, 2013. HIERARCHAL BOARD MEDITATION. In meditation for an hour and a half, I was in contact with Hannibal's ship #1236, stationed in the etheric overhead, for a transfer of hieronic energy. The space beam, with tangible force, greatly expanded my crown chakra. The projections, although unspecified, involved ongoing implantations of light for the East Asia Mission.
A phrase kept being repeated: "Heart of China." Robert and MariLyn are in China, flying today from Xi'an to Chongqing, where they will board a boat for a cruise on the Yangtze River. So, I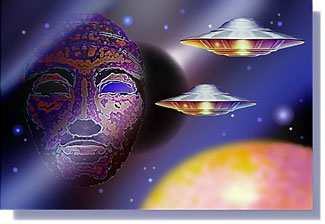 imagined them cruising the river as if they were freely moving through the Chinese circulatory system, anchoring hierarchal energies into the collective body of Chinese consciousness.
Early in the hieronic download, I felt a link with Lao-Tze (Kut Humi), but the contact did not jell. Perhaps some thought-energy packet from Lao-Tze was being transferred along with the rest. I thanked him for his work during the mission.
Midway through the meditation, Krator of Mars, one of Hannibal's lieutenants on #1236, overshadowed me briefly, just long enough to let me know he was supervising the hieronic transfer. No further information was relayed. I remained a willing hieronic instrument, grounding the energy and projecting it into mass consciousness.
Medical Examination

May 30, 2013. DREAM. A congenial, young doctor examined my throat. He had me stick out my tongue and say "ah." The doctor had dark hair and was my approximate size and build. In his presence, I felt completely at ease.
Interpretation: The throat is the center for spiritual power. As in past dreams of this nature, which have occurred after a hieronic contact or a channeling, the symbolism relates primarily to my functions as a communications channel, involving my ability both to handle the power load and to "speak the word" for spiritual manifestation. The same "doctor" has appeared in previous dreams. Although he never has been specifically identified, I tend to think of him as Dr. Hannibal, or someone acting under his authority.
Photos: (1) Angel's Blessing © by Hartmut Jager. (2) Cosmic Unveiling © by Hartmut Jager.