March 24, 2010. HIERARCHAL BOARD MEDITATION. A brilliant sun sphere of golden light enveloped my crown chakra and head, down to my neck. For a long while I worked in meditation to ground this energy sphere through all of my chakras, one by one, to the base of my spine. Then I visualized the energy flowing freely through my whole system and out my feet to all in mass consciousness. Freely receive and freely give.
Suddenly a feminine space entity — with distinct facial features, humanoid but not human — appeared to my clairvoyant vision. Exuding the most loving,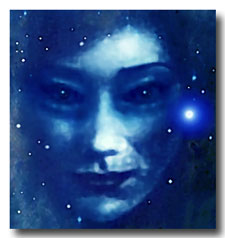 motherly vibration, she overshadowed me. Through her masterful presence, I clearly touched upon the Divine Feminine, the Mother aspect of God.
Because this was an entirely new contact, I asked several times for her identity, but did not receive a specific name. Intuitively, however, I felt that I had known her in past lifetimes on another planet, perhaps Venus, in my work with the Federation of Planets of our solar system. Her vibration was so familiar to my soul, our relationship so intimately close, that I instinctively called her Mother. (Never in this incarnation have I called anyone Mother; neither my own mother, whom I've always called Mama or Mom or Ma, nor Mother Mary.) In my thoughts, I went through the whole list of feminine entities, etheric and angelic, who had channeled through Yolanda, but no identity resonated with the vibration I was experiencing at that moment.
I only received this: she had been sent to assist my personal healing and to help me ground the strong energies of the Easter influx.
March 26, 2010. DREAM. In a small storeroom at headquarters, Yolanda and I were busy rearranging the stock of Mark-Age books on the shelves. Soon we gathered with other light workers in the main room for our public meditation. It was my turn to lead the meeting. I spoke to the crowd on how to work cooperatively and effectively with the space brothers and sisters to receive and to ground the accelerated energies now coming into Earth.
March 31, 2010. DREAM. In group meditation with Yolanda and others, she began to channel. I was the one responsible to transcribe the communication onto a laptop computer while she delivered it. However, I had difficulty adjusting to the rhythm of delivery and also understanding a number of words. Frustrated, I spoke up and informed her of my problem.
Interpretation: The dream is symbolic of my inner difficulties sorting out and keeping up with the incoming acceleration of energies for the Easter/spring cycle. Transcribing the channeling represents grounding and manifesting the hierarchal directives onto the physical plane, in specific form.
April 4, 2010. EASTER SUNDAY MEDITATION. With a powerful overshadowing of my light body, I projected the flow of higher plane energies into mass consciousness for new spiritual awakening and resurrection. In answer to my query about hierarchal program status, I received only the strong impression that it was not time for the Hierarchy to give any new information (at least through me), as the masses were still absorbing what the masters already have delivered. With the grounding of energy in this meditation, a subtle new step-down in vibrational frequency had occurred for planet Earth.
April 7, 2010. HIERARCHAL BOARD MEDITATION. My etheric, Christ body overshadowed me in a bell-shaped force field of white light, encompassing my entire auric field and physical body. I continued to ground the hierarchal energies being implanted for the spring cycle.
At one point, my energy field transformed into a blossoming white rose, accompanied by a most peaceful and loving feeling. Momentarily I realized it was the presence of Nada, who never before had announced her presence to me in this way. Inwardly I chuckled, suddenly recalling that while on Earth her favorite perfume was a special blend of white rose. My impression was that she was signaling her blessing for Dr. Robert, for the new spiritual awakening he is experiencing in his Healing Haven functions this spring. (His meditation later confirmed this.)
Nada's contact was brief, followed
unexpectedly by Raphael, Archangel of the Fifth Ray, who enveloped our group in a rich green energy of healing, balance and integration. The overshadowing was a genuine surprise, for I don't remember offhand if I've ever had contact with him. A feeling of great peace and calmness descended into the room, and I simply basked in his radiant healing presence. Again, I sensed that the contact would lend specific confirmation to Dr. Robert. (This also was confirmed when Robert revealed afterwards that he had had communion with Raphael the previous week, while receiving new insights for his Healing Haven functions. He had not shared this with me, but had chosen instead to await confirmation.)
Next, Martian hieronic operators of the Conrad team contacted me with a powerful hieronic beam. My light-body force field was greatly enhanced while they manipulated their spacecraft controls. After a few adjustments, Conrad relayed, "Stand by for Dr. Hannibal."
Hannibal entered my force field and increased the hieronics, bringing me into a higher synchronization and alignment. Into my throat chakra he placed a pure amethyst crystal, composed of brilliant electric-violet light. I assumed it indicated a further tweaking of my power center for channeling functions. As he ramped up the energy, I experienced significant transfigurations, manipulations and gyrations in my higher chakras, especially my throat. I thought there might be a vocal channeling, but I never received the clear signal to begin. However, as the power built, Dr. Hannibal performed the universal sign language, projecting transmutation energy to mass consciousness.
Concluding, he telepathically relayed: "We can now take you into new realms of light. With this meditation, we have brought a fusing quality, our light bodies with yours, to further ground the energy for the next step."
Photos: (1) Cosmic Face © by Hartmut Jager. (2) Angel Facing Left © by Hartmut Jager.