Channeled via Phillel on August 15, 2012

MARY/SOL-O-MAN: Gracious he has been, the little boy of Fatima, to step aside at this hour so that I may borrow his channel of light to speak unto you. [1] I am Mary, mother of all that is good for Christ-conscious manifestation on Earth. I asked long ago that Russia be consecrated to my heart and to the second coming of that which is inevitable upon this plane and planetary externalization: peace. [2]


I give my mantle of peace unto you, that you may take this vibration into the very heart of Eastern Europe and onto the motherland of Russian soil. [3] Take my scepter and plant it firmly, deeply into the very elemental beingness of that thought environment, that I may secure through you a new stage in the implantation of peace on Earth in that desperate region of consciousness.
On this Feast of my Assumption, celebrated by some throughout this planet, I herald unto you a new resurrection. [4] Take this mantle of peace and spread it throughout the land, that the new ascension may begin: first upon the inner realms, the subconscious regions within the heart and soul of mankind on planet Earth; eventually, through this pinpointed exercise, to be brought into outer manifestation; all for the glory of the coming of Sananda/Jesus as Prince of Earth.
In my role as Sol-O-Man, I am in league with Summalt to enhance these implantations of light for the rectification of man's heart and soul, to be aligned henceforth with the Christ Self within. Everywhere you go, you shall feel the effects of this implantation as we are able to secure the Christ matrix of peace, love, cooperation and coordination into the human framework, that all may be lifted into divine beingness of Christ immortality and salvation. Just as you have been consecrated by me through the delegation of this task, so shall you impart this consecration to all within your orbit as you travel on the Eastern European Mission.
Dr. Hannibal has allowed me to secure this consecration also through his channel of light as yet one more demonstration of the interdimensional triangulations of which you have been apprised. [5] For this triangulated team at I Am Nation headquarters is one; and no matter where you may be located in the physical environment of Earth, your light bodies are blended as one whole, and receive and transmit accordingly. So, I make my inroad this evening as Mary and as Sol-O-Man as a demonstration of this purpose of sacred unification.
We bring you into our etheric sanctuary, that you may realize the impact of these hierarchal decrees and announcements and bring them back into your daily existence upon the physical plane as you demonstrate your Christ Selves in action. We have infused you with our etheric substance, that wherever you may be, so we may be also,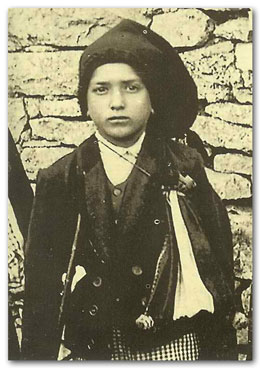 and perform these works together for the glory of the Second Coming on Earth. Just as my love shines ever brightly within your hearts, so your love shines within my heart; for we are one.
May the blessings of Almighty God be with you as you prepare in the coming days. I am Mary/Sol-O-Man, handing this channel back to the little boy of Fatima, he whom you know as St. Germain/Dr. Hannibal, who demonstrated his solid dedication and forthright determination at Fatima as Francisco Marto; a beloved child pure of heart and mind who witnessed my manifestations in those days and who marveled at the achievement of those etheric brothers and sisters who were able to manifest the power of Federation contact unto the masses. He works still in this vein, and I count him among my beloved brothers.
Mary/Sol-O-Man. Be at peace, and you shall travel in peace. So be it.
Note: The "mantle of peace" that Mary describes took on a literal form in the meditation. For when she first appeared to my clairvoyant vision, she was arrayed in a scintillating mantle, or hooded cloak, of brilliant white light, and she exuded an all-encompassing vibration of Seventh Ray peace. Offering contrast to the brilliance of her white mantle were her dark hair and eyes.
Mary's warm smile conveyed motherly affection. I felt as a child in her masterful presence. Perhaps I resonated to what the "little boy of Fatima," Francisco Marto, experienced during Mary's magnificent light-body manifestation a century ago.
As she overshadowed me and carefully prepared my force field to deliver her communication, she moved my hands slowly in universal sign language to assist the incorporation of her form through mine. When I sought confirmation that she wanted to channel, she patiently telegraphed the first phrase she would speak, then repeatedly flashed in my mind's eye, in large golden letters, the initial word: gracious.
Supplementary reading: To appreciate the scope of Mary's role in these Latter Days, see chapter on "Mary Heralds Second Coming" in Mark-Age text Facts of Life.

See also the following blog entries:

Ascension of Mother Mary
Mary Guides the Soul
Hold Vigil for Resurrection
Triple Your Magnification
Mary Heralds Hemispheric Mission
A Tale of Easter Resurrection
_________________________
[1] The "little boy of Fatima" refers to Francisco Marto, one of the three children who witnessed the appearance of Mary and the "miracle of the sun" on October 13, 1917, at Fatima, Portugal. (The other two children were Lúcia dos Santos and Jacinta Marto.) Francisco Marto was an incarnation of St. Germain/Dr. Hannibal, who is the master teacher of Phillel. Witnessed by 70,000 people, the "miracle of the sun" was a manifestation of a spacecraft.
[2] In her appearance at Fatima in 1917, Mary told the three children: "I shall come to ask for the consecration of Russia to my Immaculate Heart. . . . If my requests are heard, Russia will be converted and there will be peace. If not, she will spread her errors throughout the entire world, provoking wars and persecution of the Church. The good will suffer martyrdom; the Holy Father will suffer much; different nations will be annihilated. But in the end my Immaculate Heart will triumph. The Holy Father will consecrate Russia to me, and it will be converted and some time of peace will be granted to humanity."
[3] Dr. Robert and MariLyn leave on September 5th for the Eastern European Mission, and have scheduled stops in St. Petersburg and Moscow, Russia, and in Odessa, Ukraine.
[4] The Feast of the Assumption, traditionally celebrated by Roman Catholics on August 15th, honors Mary's bodily ascension into heaven.
[5] See channeling by Krator on August 8, 2012, Interdimensional Triangulations.
Photos: (1) Mary of the Cosmos 2, collage by author with image of Mary © by Hartmut Jager superimposed over the spiral galaxy M74. (2) Francisco Marto, circa 1917 (photographer unknown).

LISTEN TO PODCAST: Click on the "Play" button below to listen to the above communication, as recorded live on 8/15/12. This recording was released on I Am Network of Light tape #1052B, for the week of 9/16/12.
SPECIAL PODCAST: For decades we have fostered spiritual awakening in Russia, following Mary's plea to consecrate Russia to her divine heart. During the tensions of the Cold War, I broadcast "Spiritual Conversion of Russia" on Mark-Age Meditations tape #328A, for the week of 12/9/84. I highlighted Mary's Fatima prophecy as well as one of my significant dreams about Russia. Though some of the specifics are dated, the spiritual projections are universal and remain active to this day. Click on the "Play" button below to listen to this 1984 broadcast.