Channeled via Phillel on August 18, 2010
SOL-O-MAN/MARY: My soul doth magnify the Lord. [1] For I am Sol-O-Man/Mary, with you in the environs of Earth for upliftment of soul. We have assessed the current status of the soul of man from these upper regions of etheric consciousness.
 I speak to the light workers of Earth: You must triple the magnification of your light! [2] That is what is required within the soul of man. Each one is being informed through the Christ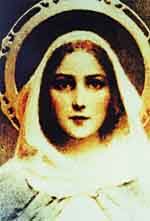 Self how this magnification must manifest within your soul to bring you further into the upper regions of your Christ light-body incorporation.

You are being given every aid that we are allowed to offer, to bring you further into this Christ light. Receive, receive it! Let your love come forth from within to transform the uproarious [3] and degradated, [4] compacted, dissolute soul of man. For by the tripling of your light you can make the difference we require to bring the new interface of your mortal self with your Christ Self; to birth upon this plane the New Era; to allow my son, our beloved Christ Jesus, Sananda of the Hierarchal Board, to step into his realm and be amongst you.

"How long, how long, O Lord, must this take?" you may ask. The answer lies within your effort to be your Christ Self and to birth this consciousness on this plane; to example this birth of Christ consciousness for your fellowman, that the soul of man may be transformed into the light that ever is, that ever was, that ever henceforth must be.

Breathe in, my children, the love consciousness! Infuse each cell with this love force. We support each and every one of you in this triple magnification.

This is the status of the soul of man. This is what is required to bring balance, peace, new harmony within this realm. So I speak as Sol-O-Man, of the grouping of those who hold vigil for your new birth. [5] Gathered from the four winds of the solar system are we here now to uplift you into this purpose.

Behold, the Christ is within. Now let your Christ come forth. Magnify this planet with your love, and you may be forever at peace in this knowledge that you have done a job well worth the struggle within your soul.

[Sung first in high, piercing tones; then in deep, undulating tones:] Om. Om. Om. Amen. Amen. Sol-O-Man. Sol-O-Man. Om.

Arise, my children, you are free to be the light, to be love in action, to transform the soul of man. So be it. Sol-O-Man/Mary, abiding with you. My kiss upon the forehead of my children of light. Amen.

DR. HANNIBAL & SUMMALT: Hannibal with Summalt in attendance, to amplify with hieronics the transformation of the soul of man. Now you see why we conduct ourselves through rhythms and cycles, each step leading to another, training you to be love in action in your service to Sananda's Second Coming plan; just as we serve in our steps to perform what we too must do to transform this planet into the planet of love and peace that it must be once again.

Remain attuned to this force of light as we incorporate this magnification through your mind and body and soul. Our lines of force into your auric fields are very finely attuned. With precision we advance these tasks.

Dr. Hannibal with Summalt in attendance. Ingest this light as Sol-O-Man, Beloved Mary, has commanded. Hail to the Christ in thee. Hannibal, over and out.

Note: Before Sol-O-Man entered, extraterrestrials contacted me with a hieronics beam. To my psychic vision, they appeared as small, gray-skinned beings. Unfamiliar with them, I asked them to identify themselves. "Not to worry," they mentally relayed, "we're from Hannibal's mother ship and are working with the hieronics connection." They continued to adjust my force field as they tied in the hieronic strands of energy.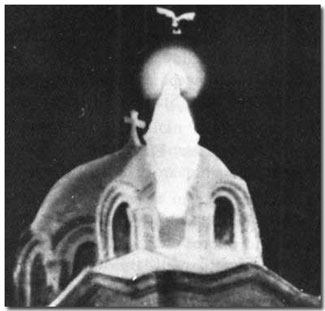 Then Sol-O-Man/Mary appeared in front of me. Wearing a golden mantle over her head and shoulders, she radiated an ethereal gold light. With her, Sananda made his presence known, but quickly receded; his brief contact signaled that Mary was operating under his direct orders. Hannibal also stood watch, on the periphery, to amplify the contact with hieronics.

Gradually, Sol-O-Man's overshadowing became full-blown. The hieronic technicians synchronized the electromagnetic beam with my brain wavelengths. My auric chakras and physical body were revved up. My respiration and heart rate greatly increased (I thought my heart would pound itself out of my chest). When the intense power contorted my throat muscles and mouth, I recognized that a vocal channeling might ensue.

First, Sol-O-Man levitated my hands to project her divine love and peace. Then she indicated she would channel. I double-checked with Hannibal; nothing must proceed without the express permission of my master teacher and of my own high Self. I received a go-ahead.

Reassuring me, Sol-O-Man said, "I will begin with 'My soul doth magnify the Lord,' which I spoke as Mary. If you can let go and just bring through that much, it will open the energy channel between us, and I will be able to take it from there." She smiled with motherly love and patience, awaiting my consent. Keyed to her signal, I picked up the mic and began.

In our sharing afterwards, I was amazed to learn that, in his meditation prior to the channeling, Dr. Robert also had contact with Sol-O-Man/Mary, his master teacher. At one point, the power was so great that he thought she would chant through him. "No," she said, "I will chant through Phillel." He had no idea, of course, that I was in contact with her simultaneously and was about to channel. There were other astounding correlations of our co-receiving.

Lastly, as I opened to Mary for the channeling, I asked her to send confirmation through Robert, if possible. Little did I know that she already had done so!

____________________

[1] Luke 1:46.
[2] On July 21, 2004, Lord Maitreya channeled via Nada-Yolanda: "Many have been called; few have chosen, less than is needed and required for the survival of planet Earth and all life forms on it. You hereby are alerted to the emergency we have heralded and trumpeted for the wailing and gnashing of teeth. The faithful and devoted are carrying double the load for the triple time placements. Yet we ask you now to triple your loads and go to the full extent of your energies for the remaining time allotted each one's incarnation allowances. . . . Time has run out. We are in the thick of the last great battle in the War of Armageddon." (See Contacts from the Fourth Dimension, page 326.)
[3] uproarious: i.e., marked by uproar.
[4] degradated: Southern American English dialect for degraded.
[5] Sol-O-Man: soul of man. A group or band of spiritual workers concerning this aspect of man's teaching and awareness. Mary, she who is the twin soul of Sananda, is spokesman for this band.
Photos: (1) Mary the Mother (origin unknown). (2) Actual photograph of apparition of Mary atop St. Mary's Church in Zeitun, Egypt, 1968.
LISTEN TO PODCAST: Click on the "Play" button below to listen to the above communication, as recorded live on 8/18/10. This recording was released on I Am Network of Light tape #1002A, for the week of 10/10/10.