Mary, who is known on the Hierarchal Board of our solar system as Sol-O-Man, represents the soul of man at this critical stage of planetary evolution. For she provides a perfect example for the gestation and the birth or conscious reawakening of our I Am Self as we purify our souls in these Latter Days. As twin soul* of Sananda/Jesus the Christ, of the Seventh Ray of Peace and Love, she heralds the Second Coming, both the return of Sananda as Christ Jesus and our own gathering ascension into the light.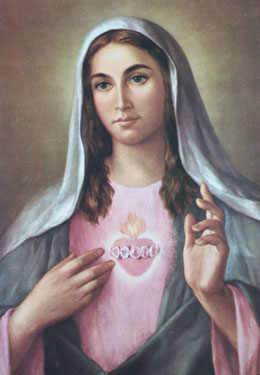 Each year on August 15, the Catholic Church celebrates Mary's ascension into heaven with the Feast of the Assumption. According to their apostolic tradition, handed down for centuries, Mary ascended bodily, much as Jesus did upon his resurrection. One tradition holds that after Mary's death and burial in Jerusalem, the apostle Thomas had her tomb reopened, only to discover that her body was no longer there. As we would explain it, she had been translated into her fourth dimensional, etheric, light body.
Second Book of Acts
Another tradition stems from an esoteric Gnostic text, discovered and translated by Dr. Kenneth Sylvan Guthrie, and published in 1904 as The Long-lost Second Book of Acts. The manuscript, later authenticated through the channelings of Nada-Yolanda, reveals Mary's teachings on reincarnation to a gathering of the apostles shortly before her ascension at the age of eighty-three. She relates the history of her soul growth through a relationship of seven past lives with Jesus, culminating in their demonstration of mastership as Mary and Jesus.**
Mark-Age published a reproduction of Guthrie's original manuscript several times, beginning in 1964. Then, in 1990, we republished it under the title Seven Lives of Mary and Jesus. This version, still available [send for our catalog; click here], is Nada-Yolanda's reworking of the text into modern English, complete with footnotes, commentary and channelings that explain the history and the authentication of the text.
Although the story undoubtedly contains allegorical elements, we are yet moved by the evocative imagery it paints of Mary's ascension on the Mount of Olives, outside Jerusalem. Following is a brief excerpt from Chapter 14:
"Mary led us to the very summit, near Bethany, from where the Lord Jesus himself had ascended into heaven forty days after his resurrection. When she had reached the open ground, she turned towards the east, shading her eyes, plainly awaiting something. As we watched, the dawn began to break.
"Suddenly above the clouds, appeared a great and shining light. Looking intently, we began to discern hosts of innumerable angels, with the Lord Jesus himself leading them. Their bodies were of fire, for they were seraphim."
The manuscript then relates that Jesus approached Mary: "When he touched the blessed Mary, she was transfigured. Her white hair turned dark brown once more, her wrinkles disappeared into a fair smooth skin, her face became creamy white as that of a blooming maiden, the knots of her fingers passed away into the frail and slender fingers of a girl, her garments clung to her and became new again, and once more she grew into the slight figure she had been when the Archangel Gabriel first had announced to her that the Holy Spirit should overshadow her and she should bring forth a son called Jesus."
Finally, after both masters deliver to the disciples one last homily on the journey of the soul through lifetimes, they disappear into the higher realms, leaving the disciples alone on the mount to ponder the deep mysteries.
Mary Heralds Second Coming
In Nada-Yolanda's channelings there is considerable information about Sol-O-Man/Mary and her exemplary role for all humanity in these Latter Days. Following are a few excerpts from some early communications.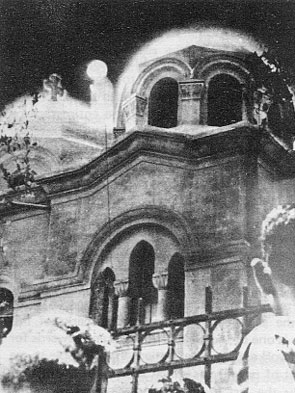 On October 3, 1960, Mary explained her role and mission: "As in the story of the birth of Jesus, I am the teacher, the example from which the seed comes forth. Therefore, manifestations of my work and teachings have come forth prior to the teachings of the Son of God. . . .
"I have demonstrated fertility and willingness in the minds of men to receive the message of the Second Coming. . . . The Second Coming is literal as well as spiritual, for the individual person as well as for the race."
Speaking of her many well-documented appearances around the world [see photo at right, plus credits below], Mary went on to say: "There have been many manifestations of my work on the Earth plane in the last one hundred and fifty years. During this time it has been my mission and purpose to prepare the way for the master Jesus, as you know him in his last incarnation; to bring his message for his return to believers and teachers of this particular Mark Age."
On July 5, 1961, Dr.Hannibal/St.Germain gave this explanation: "Mary's role is one of great importance, always in relationship to anything having to do with the personality you know as Jesus. Mary's relationship is equally important in the world, or mass consciousness, when working on Christ- or God-conscious evolvement.
"Mary represents the subconsciousness or the mold in which all things are gestated. Do you follow what I am saying? She is the mother in which the seed does grow. She represents that aspect of the God consciousness, as Jesus represents the male or the active force, bringing it forth. So, she represents the nourishing part of God's seed, always remembering that each one is a representative and a part of the whole, serving each other part of the whole.
"Her role at this time is the same as it was during the life of Jesus. She nurtured the seed for nine months — and many years, of course, after his birth — as the physical mother. But she also is nurturing the seed of mankind by her special work in the etheric for the last two thousand years; and will continue until all men are brought into Christ-conscious awareness."
In answer to a series of questions about Mary's traditional role as viewed by the Catholic Church, including her immaculate conception, John Mark channeled the following on May 24, 1961: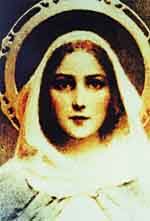 "Mary is a master of the physical as well as the etheric dimensions. Her relationship to Jesus is one of the negative with the positive polarity, and she has served him in many incarnations, knowing fully well that she was to be this negative polarity in more than one incarnation for him. By a negative polarity we mean a female demonstration of a positive, male aspect. It was through her that the spirit of this master was passed. . . .
"Regarding the immaculate conception of Jesus, it was true that this was effected for this particular master at that time. However, it was for his birth only, at that time. Mary did ascend physically, as you understand ascension, and as the master Jesus was ascended by the practices of Christ consciousness; as all must eventually ascend into the fourth dimension, translating their bodies from physical into etheric dimensions."
At a group gathering the following week, on May 31, 1961, an audience member posed another question about the immaculate conception. Dr. Hannibal replied:
"The immaculate conception was one of the demonstrations of Spirit brought forth by the Christ force and demonstrated through the individualization of Jesus; who is a Christ being, a way shower right from before his birth through to the present day. We are not trying to teach anything new. We are expressing our understanding and are trying to tell you that he was, as many others have been in the past, immaculately conceived; with the full understanding of what these words mean to your modern-day world. But this is an expression of Spirit, working through a physical vehicle when so desired, and when that vessel or that individual is so cleansed of heart and mind and of body that it can be so fulfilled and fruited."
At another question-and-answer session on August 2, 1961, someone asked: "Explain the teaching about the Virgin Mary being immaculately conceived."
Through Yolanda, John Mark answered: "I would be glad to do that, for it refers to her own consciousness, her own dedication, as the soul in tune with the Spirit or the Father-Mother God within. From the beginning — her own purpose as an individual and as a symbol, living through a life experience for all man to realize — she, as subconscious or soul quality of mankind, was immaculately or completely dedicated to all that would come through her, for a channel, or as a channel, for God's own expression; which of course was the birth of the child Jesus, who was to be the full expression of Christ on Earth for mankind."
An audience member then queried, "Did she transmute her physical body into heaven at the time of her departure from the Earth?"
John Mark replied with one word: "Absolutely."
Let us now do as Mary has done: our souls magnify the Lord. We rejoice that the Christ is reborn within us. We rejoice as Mary did at Archangel Gabriel's annunciation, and say: "Here am I, the servant of the Lord; let it be with me according to your word."
See also: Mary Guides the Soul
_________________________
* twin soul: as an individual soul develops, it expresses in male and female embodiments. Eventually it will begin to gravitate toward either male or female for its expression in the Christ realms. While so developing, Spirit guides another soul toward the opposite polarity along the same path. Thus when one enters the Christ realm as a male polarity, there will be one of female polarity to complement and to supplement, with the same general background and abilities. Each person has a twin soul. But this term does not mean one soul was split, to gain experiences, and then eventually merges back into oneness. Twin souls are two separate individualities at all times.
** Seven previous lifetimes of Mary and Jesus, as recorded in Second Book of Acts and also as corroborated in Nada-Yolanda's channelings and intunements, include: (1) Adah and Abel (i.e., leader of Abels); (2) Yonah and Noah (i.e., leader of Noahs); (3) Asenath and Khufu (Cheops); (4) Margoah and Melchizedek; (5) Parshandathah and Zarathustra (Zoroaster); (6) Yashodhara and Siddhartha Gautama (Buddha); and (7) Eunice and Socrates.
Second Book of Acts also relates an anonymous incarnation of Mary in Canaan at the time of Abraham.
According to the channelings through Nada-Yolanda, other incarnations of Mary (Sananda did not incarnate at the same time as these, hence is not mentioned) include: Zolanda, high priestess of the Earth Temple in Atlantis, 26,000 thousand years ago; and King Solomon of Israel.
Moreover, Nada-Yolanda's channelings relate two other incarnations of Sananda: the biblical prophets Moses and Elijah. (Mary did not incarnate at the same time as these, hence is not mentioned.)
Reprinted from I Am Nation News #55, November-December 2007, as adapted from I Am Network of Light tape #919A, for the week of 8/5/07, by Phillel.
For more information on Mary, including her appearances, see also the chapter "Mary Heralds Second Coming" in our text Facts of Life.
Photos: (1) Traditional Catholic image of the Sacred Heart of Mary; (2) Actual photograph of Mary during a series of frequent apparitions atop St. Mary's Church in Zeitoun (Cairo), Egypt, witnessed by thousands, 1968-71 (click here); (3) Mary the Mother (origin unknown).