Impassioned Sermon

October 9, 2011. DREAM. I observed Robert deliver an impassioned sermon to a group of light workers.
Interpretation: This is a symbol for how Robert and MariLyn will speak the truth as they travel during the South America Mission, impacting light workers on
the physical and astral planes.
Loving Message

October 10, 2011. DREAM. An ascended master channeled a tender, loving message through me. After the communication was finished, a man to my left said movingly, "That was so beautiful it makes me cry." A woman sitting to my right agreed. I then awoke, but did not recall the name of the communicant.
Golden Giants Have Returned

October 12, 2011. Noon. HIERARCHAL BOARD MEDITATION. (This morning, I saw the rare sight of three hawks flying together, chasing another bird above the field across the creek. I took this as a clear signal, also a dynamic symbol for our triangulated team at headquarters, ready for action.)
Space beam contact had started about a half hour prior to the meditation, but immediately increased as soon as we began. The frequency change produced within me a momentary tinge of nausea. Then I became distinctly aware of the light bodies of the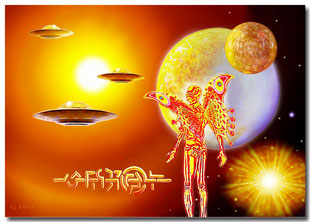 three of us — Robert, MariLyn and myself — totally at one with one another, a combined force field of light. Clairvoyantly, I envisioned us in a rounded conference room (spaceship) in the etheric, interacting with the ascended masters. All was set for the South America Mission, to begin tomorrow.
The following phrase entered my mind: "The golden giants have returned." With the successful implementation of the South America Mission, we light workers on Earth will engage a new cycle of light-body anchoring and demonstration, like unto the days of yore, prior to Lemuria, when we occupied the planet in our fourth dimensional light bodies. (See Evolution of Man.) We have come full circle; yet this time, at this higher octave of spiritual evolution, we shall be aligned completely with Sananda's commandment of Love God and Love One Another, the keynote for all light-body demonstrations in the Aquarian Age. So be it.
In my next vision, I beheld a proverbial scene of NASA's Mission Control, where the flight director calls, in rapid succession, for the countdown status of all section heads sitting at their computer consoles. "Go!" each one barks in turn. All is green-lighted for launch.
Finally, my light body was clothed in a bright, golden space suit, forming an encapsulated force field of protection and preparedness around me and our headquarters property. I understood that Robert and MariLyn also were "clothed" with their respective energy coverings, answering to their particular needs as they embark on the hierarchal mission. The spiritual Hierarchy has tweaked our preparation as thoroughly as possible. All is set to go. Thank You, Father-Mother God!
Photos: (1) Merging Dimensions © by Hartmut Jager. (2) The Golden Ones © by Hartmut Jager.