Channeled via Phillel on September 14, 2011

REBEKAH OF VENUS: From afar I have come to greet you. The channel has called me the Venusian "mother." With Dr. Hannibal's permission, you may identify me under code name Rebekah of Venus, a guardian of this soul, part of these preparations at this critical hour of manifestation.

I am here to assist the melding of these higher frequencies of light, through hieronic manipulation, through the extensive soul patterns of Phillel of Motah. I am able to assist Dr. Hannibal/St. Germain in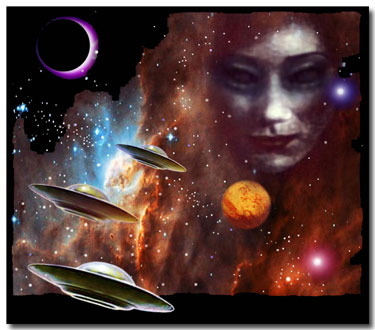 these balancing procedures for his participation as solar system grounding unit in this sphere, while the Healing Haven team during the South America Mission ensconces itself within those thought atmospheres for special hierarchal works. These preparations are essential in order to bring a new blending of solar system participations as part of this grounding of new frequencies during this mission.

Unification on all levels is part and parcel of our hierarchal plan: from celestial and etheric, down through astral/soul, and unto physical/conscious environs. As we foster unification within the South American continent, we thus help stabilize the entire Western Hemisphere in its role and mission to portray the Western aspects of mind and matériel and conscious understanding of this Second Coming program. Thereby the West polarity scheme helps to hold intact and to bring into higher focus the entire Eastern Hemisphere in its functioning for receptive, soul polarities and aspects in this unified planetary upliftment. As the planet is unified, so also we of the solar system planets in this Federation are able to make inroads for the reunification of Earth with these higher spiritual stratospheres.

So, Dr. Hannibal has allowed me gradually to reintroduce myself into this channel's experience in order to assist in his overall balance as part of this triangulated team, while holding these solar system elements with pinpoint accuracy.

We have guides and guardians likewise set in place for Dr. Robert and MariLyn as they externalize these essential unitary principles during the South America Mission. You have forces around you of which you can only guess; but in your high Self states you are well acquainted, and your master teachers are bringing all of these companions into your higher recognition as assistants. Thus, you could say that the legions travel with you: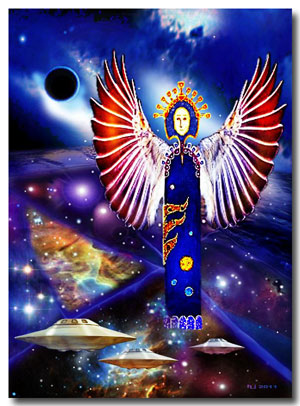 angels and etheric beings, space forces, higher astral compatriots; all being set in place to enable you to operate unfettered and with clarity of purpose in order to materialize Sananda's hierarchal plans during the South America Mission.

I have been welcomed aboard Dr. Hannibal's mother craft #1235 at this hour, in this special conclave, in order to focus your thoughts and to be a spokeswoman as we continue these blending procedures. Our preparations are moving apace, and all is in order. Go with the flow as it is given unto you to receive and to exteriorize.

We are as mothers and fathers unto you, our children of light. We hold you in our embrace. We augment your efforts to rise into the light of higher Christ understanding and manifestation of love in action.

So, let this introduction suffice for the moment, for we have succeeded in blending these higher electromagnetic energies through your individual and collective force field at this stage of preparation for the South America Mission, soon to be launched. Rebekah of the etheric realms of Venus greets you in peace and the divine love of Father-Mother God. Shalom. Amen.

DR. HANNIBAL/ST. GERMAIN: This is Dr. Hannibal/St. Germain, master teacher of this channel, with hieronic input, authorizing this contact manifestation of Rebekah of Venus, one of our many longtime companions of the light in service to these interplanetary unifications.

The Federation of Planets is entirely a reality from our realm of action, as you know. From this perspective we inject our Christ thought forms of unification unto Earth, for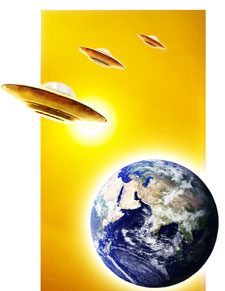 action especially of the light workers in your realm. That is why we inspire these events and procedures as part of Sananda's Second Coming plan, as he guides the overall coordination. As Sol-O-Man/Mary has conveyed to you repeatedly, through archival information within this unit, all has been prepared as a herald for the Second Coming. Keep that uppermost on your minds, in your hearts, and upon your lips, as do we. Sananda himself is orchestrating all of these materializations in order to anchor solidly the force field for his return into your midst in fourth dimensional light-body form.

More news will be delivered as necessary through our many means of contact and inspiration. But please be assured that this team has been totally prepared, as much as we are able to effect our maneuvers through your psychic atmosphere and into your third dimensional realm.

El Morya and Nada continue to hold the matrix of this higher intent for this unit's purpose for the externalization of the I Am Nation on Earth.

Thus, we all form a solid bond, which no man or woman of lesser understanding can put asunder; for we are fully braided for these hierarchal actions now afoot. Dr. Hannibal/St. Germain, congratulating this triangulated team for the efforts put forth to this point, and which shall continue henceforth. We continue our spiritual preparations in the short weeks ahead as we all prepare for the launch of the South America Mission. So be it. Dr. Hannibal/St. Germain, over and out.

Note: During our Hierarchal Board meditation, a hieronic space beam was clamped onto my crown chakra. I felt a tinge of nausea as I adjusted to the vibrational frequency. The Venusian "mother" suddenly materialized to my clairvoyant vision. Wearing a dark red or maroon space uniform, trimmed in white, she appeared ageless. She smiled warmly, conveying affection through soft, dark brown, slanted eyes. Her straight, dark brown, shoulder-length hair was coiffed with short bangs.

Slowly, with hieronic assistance from Hannibal's ship #1235, she melded her force field with mine. Levitating my hands in universal sign language, she placed them over my heart and throat chakras, holding a blend of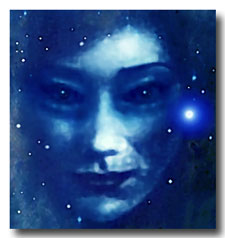 positive-negative polarities to help solidify the contact. In periodic surges, my throat chakra was revved up. Dr. Hannibal was with her, reassuring me that the contact was under his command.

The Venusian "mother," who affirmed her identity as Rebekah, finally signaled she was ready to channel. Dr. Hannibal stood behind me, resting his hands on my shoulders in order to steady my force field during this first-time vocal transmission.

At one point, the two masters evoked within me the image of my dream from the day before, where I had been elected High Bailiff or High Sheriff.* They thereby reinforced the symbolism of my assumption of new high Self responsibilities.

The contact expanded my auric energy field significantly. It took me a long while to fall asleep that night, and I dreamed repeatedly of Rebekah's channeling. In my last dream, I had an appointment with my aviation medical examiner (AME). A nurse met me as I entered the office. She gave me a special elixir to drink, prescribed by the AME as a healing agent for my throat. I affirmed that another doctor also had diagnosed an inflammation or infection in my throat, around the voice box.

The dream obviously indicates that the interdimensional space team is helping to rebalance my energy, with special attention to my throat chakra, the power center for any vocal communication.

The next day, I felt physically depleted, listless, subtly nauseous, still imbued with the higher radiation of light from the space contact.

____________________

* September 13, 2011. DREAM. From among a half dozen candidates, I was elected by my peers and other officers of the court to serve as High Bailiff (or High Sheriff) of the U.S. First District Court. In an official courtroom ceremony, the judge or another officer made the announcement, using my full given name: Philip Joseph Jacobs. Others, including my fellow candidates, immediately crowded around me to offer their hearty congratulations. I felt truly honored and, in my excitement, asked one of the court officers, who was almost seven feet tall, to confirm that I had heard the new title correctly.
Interpretation: A bailiff or a sheriff is a law enforcement officer delegated with various duties to serve a court of law, such as to care for prisoners, to guard jurors, to preserve order; also to serve warrants, writs and other court orders. Another dictionary meaning of bailiff (which derives from Latin for "guardian" or "administrator") is an overseer or steward of an estate. In England, a bailiff is "an administrative official of a district, with power to collect taxes, serve as magistrate, etc." To my genuine surprise, further research revealed that the terms high bailiff and high sheriff actually denote specific offices; a high sheriff, for example, is a chief of all sheriffs in a state.
The dream would indicate my selection for new high Self functions as a steward of the I Am Nation on Earth. The announcement uses my full given name; meaning, these duties are being anchored fully into my physically incarnated being and personality. I am elected because I so elect to serve the Hierarchal Board, the spiritual tribunal of the first order ("First District Court"), the guardian or administrator of cosmic law in our solar system. The tall court officer represents one of the ascended masters.
Photos: (1) 2010 Space Calendar (inset) © by Hartmut Jager. (2) Cosmic Reflection © by Hartmut Jager. (3) Earth and 3 UFOs © by Hartmut Jager. (4) Cosmic Face (colorized by author) © by Hartmut Jager.

LISTEN TO PODCAST: Click on the "Play" button below to listen to the above communication, as recorded live on 9/14/11. This recording was released on I Am Network of Light tape #1030B, for the week of 11/13/11.