September 21, 2011. HIERARCHAL BOARD MEDITATION. After I had completed spiritual projections to the world's leaders gathered in New York City for the opening of the United Nations, an etheric teacher appeared behind me. He performed an auric balancing around my head area. With my psychic vision I could see his hands of brilliant white light, moving softly, in flowing patterns, balancing the energy in my crown, third eye and throat.
When the teacher finished, St. Germain overshadowed me, manifesting as Rama Tault, his incarnation in early Egypt. That is the guise he used when he first appeared to me in a dream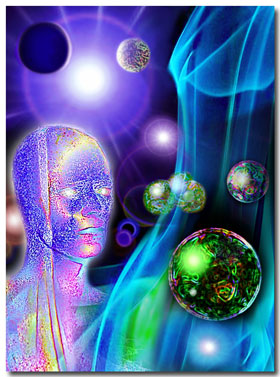 in 1974, before I even knew he was my master teacher. I long have suspected that I incarnated with him in Egypt, following Atlantis, and was trained in his mystery school.
"I have been initiating you since the dawn of civilization," the Master said. He referred to his spiritual influence not only in early Egypt but in previous civilizations, such as Atlantis. As he has done a few times in recent years, he appeared this evening as Rama Tault in order to evoke his guiding role in the esoteric initiations of my soul.
Next, he encapsulated me in a special protective force field that was completely braided with his own light form. Metaphorically, his breath became my breath; indeed, even the rhythm and nature of my physical respiration changed as he molded the etheric substance around me. My own light body became energized, synchronized with St. Germain's unique vibration. The force field was impervious to any lesser energy form. Encased in this solid protection, I pictured myself as a NASA astronaut seated snugly in the Apollo space capsule.
Via mental relay, St. Germain/Rama Tault explained: "When Robert and MariLyn are away on the South America Mission, you won't have the benefit of their physical presence to be a ground for you during our contact sessions. So, I have formulated this new energy field both to insure your protection and to provide an open and secure communication link between us. In this manner I also initiate you into further high Self responsibilities, as symbolized earlier in your dream of being elected High Sheriff.*
"Master teachers for Robert and MariLyn are making special preparations for them, too. All three of your force fields, though structured to meet individual needs, are entirely in sync as one triangulated team.
"I am showing you this new force field now so that you have time to become familiar with its vibration and can incorporate it into your conscious awareness before the mission starts."
____________________
* See dream of September 13, 2011.
Photo: Dimensions © by Hartmut Jager.