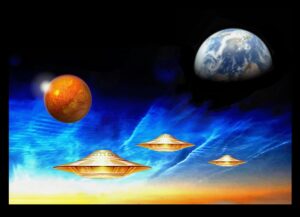 Note: The podcast (audio recording) is now available for "The Vortran Connection" by Katoomi/Lord Michael, Vortran, and Dr. Hannibal/St. Germain, channeled through me on December 17, 2014.
Listen to the live recording and tune in to the masters' vibrations! Through the power of sound, amplify their message to mass consciousness on Earth.
This is my only vocal channeling of the galactic being Vortran (see also "Vortran of the Galactic Centrex"). The audio recording was featured as a broadcast on our I Am Network of Light back in February 2015, but this is the first time it has appeared on Motah Chronicles, to accompany the transcription of the channeling.
Soliel-Robert highlights Vortran and others in his blog post on "Welcome Galactic Visitors"; part of his series on the Temple of Vulcan.
So, the new podcast of Vortan's 2014 channeling is a good opportunity to connect more intimately with Vortran and his galactic group.
To listen to the podcast, click here. Scroll to bottom of entry and click on the "Play" button of the embedded media player.
Photo: Sister Worlds © by Hartmut Jager.