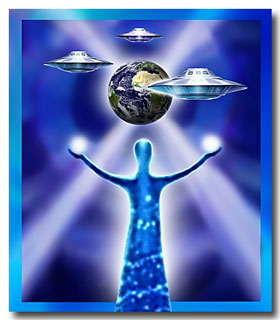 "This is a master ship of tremendous size, housing thousands of ascended masters who have come in recent years to partake of the mission now in operation. For the last seventy-five years [since 1885] this ship has been in orbit around the Earth, in the etheric. It has not been seen in the physical, but it shall be seen by those who have eyes to see. And then, when it is necessary, after most of the cleansing has been completed, it will take on material form."
— Sananda/Jesus via Nada-Yolanda; July 23, 1960
"Behold, we shall manifest! That has been decreed since the beginning. And you shall see this fulfillment in due course, as we lower these frequencies to raise this dimension into the New Era."
— Ashtar Gabriel (pilot of ship #10) via Phillel; September 8, 2010
The following dream sequence, from my spiritual diary in 1985, presents in visionary form the arrival and materialization of ship #10, plus the dramatic moment of Sananda's return at the Second Coming.
March 14, 1985. DREAMS. I was outside on a clear, starry night with Nada and several other people, probably staff members. We were awaiting the arrival of Sananda's ship #10. To prepare the force field and to raise the vibrational frequency, Nada physically levitated into the sky and ascended into a higher realm, from which she was able to beam down energies.
Finally, ship #10 arrived and began to materialize several hundred feet directly overhead. As it quickly took on physical form, the vibrations accelerated rapidly and the entire environment was encompassed — swallowed up, as it were — by the effect of the manifestation. The sound vibration created was much like that produced by the landing of the massive mother ship in the movie Close Encounters of the Third Kind. My whole body and consciousness became instantly activated with intense etheric energy as the materialization occurred. Suddenly, when my vibration was revved to a peak, I was physically jerked or beamed straight up into the center of the craft!
I'm not sure what took place immediately afterwards, but quickly I entered into another dream sequence.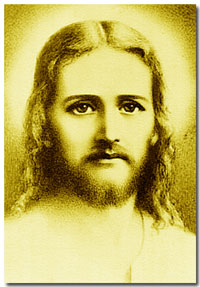 I was with thousands of other people, quietly gathered together at night in a peaceful outdoor setting. All of us were waiting for the imminent return of Sananda/Jesus. A hushed air of expectancy pervaded the land. The vibration had been prepared across the planet, and all of us were manifesting as pure forms of white-light energy; everyone's light-body form was between twelve to twenty feet in height.
I was walking peacefully with one or two others, holding hands. Looking out over the landscape at the other light-body forms silently gathered in various groups, I remarked that many of them were manifesting the same height they had when living in similar body forms on other planets in past incarnations.
Sananda's return was expected at any moment. Finally, when the planetary vibration came into the full, expected alignment, Sananda materialized himself! At that exact moment I awoke with a start.
Another dream, from my spiritual diary in 1976, demonstrates the impact of the high frequency vibrations broadcast from ship #10, affecting all on Earth. A second dream reveals tantalizing insight about El Morya and Glo-Ria.
New Rise in Consciousness
July 6, 1976. DREAMS. From ship #10, Sananda conducted a meditation with the Mark-Age staff, during which a new frequency vibration was implanted on Earth and the veil between dimensions was ripped away to a higher degree than ever before. The effect on all of us was quite stunning and generally unexpected. We all were raised simultaneously into a new level of consciousness, and the new energies were able to be sustained to a much greater capacity.
This rending and implantation affected all on Earth, and this new frequency was to be the standard operational level.
After the meditation, while still quite stunned at the sudden impact, we sat quietly assimilating and integrating the new energies and the heightened awareness they brought.
In another dream that morning, Yolanda was intuning psychically various instructions and predictions. One was that after the Mark Age program [1960–2000, approximately] El Morya and Glo-Ria would work together for a period of time on Jupiter, effecting certain alignments there. I would still be involved with functions on the Earth.
Commentary in 2022: El Morya/Mark made the transition in 1981. Since then, he has served as leader of the light workers in the higher astral planes, helping to prepare Earthman for Sananda's Second Coming. Also, as Chohan of the First Ray and as Prince of Neptune, he serves in the etheric realms on the Hierarchal Board, one of the Council of Seven, or Saturnian Council, the spiritual governing body of our solar system.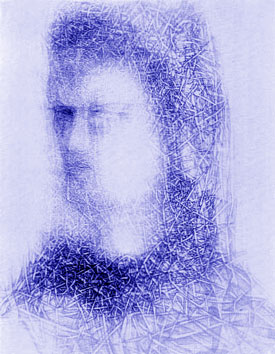 Since the time of this dream in 1976, neither Nada-Yolanda nor I received any follow-up information regarding El Morya's possible sojourn on Jupiter after he returned to the higher planes. But in a channeling through Yolanda on January 7, 1961, John Mark had given this fascinating revelation (see Visitors From Other Planets, pages 30–31):
"Gene [a Mark-Age member] and Mark Age have spent many incarnations working things out together, particularly in the scientific fields. This is something that long has been waiting to be brought into the picture. Gene and Mark have served on certain planets: Uranus, Saturn and Jupiter. Particularly they worked on transmutation."
Also, in a meditation on February 20, 1963, Yolanda had received this information on Mark's role after the Mark Age period: "El Morya will return to Neptune to complete his function with his counterpart [twin soul] Glo-Ria, his feminine aspect on the First Ray."
Note, too, that after her transition in 1962, Gloria Lee (Glo-Ria) traveled to Jupiter as part of her reorientation in the higher realms of our solar system. (See Life in Our Solar System, page 62.)
As for the revelation in the dream that "I would still be involved with functions on the Earth" after this present incarnation, I have received since 1976 that during the two thousand years of the Age of Aquarius, I would continue to perform many Sixth Ray functions on Earth, in order to assist my master teacher, St. Germain, and Archangel Zadkiel in the further transmutation of the planet into the fourth dimension.
For example, I recorded the following Hierarchal Board meditation on April 8, 2009:
"My light body, appearing as a gleaming white, formfitting chrysalis, almost acrylic-like, descended upon me and covered my auric field and physical form. Within moments, I came into communion with Lord Uriel. Her loving, feminine, Seventh Ray presence pervaded my higher senses.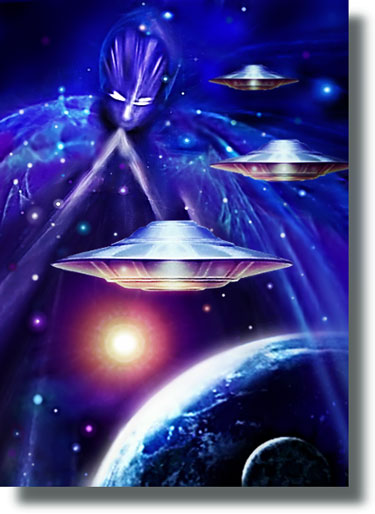 "For a few minutes, the archangel worked with my light body, securing its anchoring into the third dimension. Then she rose above Earth, expanded her form and stood as a giant, straddling the planet. Lifting her hands above her head, in a 'Y' shape, she gathered from the cosmos a pure stream of Seventh Ray love force and funneled it into Earth.
" 'Come with me,' she beckoned, 'and learn to do as I do.' In my light body I rose straight up into her magnificent multicolored form. I felt as a small child, obeying the mother. Enfolded within her, I stood and raised my arms also in the 'Y' shape. Although I was a small form inside her much larger form, I too funneled divine love into the Earth logos. Together we 'breathed' or drew in the cosmic light-essence. We implanted it in the Earth to nurture its function as the love center, the Seventh Ray planet within our solar system.
"Eventually she stopped, then said to me, 'I turn you over now to Zadkiel.' The vibration changed instantly as the Archangel of the Sixth Ray appeared. Suffused with the deep violet flame of my home ray, I joined Zadkiel to project transmutation into the Earth, specifically to transform the planet into its full radiance of Seventh Ray divine love. All energy or substance within the Earth that did not align with this function was burned away as dross, consumed by divine purification, elevated into a higher vibrational frequency.
"In my light-body consciousness I realized that this is work I will do for the next two thousand years. For even after Sananda returns and reestablishes his spiritual government for the New Age of Aquarius, the Earth will require much transmutation to bring it fully into alignment as the love center. In my ongoing assignments with the Federation of Planets, through Motah, I will serve this future work to transmute Earth fully into the fourth dimension. So be it.
"Imbued with my Motah light body, I came out of meditation utterly transformed."
Supplementary Reading:
Photos: (1) Welcome Visitors © by Hartmut Jager. (2) Sananda/Jesus, Mark-Age Archives. (3) El Morya; line drawing by Owen Morrison, depicting materialization of divine power as and through El Morya; Mark-Age Archives. (4) Celestial Earth Changes © by Hartmut Jager.