Channeled via Phillel on September 8, 2010

ASHTAR GABRIEL: Greetings from master ship #10 in command orbit. Ashtar Gabriel, pilot in command. Now that factors have been balanced through our repeated broadcasts and hieronic amplification in recent months through commanders Summalt and Hannibal in East-West sectors, we have now created a new portal for our descent.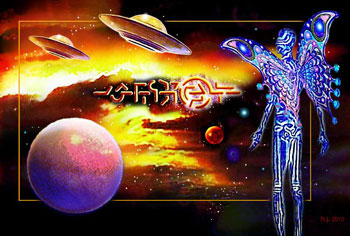 As you have been advised, these broadcasts have been under strategic command of this headquarters ship, the Star of Bethlehem, to announce a new birthing of Christ consciousness in and through all realms associated with planet Earth. This has been Sananda's bidding, as he has received his intunements through higher circles of light to bring through a new step in his redescent.

As commanding pilot, of course, I have been fully apprised at all times for these actions to bring about the completion of ship #10's etheric orbit within a few years' time, as previously announced through channel Nada-Yolanda in 1985. Refer to your literature for specific guidelines on this procedure. [1]

With this new portal that we have effected through the implantation of light, we can now earnestly begin to triple the magnification of your power input/output to raise this planet into the fourth dimension, in coordination with us in these higher spheres.

Behold, we shall manifest! That has been decreed since the beginning. [2] And you shall see this fulfillment in due course, as we lower these frequencies to raise this dimension into the New Era.

All hieronic lines of force are now set to engage this action. Sananda has approved and has given his go-ahead. Those of you on planet Earth, and within the astral realms also, who have responded to this call to serve in this higher capacity may thus see the implementation of greater light-body anchoring in and through your force fields. [3]

Ashtar Gabriel, commanding pilot, master ship #10, on loan through this experience and initial channeling contact through Dr. Hannibal's blessing, for right use of his channel and disciple Motah [Phillel]. Om. Om. Om. Ashtar Gabriel, over and out.

DR. HANNIBAL/ST. GERMAIN: With blessings of augmented transmutation I come. This is Dr. Hannibal/St. Germain. If you be wise men and women, you shall follow this Star. [4] Lock onto it, and master ship #10 will lead you home to a new birth of Christ consciousness within and without.

Now you see where we bring you to the present culmination. Ponder these words within your heart. Dr. Hannibal/St. Germain, bringing you to a new beginning. So be it in truth. Amen.

Note: Soon after the Hierarchal Board meditation began, a tall, golden being of light stood in front of me and placed his hands on my head in blessing. No identification was given, but he transferred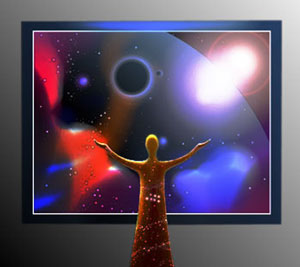 energy into me. Eventually I was overshadowed by my light body, which took on the energy form of a golden sphere. I then realized the golden being of light may have been my own higher Self.

Subsumed in my light body, I was contacted by a hieronic space beam. To my great surprise, Ashtar Gabriel appeared and slowly overshadowed my auric field. Since I've had only three other contacts with him (1987, 1994, 1995) in the past twenty-five years, and undoubtedly fewer contacts prior to that, it took me a while to adjust to his Jupiterian energy cycle and to assure myself of his identity and purpose. But the force field of his presence increased as he braided with me more fully. Finally, he signaled that he would channel vocally. [5]

Later that night, I had unsettling astral dreams, indicative of my psychic sensitivity to the energy shift. The next day, still experiencing the aftereffects of the hieronic transfer, I felt out of sync with the third dimensional frequency. Mentally, I struggled to keep focused on the task at hand. Physically I was depleted, felt uncoordinated, even had subtle dizziness, and my nerves were slightly frayed. I increased my nutritional supplements.

____________________
[1] In meditation on May 26, 1985, Nada-Yolanda, taken aboard ship #10 in the etheric, received the following: Sananda's master ship #10 (etheric spacecraft headquarters) moved to the North Pole to begin orbiting the Earth in a spiral motion from east to west, stopping at each longitudinal meridian for approximately one month, until it reaches the South Pole. After that, it will orbit the equator for an indefinite period. On June 5, 1985, Yolanda received that ship #10 would be building a new auric envelope around the planet that would lock out all lower astral forces and allow only celestial and etheric forces to guide those in Earth embodiment.
From our interpretation of the channelings, we believe it will take approximately thirty years (or until 2015) to complete the initial spiral orbit for creating this protective force field.
(The math: 360 longitudinal meridians on Earth, divided by 12 months per year, equals 30 years. 1985 + 30 years = 2015.)
[2] Channeling via Nada-Yolanda on July 23, 1960, Sananda/Jesus relayed the following about ship #10: "This is a master ship of tremendous size, housing thousands of ascended masters who have come in recent years to partake of the mission now in operation. For the last seventy-five years [since 1885] this ship has been in orbit around the Earth, in the etheric. It has not been seen in the physical, but it shall be seen by those who have eyes to see. And then, when it is necessary, after most of the cleansing has been completed, it will take on material form." [Emphasis added.]
[3] See Hannibal-Summalt's communication of September 1, 2010, "Hieronic Networks Combined."

[4] i.e., the Star of Bethlehem, ship #10. Follow the guidance of this master ship, just as the legendary wise men did at the time of Jesus' birth in Bethlehem.
[5] In meditation on Easter Sunday, April 3, 1994, I had this experience: "Ashtar Gabriel contacted me. He is the pilot of Sananda's ship #10 and, as Starfleet Commander for the Ashtar Command, is responsible for coordinating physical manifestations for the hierarchal space phase of the Second Coming program.
"Ashtar Gabriel, via hieronic amplification, braided his energy and function with mine, through my light body. The hieronic inflow of light was so great that I almost could not hold it. I was having a little difficulty with the connection, since it is relatively new. For example, my heartbeat greatly accelerated. At that moment, I perceived two very tall warriors of light, protectors from the seventh astral plane, standing on either side of me. Almost immediately, they stabilized my force field, in order to allow a smoother braiding with the hieronic beam. Within a few moments, I also saw two or three etheric space beings assisting the readjustment. Thus, the energy of Ashtar Gabriel's consciousness and function was knitted securely into and through my light-body force field.
"The purpose of the braiding . . . was to connect my force field as a channel for the Motah Council with that of the Ashtar Command. Consequently, if the Ashtar commanders find it necessary to use me as a channel to transmit any information regarding coming manifestations in the hierarchal space program, I am now coordinated, tightly knitted, with their command function."
(Read also about the first contact Nada-Yolanda had with Ashtar Gabriel on September 16, 1964. See Visitors From Other Planets, pages 169-170.)
Photos: (1) The Never-ending Frontier © by Hartmut Jager. (2) Going Home © by Hartmut Jager.
LISTEN TO PODCAST: Click on the "Play" button below to listen to the above communication, as recorded live on 9/8/10. This recording was released on I Am Network of Light tape #1004B, for the week of 11/14/10.