Editor's note: On February 16, 2020, I sent the following e-mail to a group list, but I want to share it also with a broader audience through Motah Chronicles, in order to elicit more spiritual projections from all light workers.
In the past month, everyone has become aware of the news of the coronavirus outbreak, begun in China, which threatens to become a worldwide pandemic. According to official records so far, scores of thousands of people in many countries have been infected and almost two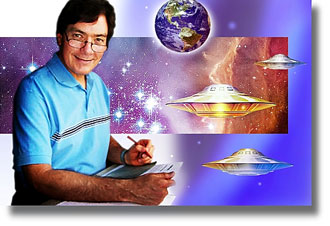 thousand have died. News accounts now report that the coronavirus outbreak probably began in late November, though it was not reported publicly till much later.
In hindsight, this growing health crisis sheds new light on my extraordinary hieronic dream contact/channeling last October 7th with the spacewoman "Quang Sun." See Spacewoman: First Contact on my Motah Chronicles blog.
It seems obvious to me now that the spiritual Hierarchy was alerting the light workers to join in hierarchal projections to China and the East in advance of this outbreak. From the higher realms, the ascended masters could foresee the potential of coming events, and they gave this alert in order to bolster our interdimensional teamwork for projections of the Christ matrix: peace, love, cooperation and coordination.
Let us all stay focused on the Christ light and project right action for governmental and health officials worldwide to deal effectively with this crisis. It is yet another manifestation of the great changes of the Latter Days, the "signs of the times."
Therefore, in our meditations let us call forth the power, the love and the healing of Spirit to infuse all souls on Earth. We are one in the Christ body; what affects one, affects all. United with one another and with all on the higher planes, our prayers are powerful and have great effect to help restore balance and harmony on all levels of mind, body and soul. So be it.
Photo: Phillel, Cosmic Editor, 2007, Mark-Age Archives; collage courtesy of Hartmut Jager.