October 7, 2019. DREAM. In my office at headquarters, I sat in front of the computer. A professional recording microphone was positioned in front of the monitor. Suddenly I was contacted by a strong hieronic beam, and an extraterrestrial woman came on-screen. She appeared to be in her early thirties and had glistening blue eyes. Her radiant blonde hair was straight, neatly coiffed, and fell midway to her shoulders. She wore a duo-toned one-piece space uniform. Aboard her interdimensional spaceship, she too was sitting in front of a viewing screen with a microphone setup. She greeted me with a friendly air and said her name was Quang Sun (pronounced "Kwahng Soon").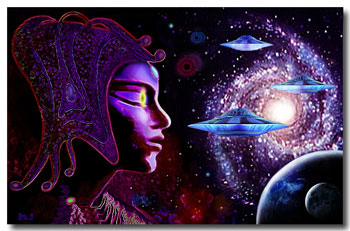 Next, I was riveted by the hieronic energy exchange. My body vibrated with a surge of electromagnetic power, broadcast through me to planet Earth. Speaking into the mic, I recorded my experience, both the sensations and the impressions I received from this new female space contact.
Then Quang Sun channeled a powerful vocal discourse. As she spoke into her mic from the other dimension, aboard her craft, I spoke her words into my own microphone, recording her hierarchal communication on my vibrational plane. When she finished the message, she sang a beautiful, otherworldly song, in order to seal the energy release being implanted in mass consciousness.
Afterwards, charged with energy, I was greatly affected by the impact of the exchange. Of her channeling and song, I only remembered a play on words she made using syllables rhyming with the sound of her name Sun (all the syllables were pronounced "oon").
The next morning at work, I mentioned the encounter to a couple of staff members, and I made plans to transcribe the recording of the hieronic broadcast, the channeling, and the cosmic song. First, I wanted to share with Nada-Yolanda the exciting news of my first contact with the spacewoman. So, I put the tape recording and other materials in a briefcase and started toward her office. Then I awoke.
Interpretation: This extraordinary interdimensional exchange with a new female space contact carries a triple load of energy: the hieronic broadcast, the channeling, and the cosmic song. The symbolism of the two computer screens, with microphones, demonstrates a direct, clear, unobstructed interchange between dimensions. The screen represents the third eye, or psychic powers. But the most salient factor of the dream is her name: Quang Sun. It was clearly spelled and pronounced — as if to make sure I would remember it after I awoke.
I had never heard of the name before, though it certainly sounded Eastern, perhaps Chinese. Was that my clue that she was broadcasting specifically to the Eastern Hemisphere of planet Earth? Quang Sun is obviously a code name, not her actual extraterrestrial identification.
The name Sun, though pronounced "Soon," appears to relate in part to the sun of our solar system. Thereby it would also symbolize the Son, or the Christ Self, a high spiritual vibration. Perhaps the pronunciation as "Soon" also offers a clue as to the timing of manifestation.
Later, I searched the Internet and discovered, quite delightfully, that Quang is a real name. It comes from Chinese and Vietnamese, and means "bright, clear." Also, Sun is a popular Chinese surname. Amazingly, I discovered at least two individuals with that name, Quang Sun, spelled and arranged exactly that way. One is a prominent Chinese scientist and the other is a senior-level computer engineer.
Apparently, by this code, Quang Sun signals that she is an extraterrestrial scientist of the Federation of Planets of our solar system, using hieronics to broadcast spiritual energies to China and other regions in the East. By making first contact in the dream state, through a triple exchange of hieronics, channeling and song, she solicits our participation in her hierarchal projections.
Distilled to its essence, the name (and code function) Quang Sun stands for the "bright, clear" radiations of light, or sun/son rays, of the Christ Self.
Wanting to share the news with Nada, teacher of channels in this solar system, indicates the coordination of my Motah functions with the hierarchal chain of command for the I Am Nation.
Photo: Cosmic Gaze © by Hartmut Jager.