July 2, 2019. DREAM. At I Am Nation headquarters, I joined Nada-Yolanda for an editorial and business conference out on the screened-in porch. Two other editorial professionals, who were not on our staff, presented us with a publishing proposal. While they were speaking, my attention suddenly was drawn outside. To my alarm, a low-level layer of menacing, inky-black storm clouds spanned the entire horizon!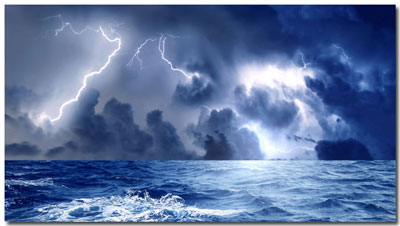 From multiple locations along the storm front, heavy sheets of rain relentlessly pounded the countryside. The storm was fast approaching, and no place would be spared. Quickly I moved us all inside the house for safety, just as the first wave of rain hit.
Once inside, Yolanda convened a general staff conference. About a hundred of us were present. She began by asking us for comments on our projected move to new headquarters in downtown Miami. I raised my hand and spoke first: "I recommend that we consolidate our force field, absorb and adjust to the new frequencies first, and then proceed cautiously at the new location before deciding on future plans, especially in view of the coming storm."
Interpretation: The dream presents a planetary view of the mass subconscious mind, the coagulated and disturbed thought patterns of the race of man as seen from the inner planes. The screened porch indicates my ability to see clairvoyantly through the veil (screen) between dimensions, via the third eye.
A cleansing is fast approaching. It affects first the astral realms, representative also of man's soul or subconscious area, but stormy outbreaks onto the physical, conscious plane are inevitable. No place in man's consciousness will be spared, for all life is being cleansed in these Latter Days.
The two other editorial professionals, not on the staff, symbolize our connections with other light workers with whom we are coordinating projects for the mass educational program. The extensive staff are those higher astral plane workers who are directly involved with the hierarchal functions of Nada and El Morya. Bonded with us on the physical plane, we form an interdimensional team in service to Sananda and the Second Coming program.
The projected move to new headquarters in Miami signals a new octave of spiritual demonstration that is beginning. (See also my dream of June 19th, regarding the transit to the summer action cycle.) Miami was the approximate site of the spiritual capital of Atlantis, and also was the original location of Mark-Age headquarters in this transitional age. The dream location symbolizes our subconscious-soul ties to the past karmic record of the race of man, especially as revealed in the current cleansing cycle.
Also, in his prophecies (Matthew 24:37–39), Jesus said that the Latter Days, prior to his coming again, would be as in the days of Noah and the Great Flood (hence, repeating patterns of the cleansing and destruction of Atlantis). I am reminded, too, of St. Germain's command in my dream of June 21st: "Transmutation is the order of the day."
Our key is to "consolidate our force field." Consolidate means "to join together in one whole, to make firm or secure." In unity lies our strength as light workers. This instruction applies also to our secure union with the I Am Self; that is, consolidating the force field within our own consciousness.
From this union or consolidation of the force field, both within and without, we "proceed cautiously." We face the coming transmutation with utmost wisdom and discernment.
Note: In the ensuing days and weeks there were a number of manifestations of the "coming storm" of transmutation in mass consciousness and also through the devic-elemental kingdom.
On July 4th and 5th, two major earthquakes, magnitude 6.4 and 7.1, struck southern California in the Mojave Desert near Ridgecrest. The temblors were the largest to hit that region in twenty years. Thankfully, there were no fatalities in either event.
On July 13th, Hurricane Barry, labeled "a major rain event," hit the Louisiana coast and moved northward up the Mississippi River Valley. Significant rainfall, well over a foot, caused flooding in Louisiana, Mississippi, Arkansas and Tennessee.
Only July 14th, a magnitude 7.3 earthquake struck eastern Indonesia.
In the United States, four mass shootings rocked the nation's equilibrium: July 28th in Gilroy, California; August 3rd in El Paso, Texas; August 4th in Dayton, Ohio; August 31st in Midland/Odessa, Texas. Crazed gunmen killed 41 people and wounded several dozen. The shootings triggered a new wave of heightened emotional debate over gun control legislation. On August 8th, a disturbed individual in Garden Grove, California, went on a rampage with a knife, killing four people and wounding two.
Other "storms" also discombobulated mass consciousness. Only July 19th, Iran seized a British oil tanker in the Persian Gulf, further exacerbating tensions with the West, following similar earlier incidents. Iran and North Korea, in violation of international agreements, renewed testing of ballistic missiles. Rising tensions in Indian-controlled Kashmir between nuclear powers India and Pakistan provoked concerns of possible military conflict. Thousands of protesters in Puerto Rico, outraged at a political scandal, forced the resignation of Governor Ricardo Roselló on August 2nd.
On August 17th in Kabul, Afghanistan, a suicide bombing at a wedding killed 63 and injured 182. It was the deadliest terrorist attack this year in Kabul.
On August 19th, police in Florida, Ohio and Connecticut thwarted domestic terrorist attacks when they arrested three individuals who reportedly were planning mass shootings.
Also, there have been weeks of unrest, sometimes violent, in Hong Kong. Tens of thousands of pro-democracy demonstrators have protested not only a proposed extradition law between Hong Kong and China, but also other infringements by China in their affairs. In a show of force, China has amassed troops on their border with Hong Kong.
In early September, deadly Hurricane Dorian, initially a catastrophic category 5, devastated the northern Bahamas and later raked the southeastern U.S. coast.
Photo: Storm and Blue Lightning at Sea; source unknown.