June 21, 2019. Summer Solstice. DREAM. Upstairs in Trinity House at I Am Nation headquarters, I entered meditation with a group of light workers. St. Germain, my master teacher and Chohan of the Sixth Ray, contacted me with spacecraft hieronics. As the energy built for a special projection of light, some in the group were inattentive or were making inappropriate comments, or were even showing a lack of respect for the master's contact.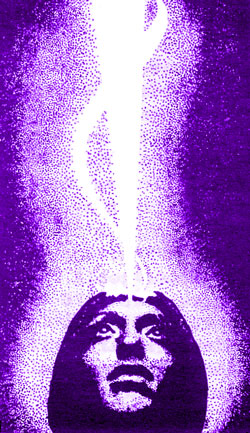 Suddenly, St. Germain personally overshadowed me with the full force of the transmutation flame. The power surge was instantaneous. With command authority, he vocally channeled through me a brief message, reprimanding the disruptive ones in the group for their lack of focus. Concluding his instruction, he stated emphatically, "Transmutation is the order of the day."
When the communication ended and I came out of meditation, I felt utterly transformed by the impact of the master's Sixth Ray energy.
Interpretation: I awoke from this dream in the predawn hours on this day of the summer solstice, the start of the summer action cycle. I was still flush with the violet flame, humbled by the intimate contact with St. Germain.
Being upstairs at Trinity House (trinity of consciousness) symbolizes the connecting link with the higher realms, the ascended masters, the superconsciousness.
As with my dream of June 19th, the group gathered for meditation represents various segments of the light workers. This time, some lack focus, even exhibit disrespect, for the Hierarchy's projections of light. They are being reprimanded, challenged to realign themselves with the I Am. There is now serious work at hand for the transmutation of lesser energies and consciousnesses.
On a personal level, the group could also symbolize various thought patterns in my own consciousness that must be further purified as I enter the summer action cycle.
Certainly, St. Germain's hierarchal orders are crystal clear: "Transmutation is the order of the day." Immersed in the violet flame of the Sixth Ray, all light workers will be transformed.
Photo: Transcendence (colorized) by Sira/Gerry Libonati, Mark-Age Archives.