Hieronic Fine-tuning
August 5, 2015. HIERARCHAL BOARD MEDITATION. (A Mark-Age member attended our group meditation.) Conrad contacted me with a hieronics beam. He fine-tuned the lines of force with [our member] in order to facilitate the energy exchange — both the inflow from them and the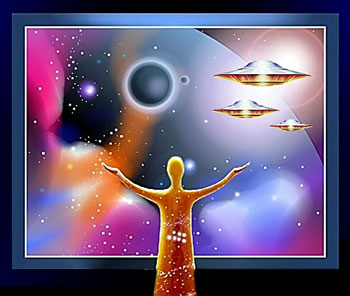 outflow from her — and to amplify greater clarity. Conrad informed me telepathically that the instruction to do this hieronic tune-up had come directly from Sananda.
To explain further, Conrad projected the image of a piano tuner. The technician tunes each of dozens of strings (lines of force) in order to produce the best harmony and the clearest sound.
In the meditation, I acted as a grounding agent to help hold the electromagnetic force field. In a real sense, of course, Conrad was working likewise with all of us.
In the sharing afterwards, I received unexpected confirmation regarding Conrad's hieronic instruction having come from Sananda. [Our member] reported feeling linked with Sananda and surrounded in a bright light (space beam). Robert then shared that he had dreamed this morning that Sananda had come to check on him.
Dad's Ongoing Review
August 9, 2015. DREAM. I was in the iron foundry with Dad, who appeared to be in his mid-forties, or perhaps fiftyish. He was leading me through the plant in order to meet with the foreman in the section where I would work. I noticed I wasn't wearing safety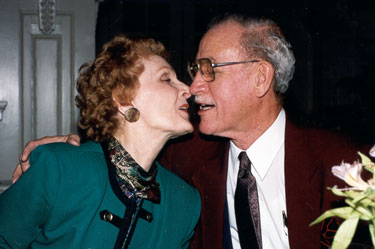 glasses for eye protection; everyone else was, including my dad. So, he gave me a pair.
He was congenial and was fully in command of his environment, as he had been in his recent life as a top executive (chief metallurgist and technical director). He knew his way around and knew all the personnel. I tried to keep up as he walked ahead of me, but eventually I lost sight of him amid the workers.
Then I met Mom, going the other way. I asked her if she could see (in real life she is blind) and could make her way safely through the foundry. "Yes, well enough," she replied. We both continued in our separate directions.
I came across a Russian woman and her family. She was asking some others for directions to her hometown. She didn't speak English, nor I Russian, so I asked her in French if she could speak French. She said yes, so we continued speaking in French. She told me the name of her town, but I couldn't understand it. She wrote it out in Cyrillic letters, but I still couldn't make it out. Then I looked on a map and found it way north of Moscow, not far from the coast. I showed the woman its location.
Interpretation: This dream symbolizes another astral encounter with Dad. He continues to review his recent incarnation as a metallurgical engineer, perhaps even meeting other friends and acquaintances from the foundry who have passed from the physical plane before him. His demeanor, as with previous dreams, indicates he approaches this review enthusiastically. Safety glasses, which everyone was wearing for protection, symbolize the discernment (discerning vision) required to operate protectively in this astral environment.
I had the impression, upon awakening, that meeting my mom meant she too had been visiting my dad on the astral planes. Her psychic vision operated there well enough for her to find her way in that unfamiliar dimension.
Assisting the Russian woman might simply reveal another astral encounter in my sleep state. Perhaps she is another soul who, having crossed over into the astral planes, is reviewing her recent incarnation on Earth (hometown), seeking to reconnect the akashic threads interdimensionally. I help where I can.
Checking with Dad
August 23, 2015. DREAM. Dad and I inspected a $30 check my brother Jonathan had sent Mark-Age. Since it had not been filled out fully, I had to handwrite the numbers in the designated box.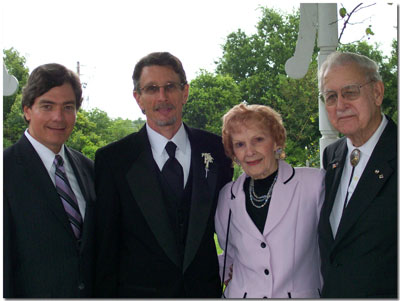 Also, I taped a corner of the check that had been torn. Dad appeared to be in his mid-forties.
Interpretation: The check represents energy exchange from Jonathan to Mark-Age, or the spiritual program we both serve. Thirty dollars may imply a trinity of mind, body and soul; a spiritual exchange on all levels.
Again, my dad appears, at the most, middle-aged, as in previous dreams. We are focused on our task. By our interaction, I am helping him to forge a closer connection with Mark-Age and my spiritual functions. At the same time, I am repairing minor details (writing in the dollar amount, taping a corner) to insure that the energy exchange is well-formed through the astral plane.
Spiritual Regeneration
August 24, 2015. DREAM. I had a pleasant visit with [a friend]. Though still in a recovery mode, she was vibrant, happy and on the mend. Also, she was wearing a bright ruby-red dress. As we parted, I gave her a big hug and told her I was praying daily for her healing.
Interpretation: [My friend] underwent successful uterine cancer surgery on August 12th. In an e-mail to me on August 18th, she had asked: "On another note, is there something I should be working on specifically for the work needed on this lovely planet? Please let me know."
I had responded: "Dear friend, regarding your last question, I would suggest that your top concern at the moment is to focus your energies, spiritual and otherwise, on your own healing, as you undoubtedly are doing.
"Given the location of the tumor, it occurs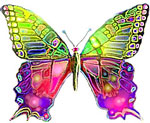 to me that you may find it insightful also to review the chapter on 'Regeneration' in Birth of the Light Body and to work with that [ruby red] visualization as part of your own metaphysical treatment to restore full balance. Then, once a new spiritual regeneration is secured within, Spirit surely will be ready to feed you a new set of light-body elements for your valuable soul mission for the Second Coming. We love you and support you entirely in this unfoldment. As you so aptly said, 'The journey continues.' Amen!"
In the dream, the ruby red dress is a good sign that [her] new spiritual regeneration is taking hold on the inner planes, where the healing will progress from the astral into the physical body. She informed us the next day, August 25th, that her medical results showed the cancer . . . needed no additional treatment.
Close the Gap
August 26, 2015. HIERARCHAL BOARD MEDITATION. Linking with the ascended masters, our group worked with many prayer requests for healing, supply and protection, both for others and ourselves. At one point, Golden Eagle, the higher astral Indian chief, made brief contact. He relayed telepathically that he was coordinating with Conrad for the spiritual protection of our hierarchal force field. Golden Eagle's presence was strong and commanding.
Among our projects, we worked also with [a Mark-Age member]. In a phone call the other day, she was in dire straits. She explained the difficult challenges she was facing. She desperately needed spiritual protection and understanding. She requested that I ask Nada for a message, if possible. I told her I would surely ask, but of course could not guarantee any answer. Spirit's will be done.
Toward the end of the meditation, Nada, manifesting her masterful authority of the Karmic Board, overshadowed me. Once the contact solidified, I asked her, "Do you have a message for [our member]?" With great power, carefully emphasizing each word, allowing no wiggle room, she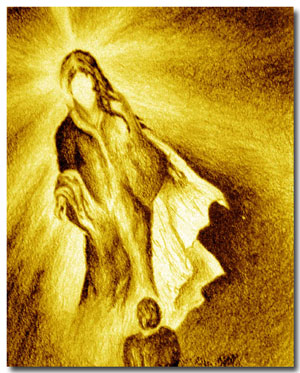 immediately answered:
"Tell [her] this: Close the gap! What Phillel has shared with you is accurate. You have a gap in your auric field, allowing a bleed-through from the lower astral planes and also from mass consciousness. You must learn to master the security and protection of your own aura. Use the white-light protection and breathing techniques as presented in [Anchoring the Light Body on Earth]. El Morya and I will assist you, but the responsibility is yours. You must shoulder the burden. Close the gap!"
I sincerely thanked Nada, and I repeated the message in my mind in order to memorize it. After Nada vanished, St. Germain entered my force field for a minute or two. He gave no message, yet silently reinforced my aura with the violet flame.
Note: The instruction to "close the gap" brought to mind the same phrase Nada-Yolanda had received many years ago. Later, I found the reference, as published in our newsletter in 1991. I believe it expands upon the spiritual key Nada has given [our member]. In a Hierarchal Board meditation on August 7, 1991, Nada-Yolanda recorded the following:
"Lords Michael and Maitreya, titular heads of the solar system government, overshadowed my physical body in order to relay their joint message through me simultaneously. They issued this hierarchal command to all light workers: 'Close the gap.'
"When I questioned their meaning, they conveyed these thoughts: 'Until now, you have used the mantra "see and be." But you are closing the gap between the two steps from see and be into a single realization and demonstration, be. If you express the beingness of your I Am Selves, then you do not need to experience two steps to achieve your goals. Just being the I Am in action, love in action, will accomplish what is required of you in the light bodies.' "
Photos: (1) Oneness with the Universe © by Hartmut Jager. (2) Honora & Fred Jacobs, 1992, Mark-Age Archives. (3) Phillel, Jonathan, Honora & Fred Jacobs, 2007, Mark-Age Archives. (4) Colorful Butterfly © by Hartmut Jager. (5) Nada Overshadowing by Sira/Gerry Libonati, Mark-Age Archives.