January 22, 2014. HIERARCHAL BOARD MEDITATION. Dr. Hannibal/St. Germain clamped a hieronic beam onto my crown chakra and projected my astral body aboard his etheric mother ship #1235. He placed me, standing upright, into a transparent cylindrical tube that was perhaps three feet in diameter and seven feet tall. Hannibal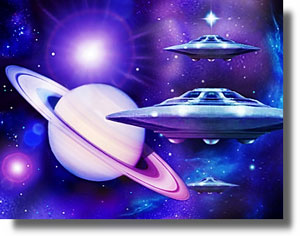 called it a "translation chamber." Integrated with hieronics, the chamber would condition and transform (translate) my vibrational frequencies in preparation for the upcoming Mission to India. Quickly I understood that the experience was a follow-up from last week's hieronic contact with Hannibal and Summalt.
Since the translation chamber was transparent, as if made of clear Plexiglas, with my astral vision I could see into the large circular room where others of Hannibal's crew were busy operating hieronics or other spacecraft equipment. I discerned large panels of multicolored lights. Hannibal stood by my tube, overseeing the experiment. The hieronic conditioning sent waves of electromagnetic energy through my auric field and physical body, by degrees highly accelerating my chakras.
Actually I had bilocated, for simultaneously I was fully aware of sitting physically in the chair in our meeting room at I Am Nation headquarters. Over and above the conditioning of my astral and physical forms, of course, my pristine light body already was in complete synchronization with the etheric spacecraft frequencies.
As I reached a stage of refined alignment in my four lower bodies, suddenly Shantar of Saturn, vice admiral of Hannibal's Tristar Command, appeared in front of the translation chamber. Under Hannibal's guidance, Shantar introduced into the conditioning experiment a special set of vibratory frequencies from the Saturnian Council.
As detailed in a series of space contacts and channelings in 2012 and 2013, the special-operations unit known as Tristar Command has great expertise in handling transmutation energies.* Shantar and his crew hail from the planet Saturn, which radiates the Sixth Ray of Transmutation in our solar system. Moreover, in past-life episodes on Saturn, when I had undergone Motah rites of passage under Dr. Hannibal in the Temple of Purification, Shantar and Jontel had been two of my mentors.
With etheric mind-over-matter control, Shantar deftly manipulated the settings of the hieronic translation chamber. At the same time, I became transfigured by his light body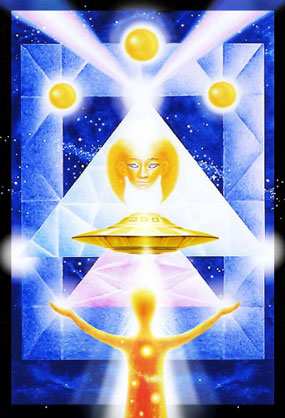 as well as by the etheric form I had manifested during my training on Saturn. The transfigurations flooded my consciousness with soul memories.
Next, using hieronics, Dr. Hannibal levitated my left hand and made his signature as St. Germain, to indicate outwardly that as my master teacher he was in control of the experiment. I had the distinct impression that Robert and MariLyn, sitting in meditation with me, also were being conditioned within spacecraft translation chambers.**
After Hannibal had lowered my hand, Shantar levitated both my hands simultaneously and made his particular Motah signature: the index finger is placed at a perpendicular angle to the other three fingers and the thumb, which are held upright and spread apart. Shantar then performed universal sign language to anchor the Saturnian energy through my form and onto the physical plane. The hand signs and arm movements appeared to be characteristic of Saturnian esoteric schools. For example, one fluent motion formed a caduceus of liquid-light energy, equally balanced in positive and negative polarities, ascending to heaven and redescending to Earth. With another movement, he brought both hand signatures together to form a triangle, to encode not only Tristar Command but also the triune spiritual consciousness.
Synchronously, Shantar overshadowed me with his light form, in effect embodying himself through my auric-physical force field. By reintroducing his Saturnian vibration within me, he enhanced my transformation and presumably conditioned me for the channeling of his energies and/or messages in the future. To solidify the anchoring, he briefly performed another set of Saturnian sign language.
Because of the strong and prolonged manipulation of my chakras, especially my throat, I thought Shantar might channel vocally. As it turned out, the activations were just part of the hieronic conditioning.
Toward the end, Hannibal came forward again and made his signature, thereby blessing the hieronic experiment and the reintroduction of Shantar. The whole time, I had remained in the translation chamber in my astral body, fully bilocated. When I was finally released from the space beam, it took me several minutes to ground myself again in the physical body. I felt entirely transformed.
Note: Regarding the translation chamber, I am reminded also of my out-of-body experience aboard Zorrah's Neptunian spacecraft on April 3, 2013 (see Neptunian Wavelengths). He had placed me in a type of "incubator" space suit. In his channeling, Zorrah stated: "We have special features aboard my craft which we are able to utilize in helping you to adjust to our higher vibrational frequency; and we can, by that manner, in a sense place you in incubation, in order that you may align yourselves with the specialized functions that we are preparing to demonstrate."
____________________
* To review channelings and meditations concerning the Tristar Command, click here.
** Afterwards, Robert shared that he had seen himself encased in a tube or column of light. MariLyn also had experienced the powerful effects of the hieronic beam.
Photos: (1) Saturnian Ships © by Hartmut Jager. (2) Blue Dimension II © by Hartmut Jager.