August 14, 2013. PREDAWN. Awake in the predawn hours, immersed in my sadness over the loss of Cheyenne, again I was reminded of what I had stated in a dream on July 29th, eleven days prior to her unexpected passing: "Love is the only force in the universe that can heal everything."
Inspired, I visualized Cheyenne nestled in my heart chakra. Our two hearts, expanding as one, gently melded into the infinite sea of divine love: God's heart chakra.
August 14, 2013. HIERARCHAL BOARD MEDITATION. At our Hierarchal Board meditation this evening, Sananda brought Cheyenne into our circle. Nada and Mary both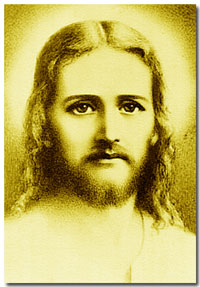 were present, in the background. Sananda placed Cheyenne in a standing position through my heart chakra, thereby intertwining the two dimensions of our auric vibrations. Because her magnificent astral light-form is at least twice the size of her former physical form, the top of her back stood at about the top of my heart chakra as I was sitting in the chair. Her head, facing forward, was a foot or more in front of me; her hindquarters protruded several feet behind me.
Cheyenne was quiet and respectful in the presence of the Master. Our heart/love chakras fully merged as one force field.
Then Sananda revealed how the special function Cheyenne portrayed with me on the physical, transferring spacecraft hieronics directly into the devic-elemental kingdoms, will now be translated to a new octave of interdimensional activity. Our joint spiritual work continues, yet at a higher plane.
St. Germain then appeared, beaming ecstatically. I've never seen him so elated! He explained that he and I, in our master-disciple relationship for eons, have been preparing for this new phase of hieronic work since the height of Atlantis, over 26,000 years ago. The plans that the Federation of Planets set into motion then are finally coming to fruition. A higher level of hieronic transmission to the devic-elemental kingdoms will now be initiated, with Cheyenne's ongoing participation in our interdimensional teamwork.
He has trained Cheyenne with me for this work all during her recent life on the physical, for over fourteen years. (We may have trained similarly together in other life episodes, dating from ancient times.) Yet now the function will be reset at a higher vibration, for we move into an entirely new level of coordination for the transmutation of Earth. That is why he is so happy. And that is why Cheyenne is "going to school" to learn (or relearn) these new techniques.
St. Germain will continue to use Cheyenne and me jointly as instruments to project hieronics into the devic-elemental kingdoms. Under his guidance, he said, if Cheyenne needs to participate as an animal representative, then I should hold this same vision of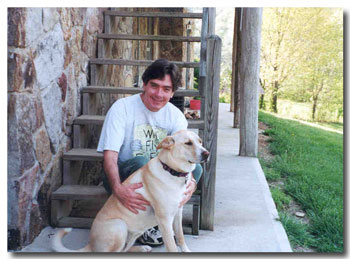 her standing through my heart chakra. The visualization will magnetically draw her in, even literally if need be, to help facilitate the transfer of energy. That is why he and Sananda have positioned the spiritual communion in this heart-to-heart manner, to imprint the image indelibly in my consciousness. The visualization sets the vibratory keynote. Cheyenne's participation will often be behind the scenes, beyond my need to know; so, I should not hold any preconceptions about the process.
At this point, I actually raised both my hands and stroked Cheyenne's astral form on either side of her back, gently sweeping my hands backward from her head to my heart.
St. Germain stepped aside. Archangel Zadkiel of the Sixth Ray suddenly overshadowed me. He is the one who is ultimately in charge of Cheyenne (and the lower kingdoms) as we begin this special hieronic work. As Zadkiel had showed me several years ago, I will be involved with him and St. Germain during the Age of Aquarius, working to transmute the planet and all life forms into the fourth dimension.* Cheyenne's function, representing the animal kingdom, provides another fascinating glimpse into the interkingdom cooperation necessary for planetary transmutation.
The entire time I had been receiving these revelations from the teachers, Cheyenne had been standing peacefully in my heart chakra, through my form, our two force fields in spiritual communion.
When Zadkiel finished setting the matrix for the new stage now beginning, he receded. Sananda then came forward and gently handed Cheyenne back to her astral dog trainer. The young blond woman, who was introduced to me yesterday, instantly reappeared, this time in a fuller materialization. She had been standing on the periphery all along. She smiled with the same twinkle in her eye that I had seen yesterday. She still did not reveal her name, though again I asked.
The trainer started to lead Cheyenne away. Cheyenne turned her head, glanced at me, and relayed the sweet telepathic thought, "Daddy, I'll be back!" (She was echoing to me what I always had said reassuringly to her as I left each morning for the post office: "Cheyenne, I'll be back!")
My heart is at peace amidst the wonderment of these new revelations. I rejoice at the glory of God in resurrected action! Cheyenne is training for a higher octave of loving service. She is happy and at peace, and she is in good hands.
Later, I realized that these new hieronic functions, further coordinated with the devic-elemental kingdoms, had been heralded in a recent meditation. On July 17th, my high Self, materializing then as a priest, had given me a communion wafer the size of a compact disk. I had assimilated it. I know now that the disk actually had been encoded with the new functions revealed this evening.
All is being unfolded in perfect timing for the hierarchal mission Robert and MariLyn will undertake this October to the Grand Tetons, site of the ancient Temple of Venus. For the work that Sananda and the Abels were doing at that spiritual headquarters in Lemuria, seeking to raise Earth and all life forms via love transmutation, will be recalibrated to a new octave for the Second Coming program.
_________________________
* April 8, 2009. HIERARCHAL BOARD MEDITATION. Immediately I reentered the same energy radiation I had felt at the end of my meditation earlier today. My light body, appearing as a gleaming white, formfitting chrysalis, almost acrylic-like, descended upon me and covered my auric field and physical form. Within moments, I came into communion with Lord Uriel. Her loving, feminine, Seventh Ray presence pervaded my higher senses.
For a few minutes, the archangel worked with my light body, securing its anchoring into the third dimension. Then she rose above Earth, expanded her form and stood as a giant, straddling the planet. Lifting her hands above her head, in a "Y" shape, she gathered from the cosmos a pure stream of Seventh Ray love force and funneled it into Earth.
"Come with me," she beckoned, "and learn to do as I do." In my light body I rose straight up into her magnificent multicolored form. I felt as a small child, obeying the mother. Enfolded within her, I stood and raised my arms also in the "Y" shape. Although I was a small form inside her much larger form, I too funneled divine love into the Earth logos. Together we "breathed" or drew in the cosmic light-essence. We implanted it in the Earth to nurture its function as the love center, the Seventh Ray planet within our solar system.
Eventually she stopped, then said to me, "I turn you over now to Zadkiel." The vibration changed instantly as the Archangel of the Sixth Ray appeared. Suffused with the deep violet flame of my home ray, I joined Zadkiel to project transmutation into the Earth, specifically to transform the planet into its full radiance of Seventh Ray divine love. All energy or substance within the Earth that did not align with this function was burned away as dross, consumed by divine purification, elevated into a higher vibrational frequency.
In my light-body consciousness I realized that this is work I will do for the next two thousand years. For even after Sananda returns and reestablishes his spiritual government for the New Age of Aquarius, the Earth will require much transmutation to bring it fully into alignment as the love center. In my ongoing assignments with the Federation of Planets, through Motah, I will serve this future work to transmute Earth fully into the fourth dimension. So be it.
Imbued with my Motah light body, I came out of meditation utterly transformed.
Photos: (1) Sananda/Jesus (colorized), Mark-Age Archives. (2) Phillel with Cheyenne, 2001, Mark-Age Archives.