August 16, 2013. I had been lying in bed wide awake for more than an hour, reviewing memories of Cheyenne, radiating love to her, seeking a place of peace in my heart. It has been one week, to the day, since the passing of my beloved companion.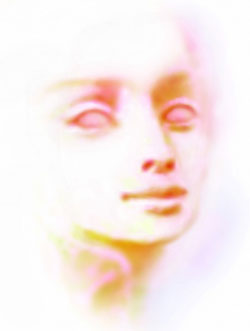 In the quiet stillness of dawn, around seven o'clock, suddenly I heard three distinct raps on my apartment door, just twenty feet from my bed. Instantly I became alert. The three knocks sounded clearly physical, but were a clairaudient phenomenon. "Come in," I projected mentally.
The astral dog trainer, the same young woman I clairvoyantly have seen twice now, walked through the closed door with Cheyenne at her side. Cheyenne was connected to the trainer not so much by an Earthly leash as by a woven tendril of thought-energy fibers, perhaps a "leash of light" by which the trainer could gently guide Cheyenne's movements. Silently they both acknowledged my presence, but did not approach me.
Under the direction of the female trainer, Cheyenne carefully explored the astral environment of her former physical abode, reimprinting her memories from the vantage point of her newly awakened, higher astral senses. Slowly and deliberately, she walked around the apartment, astral-sniffing her various familiar hangouts: where she daily had eaten her food, had drunk from her water bowl, had slept and napped, had faithfully kept watch over her Phillel by day and by night. After a few sacred moments, they completed their exercise, then vanished into the ether.
I lay silent, astonished by the mystical scene I had just witnessed. Spirit, in Its infinite grace, is bestowing on me a precious gift of knowledge to share with others.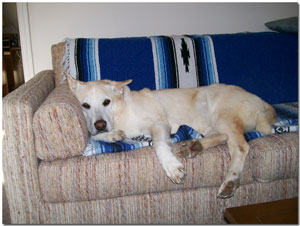 Out loud I shouted, "Cheyenne, I celebrate your life! I celebrate your life!"
Emotionally I held it together until I finally got up and went into the shower. Then, releasing deep sobs of grief, I wept.
At three o'clock this afternoon, I stopped work and observed a few minutes of respectful silence, in remembrance of the exact hour of Cheyenne's passing last Friday.
At Peace

August 17, 2013. I awoke this morning feeling at peace. The vibrational reset that Sananda, St. Germain and Zadkiel accomplished for me at last Wednesday's Hierarchal Board meditation, during the heart-chakra communion with Cheyenne, has taken solid root through my four lower bodies. Now begins the full flowering of the resurrection. I have ascended to a new frequency of balance and harmony. All is in order. On the other side, Cheyenne is in the excellent care of Nada and of her astral dog trainer. She and I both are at peace.
The proof of my newfound peace is that this is the first morning, since Cheyenne's transition eight days ago, that I have not shed tears of sorrow. With joy, I celebrate her life. The love we share carries an eternal blessing, a divine bond that transcends time and space. To God goes the glory, for ever and ever. Amen.
Peace I leave with you, my peace I give unto you: not as the world giveth, give I unto you. Let not your heart be troubled, neither let it be afraid. — John 14:27

Photos: (1) Face from Beyond the Veil © by Hartmut Jager. (2) Cheyenne, 2010, Mark-Age Archives.