November 7, 2011. MEDITATION. Shortly before two o'clock this afternoon, Conrad contacted me with a hieronic beam from his etheric spacecraft overhead. I sat in meditation, and the power revved up. I thought my heart chakra would explode from the overload. Conrad, acting businesslike as an intermediary, relayed only that he was preparing me. For some minutes, I continued having difficulty adjusting to the power of the electromagnetic beam.
Suddenly, Jontel of Motah overshadowed me. Radiating an aura of electric blue light, his Saturnian facial features were distinct and otherworldly. With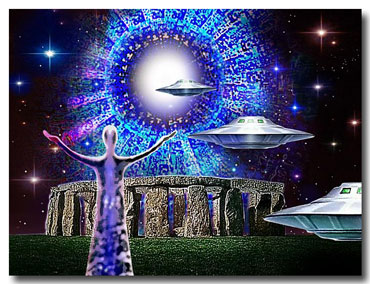 expert precision, he adjusted the magnetic polarity of my auric field. My heart chakra finally became synchronized, and I entered a state of balance and peace.
Jontel, a fellow Sixth Ray disciple, mentally telegraphed that St. Germain/Dr. Hannibal had sent him to hold my force field steady and intact for a hieronic download from the Saturnian Council. He proffered that the Council was introducing specialized interplanetary elements to help stabilize planet Earth. At this intermediate stage of the South America Mission, a suitable force field had been anchored in the Western Hemisphere that could hold this new input. There was no time to spare. Planetary conditions in both East and West — some of them precarious or even dangerous — necessitated a realignment of the entire planet.
Jontel relayed nothing further. For an hour and a half, the Saturnian Council transmitted their hieronic energy broadcast through my receptive instrument.
During the contact with Jontel, I recalled what Rebekah of Venus had channeled on September 14, 2011:
"I am here to assist the melding of these higher frequencies of light, through hieronic manipulation, through the extensive soul patterns of Phillel of Motah. I am able to assist Dr. Hannibal/St. Germain in these balancing procedures for his [Phillel's] participation as solar system grounding unit in this sphere, while the Healing Haven team during the South America Mission ensconces itself within those thought atmospheres for special hierarchal works. These preparations are essential in order to bring a new blending of solar system participations as part of this grounding of new frequencies during this mission. . . .
"Dr. Hannibal has allowed me gradually to reintroduce myself into this channel's experience in order to assist in his overall balance as part of this triangulated team, while holding these solar system elements with pinpoint accuracy."
Photo: Stonehenge Enigma © by Hartmut Jager.