Hot off the press! The brand-new, fifth edition of How To Do All Things: Your Use of Divine Power by El Morya/Mark Age.
Since 1970, How To Do All Things has been our best-selling metaphysical text for group and individual study.
Our new edition includes the newly formatted original text, plus introductory text "About the Author" and a greatly expanded Glossary.
---
Master your life. Help change the world. Discover a new way to solve your problems and reach your goals. Be all you were created to be: a spiritual being with unlimited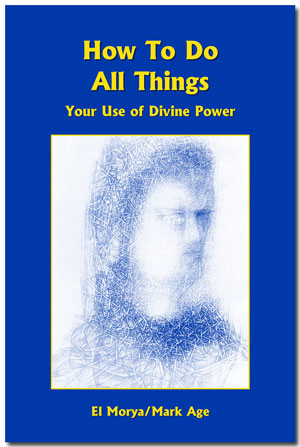 resources and talents.
You are a child of God, the Source of all power, wisdom, healing and love. El Morya/Mark Age, cofounder of Mark-Age, guides you step by step to experiencing your true Self. No rituals. No complicated teachings or hidden, esoteric formulas. Simple, clear knowledge leads directly to the Source. Mastership is for everyone.
How To Do All Things offers a simple, practical approach for daily living. It has been used successfully by those of all religious pathways, helping many to better understand their faith. Countless readers have testified to its impact on their lives. Contents include:
I. Your Use Of Divine Power: Seven Steps for Gaining Full Use of Divine Power • The Real Power • The Real You • Divine Power Is Yours According To Your Degree of Spiritual Expressing • Learning To Use Divine Power • Five Degrees Of Initiating Divine Action.
II. 100 Spiritual Truths: Basic realities to substitute for limited, man-made ideas that have prevented us from attaining mastership.
III. 50 How-To's: How to do specific things using these principles.
IV. How To Pray: Making your prayers decisive and effective.
---
Reviews:
"Here is a milestone text explaining methods whereby one can achieve more spiritual understanding and greater use of divine power. This work of love . . . is a divine instructional guide. . . . The purpose is to help lead the reader to a joyful and abundant life, steeped in spirituality. It succeeds!" — Richard Fuller, Metaphysical Reviews
"If you do not already own a copy of this book, I strongly suggest that you obtain one immediately. You will probably always wish to keep the book at hand as a ready reference for spiritual and material decisions. — Vance Ferguson, Personal Fulfillment Trainer
---
Readers' comments:
"After studying your book, it satisfied the deep hunger in my soul. Spirit took over and I feel my real spiritual growth beginning. How To Do All Things has changed my life."
"It's like reading a brilliant crystal."
"I felt such great love in reading it. It is now my piece of gold."
---
Specifications for the new, fifth edition of How To Do All Things.
Title: How To Do All Things
Subtitle: Your Use of Divine Power
Author: El Morya/Mark Age
Publisher: Mark-Age
ISBN: 978-0-912322-65-0
Price: US $15.00
Format: Trade Paper (6 in. x 9 in.)
Binding: Perfect
Pages: 172
Category: Spirituality/Religion
Language: English
Illustrations: 3 photos, black-and-white
Glossary
Publication date: March 20, 2018
Mark-Age
P.O. Box 10
Pioneer, TN 37847, USA
---
To order:
To order online, click here. Scroll down to the top of the book listings and follow the instructions on the screen.
USA Customers: Just click on the "Add to Cart" button underneath the listing for How To Do All Things and proceed from there. USA shipping cost will automatically be added.
Non-USA Customers: Please note the special instructions. Airmail shipping depends on weight and destination.
Canada: Airmail shipping for one book costs $16.
All other foreign countries: Airmail shipping for one book costs $24.
Please note: If you are a non-USA customer, click on the orange "PayPal click here to pay" button (just below the ordering instructions for non-USA customers). If you are shipping to Canada, in the price field, enter $31 ($15 for book + $16 for shipping). If you are shipping to any other country, enter $39 ($15 for book + $24 for shipping).
Note to all Non-USA Customers: If you want to order more than one book, please inquire first, as airmail shipping will cost more.
Photos: (1) Cover of How To Do All Things features line drawing by Owen Morrison, depicting divine power as and through El Morya; Mark-Age Archives. (2) El Morya/Mark Age, 1966, Mark-Age Archives.