Book review by Phillel, Editor, I Am Nation News
Published in I Am Nation News #117, March-April 2018
---
Working in the Light: Daily Reflections
by Starsha Dawn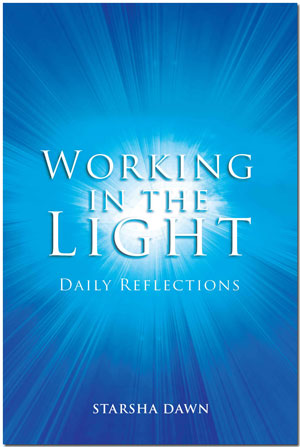 Faced with the pressing challenges of our changing world, every light worker has been called to perform an essential mission: work daily in the light, stay focused on the light, be the light of the spiritual Self.
In her groundbreaking new book, Working in the Light: Daily Reflections, Starsha Dawn invites the reader to join her on a yearlong mission to project light and love to heal and uplift the Earth as we enter the New Age of Aquarius.
"Our duty as stewards of the earth," she writes, "is to take care of it, cleanse its wounds, and help it to rise to a higher state as we all rise in our spirituality and our love."
Drawing upon more than fifty years of experience in metaphysical studies, Starsha guides us on a personal, daily journey. Working in the Light presents a project for each day of the calendar year. The 366 entries, each one less than a page in length, offer an astounding range of thought-provoking insights, creative visualizations, inspiring stories and observations, spiritual mini-essays, illuminating "aha" moments, and light-worker calls to action.
Every topic is a radiant gem through which to focus your light and love.
"I use the concept of directing God's light to a situation," Starsha explains, "actually seeing in my mind what a better world looks like." She urges us to reflect a few minutes each day on a specific topic of spiritual discovery and powerful, creative application of the light. "Together, our focus can help our earth to move into a new age of peace and a time when the lion will truly lie down with the lamb."
Certainly, the reader will find amplified power in unifying with other light workers who are training their thoughts and prayers on the same project on the same day. Working in the Light delivers a daily dose of inspiration for coordinated spiritual action.
Yet, the book also doubles as an aid for your I Am attunement at any time, regardless of calendar date. You can sit for a few moments in quiet meditation, then open the book and let Spirit guide your attention to a particular entry.
An alphabetical list of titles in the appendix also is a handy study reference. Here are just a few of the titles that await your spiritual exploration:
The Copper-Bottom Pot, Wrapping Yourself with Light, Choose Your Future, Using Cosmic Law, Letting the Answer Come, The Tower of Babble, The Hershey's Kiss of Light, Ode to My Body, Learning to Be Free, Lighting the Beam of Love, I Await in Joyful Hope, Speaking the Word, Sometimes You Just Need a Little Nap, Healing the News, A Thorn in Your Side, Accentuate the Positive, Looking through the Screen Door, Singing the Earth Higher, and hundreds more!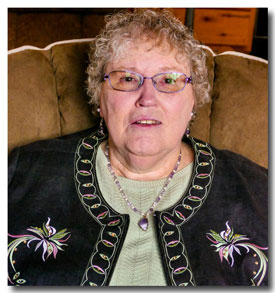 Starsha Dawn has been a Mark-Age member since 1974, has attended a number of our seminars, and has visited headquarters several times. For many years we eagerly have followed and have encouraged her spiritual gestation of Working in the Light.
She confides the backstory: "In 1991, Spirit directed me in a dream to write this and gave me the title and one of the pages as I awoke in the middle of the night. It took me twenty-five years to complete this mission."
Now that Starsha's dream has materialized in print, everyone can join her on a daily mission to help raise Earth into the New Age. Highly recommended!
---
Working in the Light: Daily Reflections. Bloomington, Ind.: Balboa Press, A Division of Hay House, 2017.
(Trade paperback, 390 pages, $24.99; also available in hardcover format for $42.95 and as an e-book for $3.99.)
Buy it online at: www.balboapress.com, www.amazon.com or www.barnesandnoble.com.
For more information, please visit Starsha Dawn's website: www.workinginthelight.com.
---
Photos: (1) Working in the Light, cover image courtesy of Balboa Press. (2) Starsha Dawn, courtesy of the author.