You can now follow me on Twitter: @PhillelofMotah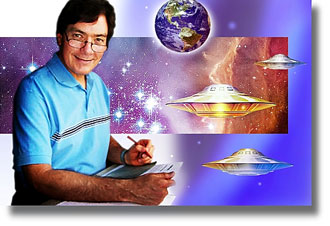 I envision this new foray as a sharing of news and views, personal and planetary, on the Second Coming program, the Federation of Planets, and the evolution of Earthkind into the fourth dimension — all in 140 characters or less!
We'll see what the Motah Council has in mind, but I'd like to think of this as social networking of an interdimensional sort.
See you in the Twitterverse!
Photo: Phillel the cosmic editor, 2007, Mark-Age Archives; collage courtesy of Hartmut Jager.