Channeled via Nada-Yolanda
The following communications were channeled by Sananda/Jesus and Nada (high Self of Yolanda), respectively, through Nada-Yolanda on Easter Sunday, April 22, 1973. They were introduced by El Morya/Mark and broadcast on Mark-Age Meditations (now I Am Network of Light) tape #26A, for the week of May 13, 1973. We published the edited transcripts in our periodical in 1973 and 1979.
Listen to the original recording of the channelings (including the uplifting cosmic song at the end), embedded below as a podcast, and link directly with the spiritual vibrations of Sananda and Nada!
Note: In 2017, Easter is April 16th and Pentecost is June 4th.
SANANDA: Jesus, the risen Christ, speaks. You have been given these symbols and rituals in order to comprehend your own spiritual resurrection and the crucifixion of the mortal in order to enact this risen aspect. But before long, in the New and Golden Age of Aquarius, other symbols and other rectifications will replace what has served, and still been so grossly misunderstood and misinterpreted, for thousands of years. . . .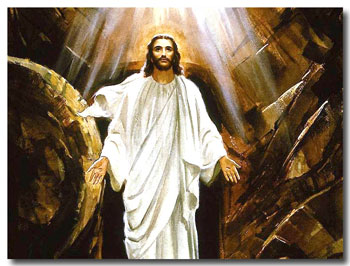 Yet, my mission is not to appear before you or the race, or to conduct this procedure myself, but to inspire through two, four, ten and then the multitudes.
All this has been planned and conceived, even in the days of my own apostles; who could not carry out the instructions, for they could not live together, work together and serve together as one unified whole. Had they been able to do this in the days of yore, when I had been amongst them and had resurrected and had shown myself time and time again unto them, it would have shortened the time for all the elect's sake.
All this is not to say that past history has not served, has not given opportunities for growth and has not brought forth many marvelous inventions, and proclaimed all our concepts regarding the race of man, his evolutionary growth back to Sonship with God in a divine order and material progress.
But two thousand years of incarnations, of expectations have been overshot, in the expectation department. I had given them the understanding, and had the understanding within myself, that all could have been shortened for the elect's sake. Now the time has run out completely for this. It becomes ever more difficult because the vision of, the experience of and the daily contact with, my own impersonal teaching, yet in the physical form and inspiring contact, long have been forgotten and distorted by thousands. Millions of souls have been lost in the maze of repetition and loss of faith and loss of true sight for the goal.
NADA: All hail to the Christ. All hail to the Christ within you. All hail the Christ within each one who resides in this plane or any other plane. I am the Christ within you. I am the Christ within all. I am that I Am.
Speak my name, and all that will be done will be done through you as instruments of the Christ. You have hailed this for eons. You have hailed the risen Son in the planet Earth and throughout this solar system. For it gives the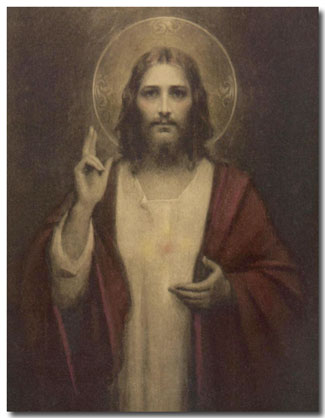 life and light with love wherever you have incarnated in any plane, on any dimension, for any length of time wherever you have experienced life and energy of the Christ.
So, speak of this and be of this consciousness in all things. For now, as of this date and time — which many men respect as the risen Christ, known on Earth calendars for this April 22nd [1973], Sunday, Easter — you have been given a new depth, a new forward to your conscious growing, the evolutionary pattern of man in Earth embodiment.
Until this particular moment in time and space you have prepared, you have written of, you have spoken of, you have thought of the risen Christ in you. You have prayed for the risen Christ Self in every other creature; and for the planet itself, which writhes in agony of pollution and error-doing by many in all kingdoms.
But man, governor of these forces and director of this energy, goes forth from this moment on into a new day, a new dispensation, a new consciousness. All hail that Christ consciousness! It is coming. It is here. The new son has risen and shines upon the Earth plane for all time.
What does this mean in physical interpretation? It means that superconsciously and consciously man has given forth his understanding and his gratitude and his belief in these things.
So, now we come to the subconscious cleansing, fulfillment and rectification of all error. This is the meaning of this Easter Sunday, this time in space, this evolutionary period. We speak of all consciousnesses dedicated to the risen Christ within.
Superconsciously and consciously this has taken place. On the spiritual level, on the mental level you have completed the work, you who are man in incarnation at this time. Sufficient number have anchored this truth, this consciousness, this will for God to be incarnate in the physical in you.
Now, for the remainder of the Latter-Day period named and known as the Mark Age period and program on Earth, this Armageddon, you shall finish the battle. The war will end when subconsciously the race of man wills within itself the I Am Self incarnate. Physically now we will see it demonstrate. Physically materialized three-dimensionally, you will see it.
For in order for the fourth dimensional vibratory rate to supersede the third dimensional frequency rate, [man of] that level — the lesser one, the third dimensional, five-sensual, physical body of man controlled by the subconscious animal nature in which he has embedded himself willingly — must rise up in sufficient number to coordinate with and to accept the conscious will and the superconscious knowledge of the I Am Self within, the all-powerful one, the spiritual Christ within all men: I Am.
Song
I am, I am that.
Aye, aye, aye.
Come unto me and be.
For I see the all in me,
The all, God Self which can be
Incarcerated, incarnated, of my Self.
Om. I call all powers of the universe
To embed themselves, to transform
Through me all that is and can be
In manifested form.
I am man, I am the son of God.
I am he that can be all that I will see.
See and be,
See and be
The I Am.
Aye, aye, aye.
I am he.
Om. Om. Om.
Supplementary reading:
Easter: A Time of Resurrection
Anchoring the Light Body on Earth
Revised from Mark-Age Meditations audio broadcast #26A, released in May 1973.
LISTEN TO PODCAST: Click on the "Play" button below to listen to the original recording of "The Risen Christ" channelings."
Photos: (1) Resurrection, artist unknown. (2) Sacred Heart of Jesus by Charles Bosseron Chambers.