sign: something material or external that stands for or signifies something spiritual; something indicating the presence or existence of something else; presage, portent.
countersign: a sign given in reply to another; specifically, a military secret signal that must be given by one wishing to pass a guard.
Cleansing Torrents
January 17, 2015. DREAM. Torrential rains in the area brought floodwaters rushing downstream from the surrounding mountains. I was walking Shasta outside at the time the flooding hit our headquarters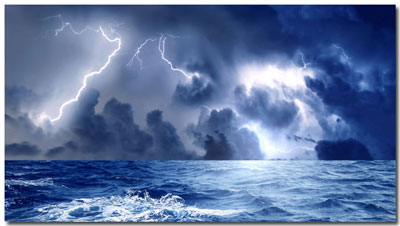 property. Although our buildings, which are on high ground, were spared, some water seeped into my basement apartment, about six feet in from the wall. Immediately I made arrangements to clean it up.
Interpretation: The dream comes on the heals of the "three hurricanes" dream of January 4th, less than two weeks ago, and evokes the same interpretation of cleansings in the thought forms of mass consciousness. Because flooding encroaches our headquarters (the abode of my consciousness in a physical, third dimensional vehicle), it repeats the warning to beware and to take spiritually protective action.
The cleansings and transmutations of the Latter Days affect all; no one is spared. As Christ Jesus said, "He makes His sun to rise on the evil and the good, and sends rain on the just and the unjust." (Matthew 5:45)
Transmutation Focus
January 25, 2015. MEDITATION. During our group meditation, Dr. Hannibal overshadowed me. Using hieronics, he began fine-tuning my force field, and that of the group, for upcoming works. The Mission to Mexico is now on again, and Robert and MariLyn are scheduled to depart on March 10th. Most of Hannibal's hieronic work was subtle, beyond my need to know specifics. To my query, he only relayed, "Be my transmutation focus."
Concentric Rings of Light
January 26, 2015. MEDITATION. During our weekly staff conference, we paused for a ten-minute meditation, specifically to link with Summalt, Hannibal and Sananda, and to work with Indonesia and the region of Sumatra and Kuala Lumpur, focusing on East-West balance. I beheld the following vision: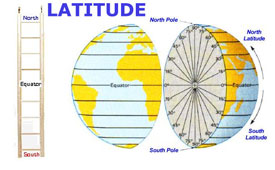 Concentric rings of brilliant white light, about ten in number, ringed the planet horizontally along the major lines of latitude. Each ring radiated electromagnetic energy in resonance with spacecraft hieronics. The radiations penetrated the planetary sphere, emanating back and forth through the core from one side of the globe to the other. In this manner a balanced energy exchange was maintained between the Western and Eastern Hemispheres, representing male/positive and female/negative polarities, respectively.
Synchronously with the horizontal energy radiation, a deep and vibrant electromagnetic pulse oscillated slowly between the two poles, from north to south and back, interpenetrating each of the concentric rings of light. The vertical north-south pulse regulated the holistic radiation of the horizontal rings, sustaining planetary balance.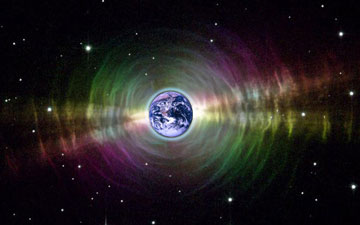 Using this visualization, attuned with the space brothers and sisters, I projected peace, harmony and balance to both hemispheres of the planet. I concentrated particularly on an injection of light into mankind and the nature kingdoms in Indonesia, along the equator. My crown chakra, which had been opened during the hieronic exchange, remained vibrant for some time afterwards.
Supplementary reading: Seismic Shifts in East & Tectonic Dangers in Indonesia.
Mexican Connection
January 27, 2015. DREAM. While I was outside on K9 patrol with Shasta, three unusual aircraft, each bearing emblems of the United States Air Force, approached our property and made a low pass overhead. One of the planes, a larger transport, suddenly descended and landed in our field. Several dozen individuals disembarked. Most were young men, some even in their teens. A few older males, obviously the leaders, also deplaned. All of them had dark hair and olive-toned skin and appeared to be Mexican or mestizo.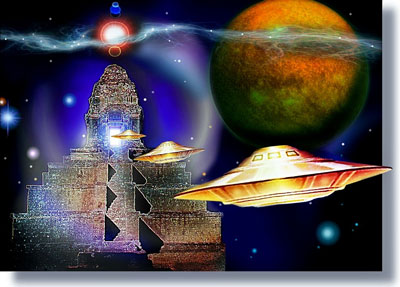 Some were wearing Explorer Scout uniforms, with badges.
Holding Shasta on-leash, I walked up to one of the young men and asked him why they had landed. When he hesitated to answer, or perhaps he didn't know, I said, "Take me to your leader." He immediately led me to the "scoutmaster," a mature, congenial man who was taller than the others. I asked him the same question. Before he could reply, I awoke.
Interpretation: The aircraft represent spacecraft of the Federation of Planets (USAF). The leaders, who are taller and older, are space brothers. The Explorer Scouts signify an exploratory or scouting expedition. On the astral planes, the space brothers have transported Mexican or mestizo light workers to our headquarters in order to introduce them to us and to connect them directly with our hierarchal force field. It is a clear sign of preparations now afoot for the Mission to Mexico. Dr. Robert and MariLyn will depart for Veracruz on March 10th. Light workers on the inner and outer planes are being prepared in consciousness to participate in hieronic projections to be implanted during the mission.
As part of my extensive stint in scouting as a youth, I not only was a Boy Scout but also was an Explorer Scout in my last couple of years. The symbolism of scouting is therefore a familiar way for my subconscious to relay the dream's significance. The line "Take me to your leader" is a humorous role reversal. In science fiction lore, it is the iconic statement that the extraterrestrial poses to the Earthling, not the other way around!
Snakebit
January 28, 2015. DREAM. While sitting on a curb talking with a man I had just met, two baby copperheads suddenly crawled out of holes in the cement and attacked me. I tried quickly to fling them off, but they both bit me: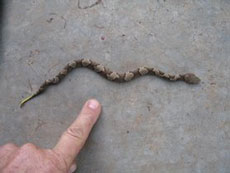 one struck me on the top knuckle of my left index finger, the other on the outside of my upper right forearm. Alarmed, I immediately called Emergency 911 and requested an ambulance. While I waited, the poisonous venom slowly began to work in my system, and I noted the adverse effects. Shortly the EMTs arrived and stabilized me for transport.
Interpretation: Poisonous snakebites depict auric attacks from negative thought forms in mass consciousness. Two bites, one on the left hand and one on the right arm, symbolize a two-pronged attack on my spiritual power (limbs), both at a conscious (right) and a subconscious (left) level. Nonetheless, I take immediate protective counteraction by calling 911. The EMTs represent astral or etheric guides who are dispatched to assist.
The dream follows on the heels of yesterday's encounter with those who are being linked with us in preparation for the Mission to Mexico. Despite safeguards, an auric opening to new force fields also can allow unexpected seepage of deleterious thought forms (venomous snakes which, albeit immature, have a potent bite) to penetrate one's spiritual defenses. There are negative or dark forces who attempt to thwart any advancement in the Second Coming program. Insidious, they are ready to strike. Therefore, the hierarchal call is to be on alert. We must stay protected spiritually as we prepare for the mission.
Shantar Returns
January 28, 2015. HIERARCHAL BOARD MEDITATION. We focused on spiritual protection, plus the ongoing inner preparations for the upcoming Mission to Mexico. Dr. Robert and MariLyn fly to Veracruz on March 10th. Midway through the meditation, I experienced a wave of nausea from a vibrational frequency change triggered by a space beam. No information was forthcoming, so I continued my projections.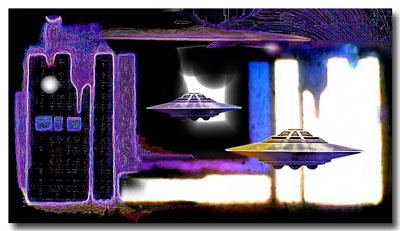 Then, as I was about to come out of meditation, suddenly Dr. Hannibal and Shantar of Saturn contacted me. The two masters quickly revved up the hieronic beam. My physical respiration and heartbeat accelerated significantly as Shantar himself fully overshadowed me. It was the first time I'd had contact with him since last March.
Shantar is the designated vice admiral of Tristar Command, a special operations unit under Dr. Hannibal. His team of Saturnians specializes in projections of ultrahigh transmutation energies. The planet Saturn radiates the Sixth Ray of Transmutation in our solar system.
As the Saturnian adjusted my four lower bodies to his frequency vibration, he announced telepathically that Hannibal had ordered his Tristar team to participate in the spiritual preparations for the Mission to Mexico. In addition, Shantar revealed that he had been the leader, or "scoutmaster" (master of scouts), in my dream of the 27th. Tristar had been in charge of introducing the Mexican light workers to our hierarchal force field.
During Shantar's impactful overshadowing, I experienced extraterrestrial transfigurations through my throat, mouth, and face, as if he were building up my force field for a vocal channeling. Instead, he levitated my left hand and formed his unique signature: my index finger was bent forward at a ninety-degree angle, while my other fingers and my thumb were splayed upright on the same plane.
With both hands, Shantar then briefly performed universal sign language. To me, the movements carried a particular stamp of Saturnian symbolism. At one point, for example, both hands and arms made a sweeping, undulating motion upwards, as if connecting our Earthly energy forms with those of the Saturnians. Also, forming his signature with both my hands, he positioned them facing one another, with the index fingers almost touching. This movement apparently locked his form into mine, grounding his Sixth Ray projection.
As Shantar disengaged the hieronic beam and released me, my body jerked involuntarily four or five times as I slowly came out of meditation.
In our sharing afterwards, the others reported interesting correlations. Larry had been locked into a cylinder of light, riveted to his chair. MariLyn had contact with Sol-O-Man and had added the combined feminine love energy of Third and Seventh Rays. Robert, overshadowed by El Morya of the First Ray, projected a masculine force to help stabilize me during the hieronic contact.
Photos: (1) Storm & Blue Lightning at Sea; source unknown. (2) Earth's latitudes; source unknown. (3) Collage by author of Egg Nebula and Earth; images courtesy of NASA and Hubble Space Telescope. (4) Ancient Stargate 2 © by Hartmut Jager. (5) Baby copperhead; source unknown. (6) Hieronic Oscillations © by Hartmut Jager.