Conrad & the Lady Captain
August 13, 2014. HIERARCHAL BOARD MEDITATION. This afternoon I was contacted by hieronics. By 2:30 the space beam was so strong that I had to stop work and lie back in my chair for about an hour. For some indeterminate time, I loss conscious awareness of the physical plane. My crown chakra felt as if it had been peeled back, fully open to the inpouring of higher electromagnetic energy.
At four o'clock, Robert, MariLyn and I gathered for meditation. As soon as we began, the hieronic beam resumed and increased in magnitude. This time Conrad, the team commander, contacted me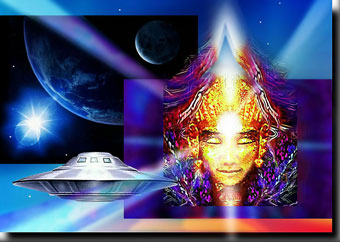 personally, stimulating my heart chakra with his unique energy signal. Again, my crown chakra was energized. With my higher senses, I felt and saw myself encased in a formfitting etheric space suit. Many times over the decades, I have clearly perceived the psychic manifestation of this garment of light, signifying my Motah space functions. Others also have seen it.
Calling me "Federation friend and brother," Conrad began fine-tuning my force field, effecting also a tie-in with the planetary grid or network of hieronic spaceships. The tweaking was preparation for the upcoming Mission to Mt. Shasta and Alaska. Dr. Robert and MariLyn depart on August 26th, less than two weeks away. I shall remain at headquarters. Higher forces also were fine-tuning their force fields, coordinating us as a triangulated team.
As the manipulations continued, my clairvoyance opened further. Conrad inserted a brilliant, clear etheric crystal, about the size of an egg, into the middle of my crown chakra, hence directly into the energy field also of my physical brain. He called the device a "crystal homing beacon."
As soon as the crystal was in place, a solid rod of light — it reminded me of a vril stick — was secured from my crown all the way down my spine.* My force field thus amplified, I rose immediately into my higher Motah functions: the receiving and sending of hieronic energies and channeled instructions on behalf of the Saturnian Council of the Federation of Planets. My light-body overshadowing intensified.
During my hieronic contact with Conrad, a lady spaceship captain suddenly appeared to my clairvoyant vision. Standing in three-quarters profile in front of a control panel, she was wearing a space uniform. Her straight, brownish blond hair, not quite shoulder length, was swept back toward the nape of her neck. As I gazed at her, wondering who she was and what planet she came from, she turned her head to me and smiled brightly. Her soft eyes, slightly slanted, twinkled in recognition. Before I could discern anything further, the vision vanished. I did not receive her name, only the strong impression that she was a spaceship captain in her own right, not a standard crew member of Conrad's team.
Pilot & Navigator
August 14, 2014. DREAM. I was traveling with a close female companion. Having stopped first to visit a friend, we were about to leave on the next leg of our journey. I was going to drive. Meanwhile, my companion, who would sit in the passenger seat, had gathered all the necessary driving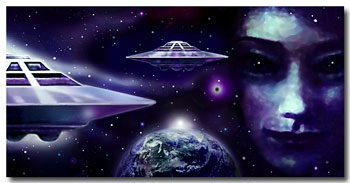 directions on her computer tablet. I embraced her and remarked fondly, "Every pilot needs a good navigator." She smiled sweetly.
Interpretation: The female, unidentified by name in the dream, appeared very similar to the lady spaceship captain I saw psychically at yesterday's Hierarchal Board meditation. Because I had asked for further confirmation of that encounter last night before going to sleep, perhaps this dream is the answer.
Since I am driving, I am the "pilot." Having collected all the driving directions for our journey, she is the "navigator." Given my brief space encounter yesterday, the use of those two terms has to be purposeful, not coincidental. So, the dream may very well be another contact with the same extraterrestrial woman. Although she is a spaceship pilot, she is helping me to navigate on our journey of interdimensional reconnection. If so, obviously we know one another from somewhere, for she is a close female companion in the dream.
Viewed metaphysically at a personal level, I represent the conscious mind, the driver (pilot) of the car (body) on the physical plane of action. The female represents the subconscious, the helpful record keeper (navigator) who provides directions from the storehouse of knowledge (computer tablet) for my incarnation (journey) on Earth.
_________________________
* vril stick: a cobalt rod, known and used especially in Atlantis and in early Egypt. Had higher spiritual energies installed and held in it by mind power.
Photos: (1) Light Being © by Hartmut Jager. (2) Interdimensional Observation © by Hartmut Jager.