Channeled via Phillel on March 19, 2014

HILARION: Hilarion, master of Fifth Ray unity, synthesis, integration and healing, on hieronic beam override through disciple Motah. For I stand with St. Germain/Dr. Hannibal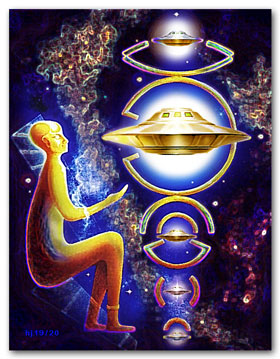 aboard his etheric craft #1235 in order to address the light workers of planet Earth as we move into the spring equinox of the Northern Hemisphere.

My appearance is being grounded through you this evening, for I speak to the 144,000 elect on planet Earth, and through these light workers to all governments of Earth, both on physical and astral planes. The Fifth Ray spiritual principles of synthesis, unity, healing and integration must hold predominant sway at this time in the magnetic matrix of your planetary structure.

Only you as light workers, during the course of this hierarchal Mission to India and the Far East, may ground these projections of light in due course in order to sway the pendulum to the right side of thinking and spiritual-mind action.

All around, you see the wreckage of disunity, disintegration and power play; and disservice unto the Christ that is one within each child of God and within all life forms on planet Earth. Even at these lower rungs you see the principle, though of lower frequency, of unity being served. But the negative forces who are working these power plays must not be allowed to congregate their principles of mortal action and thinking at this time, as we move into the New Age of Aquarius.

That is why the light workers are being called now to enhance these proper Fifth Ray integrating thoughts of divine love, peace, cooperation and coordination. All lower forces are being broken up, and are in a disintegrating phase in the truest sense, in order to be supplanted by these New Age principles of Christ unification. But we must ground these projections through the 144,000 elect, our hierarchal representatives on planet Earth, in order to swing the pendulum securely to the positive side of the ledger.

You must take the lead as light workers in presenting these principles of integration and unification unto your Earth governments. Primarily you do this through Christ mind powers and mental-etheric projections of light, enhanced and amplified by the hieronic controls that we have instigated through the planetary grid of etheric ships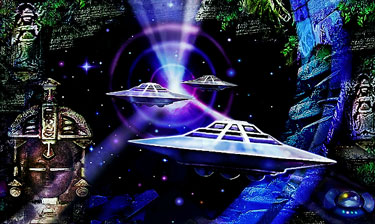 who are participating at the behest of the Saturnian Council of this solar system, in order to implant the positive pronouncements of unification and integration based on Christ mind, Christ soul, Christ body; the light body integrated through all levels of your being.

We amplify these decrees through you now, trusting that you will follow suit in your projections of light to anchor these securely onto the astral and physical planes. Thus you shall, with our assistance, supplant the negative forces, the disunifying forces, the disintegrating forces with higher light and higher purpose as we move into this next cycle of time.

We are making these projections simultaneously through the East and through the West. All sectors are involved because we see the planet as a synthesized whole from this etheric realm. We project this visualization through astral and physical kingdoms, and through all governments of mankind on this heavenly orb of congregated souls who are struggling to reach into the higher sectors and to unify with the solar system government of this area of galactic involvement.

Thereby we implant through you these secure decrees, holding you in protection, knowing that adverse elements are reacting negatively to these implantations of light. However, the light of the Christ shall prevail!

So be it in truth. Hilarion, aboard master craft #1235 with St. Germain/Dr. Hannibal, on this hieronic override to implant these vibrations into and through all receptive light workers who can heed these hierarchal commands and interject into your Earth governments, astrally and physically, those unifying principles that will lead to Christ action and the implantation of the Christ/Buddha matrix of peace, love, cooperation and coordination.

So I, Hilarion, speak to you in this forceful manner, knowing that you who have the ears to hear and the eyes to see shall act accordingly, and thereby shall transform your governments of Earth and bring about a new heaven of synthesis, integration, unification and healing, that all may be served through Christ and Buddhic consciousness.

This decree goes forth through all hieronic sectors, East and West, implanted now. So be it. Hilarion, master of Fifth Ray, over and out.

DR. HANNIBAL/ST. GERMAIN: Dr. Hannibal/St. Germain. In conjunction with the green ray of synthesis and healing, we project to you the purifying violet ray of transmutation and cleansing. For we go before you wherever you travel, and prepare the way; keeping you secure, holding you in this purifying matrix, that you may do your work cleanly and purely, with as little adverse effect from outside forces as possible to impact upon your auric fields.

So, rest assured that we have all factors factored in, in these equations of hieronic projections of light, to bring new synthesis on planet Earth, along with the transformation and the transmutation of the governments of mankind. So, act in this knowledge. We are one with you, and you are one with us. So be it in truth. Dr. Hannibal, disengaging hieronic beam, over and out.

Note: At the time of this communiqué, Dr. Robert and MariLyn were in Tokyo, Japan, preparing to fly to Taipei, Taiwan, the next stop on the Mission to India. Larry Peterson and I held the focus at I Am Nation headquarters in Tennessee.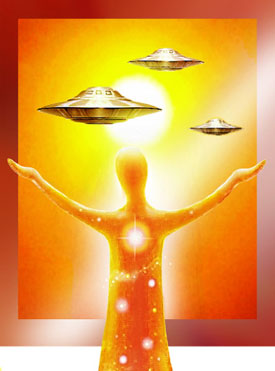 About twenty minutes into the meditation, Hilarion, Chohan of the Fifth Ray of Unity and Integration, overshadowed me. He revealed that he was with Dr. Hannibal, aboard mother ship #1235 in etheric orbit. I was genuinely surprised. Seldom have I been contacted by Hilarion, and only once has he channeled vocally through me, on November 17, 2010.

Augmented by a hieronic beam, Master Hilarion melded his light body with my force field. At one point, as he grounded spiritual energy through me, he raised my hands and placed them in a specific configuration. With my fingers and thumbs spread apart and gently curled inward, he brought both hands together, touching the tips of the digits. Thereby my hands basically encompassed a sphere of light, created and held in magnetic balance by the dual polarities of both hands. The blending of the energies through the fingertips produced a holistic synthesis, a complete electromagnetic circuit.

Hilarion held this configuration for some while in front of my heart chakra. He pulled the hands apart, then slowly brought them together. He moved the configuration up toward my throat chakra, held it there a moment, and lowered it again. Referring to this symbol of joined hands, he relayed telepathically, "This is my sign."

I was thunderstruck: "Of course, how clever and unique! The configuration of five fingers, unified and doubled by both hands held together in a balanced magnetic polarity, represents the Fifth Ray." Hilarion had given me his individual hand signature.

After performing this universal sign language, Hilarion revved up my chakra centers, producing reverberations especially through my crown, third eye, and throat. From the amplification of the hieronics, my heartbeat and respiration also increased. Finally, guiding my hand to pick up the microphone, Hilarion signaled he would channel vocally.

His channeling was authoritative, forceful and dynamic, doubled in power by the rush of hieronic energies simultaneously transferred through my system. By the time he finished, I virtually tingled all over with electricity.

Dr. Hannibal came forward, swept my force field with the violet flame of the Sixth Ray, and remodulated my vibrational frequency. Then he too channeled a short message to finalize the communications session. When he disengaged the hieronic beam, my whole body jerked in a single spasm.

Photos: (1) Preparing for the Mission (version 2) © by Hartmut Jager. (2) Ancient Stargate © by Hartmut Jager. (3) A Golden Welcome © by Hartmut Jager.