Channeled via Phillel on February 26, 2014

SHANTAR OF SATURN: Greetings. Shantar of Saturnian league of extraterrestrial forces, so-called vice admiral of Tristar Command, under Hannibal's guidance in this evening's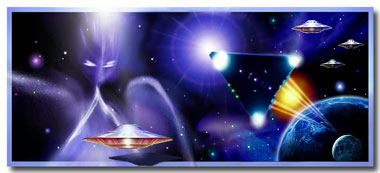 session to project specialized energies to you in combination with Hannibal and Summalt.

Hannibal has agreed that I reinitiate braiding procedures through light-body contact with Motah [Phillel], and thus with the triangulated team at I Am Nation headquarters, prior to the Mission to India and the Eastern Hemisphere.*

As you know from past communiqués, we of the special-operations unit of Tristar Command carry with us a specialized focus of Saturnian light projections, which are geared for Sixth Ray transmutation. I am following through from previous contact with this channel, for Hannibal has designated a portion of my crew to participate directly with Summalt in the upcoming mission.

I will have a contingent of my forces thus in league with Summalt and his command ship #7423 in etheric orbit over the East. For we must implant a transmutation ray simultaneously with other works that will be ongoing through the hierarchal channels of our triangulated team as they anchor the Hierarchy's projections.

We thus will help to sweep the force field clean in these procedures, operating primarily behind the scenes with Summalt. But because we will be in direct contact with him on board his craft, portions of my crew will be able to influence the download of episodes that will be forthcoming, and thereby can relay these to me and to Dr. Hannibal here in etheric orbit over the Western Hemisphere, for relay through this I Am Nation headquarters.

It is essential also in these extraterrestrial factors that we instigate Saturnian procedures in concert and in coordination with all other extraterrestrial forces under Summalt's responsibility for anchoring the light into the East. Transmutation is involved because there is great change afoot in that area of the globe, as even you are aware of through your physical media outlets. Yet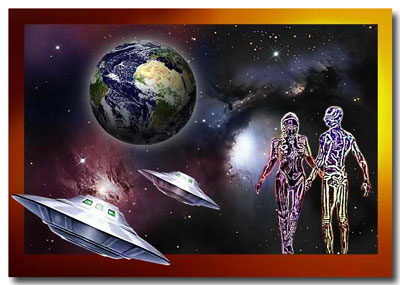 much more is ongoing in those spheres in the astral realms. So, our transmutation focus will assist this procedure, along with all other extraterrestrial hieronic projections under coordination of Summalt, for effecting a new implantation of the Christ matrix of peace, love, cooperation and coordination.

So, may we all be on guard as we continue these preparations in the short time ahead before the start officially of this hierarchal mission.

Thank you for allowing me to speak to you this evening, and thus to further integrate through these sound waves the necessary light-body energies that we Saturnians of Tristar Command are able to implement under guidance of Hannibal and Summalt.

All of these joint exercises, of course, are overseen by Sananda from his master ship #10, and it is he himself who has implemented the master plan for the spiritualization of Earth in these Latter Days prior to the Second Coming events ahead of you.

Rest in the peace of your I Am Selves as you make your final preparations. All is in order. Summalt says "Go!" Hannibal says "Go!" Sananda awaits and will issue the final command.

We are pleased with how these exercises have unfolded, as we are able from the hierarchal realms to inspire you step-by-step in the unfolding plan. That is all for the moment. I am sufficiently braided with Motah and with the triangulated team, and am looking forward to the implementations that shall be forthcoming in days ahead.

So be it in truth. Shantar of Saturnian league, Tristar Command, so-called vice admiral under Dr. Hannibal, who has given his assurances unto this channel that all is in order and all is well. Amen. Shantar, over and out.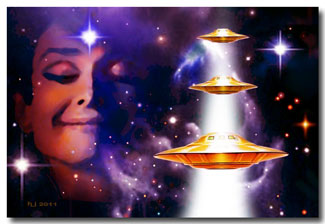 REBEKAH OF VENUS: I am Rebekah of Venusian ethereal realms, given leave at this moment to bring you some motherly advice. Be patient. Encase yourself in the vibration of love, and go forth with this action in all things that you undertake.

We are coordinating our confirmations as quickly as we are able from these high spheres. There is much that goes on well beyond your farthest imagination. So, in your receptivity, allow us to feed you and to nourish you as God wills it to be done.

I bring steadiness of purpose and a healing balm to your souls. For I surround you with my love and my protection, and am joined by Sol-O-Man in these endeavors. Go in peace. Rebekah of Venus, over and out.

Note: With Dr. Hannibal observing, Shantar of Saturn contacted me. As he overshadowed me with his light body, he projected a gold four-pointed star, symbol of Tristar Command, onto my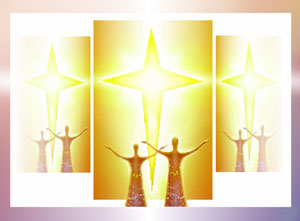 third eye. Eventually, as I raised my head and opened my mouth to receive his light-body incorporation, he thrust the blazing star into my throat.

Hieronically manipulating my chakra centers by stages, Shantar completely transfigured my being. My facial muscles, including my throat, reacted to his unique extraterrestrial embodiment. He then levitated my hands, formed his Saturnian signature with both, and began to perform universal sign language. Evoking esoteric Saturnian symbolism, he implanted into our group thought atmosphere the essence of what he later channeled vocally.

After Shantar finished his communication, Rebekah of Venus appeared. As she often has done in conjunction with Shantar's contact, she rebalanced my auric field. As a guardian of my soul training under Motah Command, she brings a unique healing balm to my spirit. Her vocal channeling solidified the vibrational readjustment through sound. Sol-O-Man/Mary was with Rebekah, assisting the smooth integration of Shantar's Saturnian energy into our group consciousness.

Even with this etheric help, my nervous system subsequently reverberated to the great impact of Shantar's high-energy transmission. My sleep that night was broken, and I dreamed repeatedly of the contact session. The following day, as I absorbed the encounter, my energy remained at a low ebb. I was slightly discombobulated, and I felt a few brief waves of nausea. Such are common temporary reactions to a step-up in vibrational frequency.

____________________
* See space contact of January 22, 2014.
Photos: (1) Other-dimensional Visitors and Spacecraft © by Hartmut Jager. (2) Future Earth © by Hartmut Jager. (3) Spirit of Infinity © by Hartmut Jager. (4) Triple Tristar © by Hartmut Jager.