October 11, 2009. DREAM. I was participating with a team of space scientists who were performing experimental tests both on their astronaut personnel who would be launched into space and on the ground crew. (The scientists were wearing futuristic uniforms, made of a fabric that was vivid blue and chrome in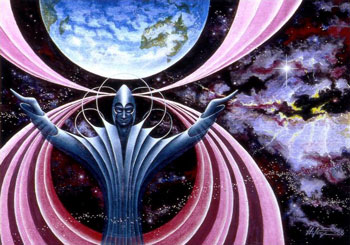 color.) The tests involved turning a dial on a large machine that would rev up the rpm's of the bodies and the encompassing force field of all involved. One of the space scientists turned the dial and the vibrations immediately accelerated. Since I too was subjected to the experiment, instantly I was thrown to the ground. The vibrational frequency was almost more than I could bear.
Interpretation: This is a graphic representation of what we've been told: there will be a "doubling of reserves," a doubling of vibrational frequencies and spiritual efforts, as the Hierarchy introduces the influx of energies for the fall cycle [click here]. Also, as one of my dreams of October 8th foretold [click here], the energies would come in waves, with the first two waves having a great impact.
Note: In the past three days, I've developed a strange skin rash on multiple parts of my body, with considerable itching. It has appeared only during the night when I sleep. During the daytime, it abates or disappears, only to return overnight, even in different areas. Under Dr. Robert's care, I've been treating it holistically, both with topical ointment and nutritional supplements. I've never experienced these symptoms before, so this development has been disconcerting.
We've both concluded that more than likely the rash is caused by toxins being eliminated from my body, as other factors have been discounted. The acceleration of the spiritual energy — the doubling of reserves — is bringing about a transformation, with a concomitant temporary physical reaction while my body is further aligned with my light body.
The dream of the space scientists and their acceleration experiments bears this out. As a hieronics channel, I am being revved up so as to handle the increased load. The first wave of this energy surge is certainly having the prophesied impact on me!
All light workers, who act as spiritual astronauts pioneering new vibrational dimensions, will be challenged similarly in this cycle.
Photo: Blue Angel © by Hartmut Jager.