June 17, 2009. HIERARCHAL BOARD MEDITATION. Conrad contacted me with a hieronic space beam, producing the same unusual heart-chakra stimulations I have experienced intermittently the past couple of days. I had recalled that those activations were the contact signal I had received from Conrad back in 2007, for special energy projections. Tonight's space beam reconfirmed that signal.
In thought impression, not a word-for-word channeling, Conrad relayed the following: "We apologize for the stresses of the various symptoms you three at headquarters, and other light workers, have been feeling in recent days. But as we near the end of the spring cycle, we have had to maintain a certain schedule of etheric projections in order to respond to the planetary needs for cleansing and balance.
"In our hieronic grid of spacecraft surrounding the planet, we do have quite a few light workers whom we are able to work through to ground these energies and to help rebalance situations in mass consciousness. But we do not have enough of them. So, you relative few are carrying the brunt of these radiations of light. Your physical, mental, emotional and soul-astral symptoms, even dream episodes, are thereby exacerbated. This may continue for some days yet, as we near the summer solstice and the beginning of the changeover into the summer action cycle. So, be alert to our signals.
"I remind you that the etheric spacecraft grid is entirely interconnected around the planet, as are the light workers through their Christ bodies. The higher plane electromagnetic signals are transmitted instantly throughout this grid, conveying our hierarchal actions as well as our responses to reactions in mass consciousness. So too the light workers, forming a grid or a network of light on the planet, respond simultaneously both to our projections and to the 'nerve signals' from mass consciousness.
"In this respect, the Earth planet may be likened unto a brain, whose electrochemical nerve signals are instantly transmitted throughout the organ; one action in one area causes an instant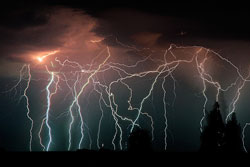 reaction or reverberation in another area. The same analogy applies to our spacecraft grid and to your etheric linkup with one another and with us."
In my inner vision, I saw this concept portrayed by great flashes of light coursing here and there across the planet, as would occur with nerve impulses in the brain. For example, the ongoing post-election demonstrations and violence occurring now in Iran, or the bellicose statements and actions arising from North Korea, are producing explosive sparks of imbalanced thought and emotion throughout mankind's collective nerve center, our planetary thought atmosphere. We light workers are called constantly to respond with Christ principles to help restore balance, peace and, ultimately, love.
Photo credit: darkmatter, Digital Photography School