October 25, 2017. DREAM. At an official weather station, fellow scientists and I observed atmospheric conditions. On the horizon a ferocious storm,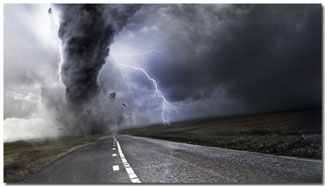 spawning several tornadoes, was quickly approaching. Alerted, we immediately took refuge in the concrete, steel-reinforced basement of the installation. We locked the steel door just in time, secure in our storm-proof bunker. Torrential rains and tornadic winds descended upon us, wreaking destruction throughout the area. The station above shuddered from the impact, but we were safe. After the storm passed, we ventured outside to survey the damage.
Interpretation: The weather station may be likened unto a higher-dimensional space platform, where extraterrestrial scientists and I observe the planetary thought temperature, detecting storms in mass consciousness that impact everyone in the third dimension during the War of Armageddon. But amid the storm we are safe, as are all who take refuge in Christ consciousness.
Negative thought patterns, generated by those of unillumined consciousness, run rampant not just on the physical plane but on the lower astral planes. The dream foreshadows potential catastrophic events on Earth, natural or man-made, unless unstable, negative thought patterns of mankind are quelled by spiritual projections of peace and balance. As the Master decreed, "Peace, be still."
"And he arose, and rebuked the wind, and said unto the sea, Peace, be still. And the wind ceased, and there was a great calm." — Mark 4:39
Note: Tragically, two manifestations of this dream prophecy occurred in the following days. On October 31st, a Muslim terrorist, using a rental truck, plowed down cyclists and joggers as he sped down a bike path in New York City (Manhattan), before crashing into a school bus. Eight people were killed and 11 were injured. The terrorist was shot and captured alive by police.
Then, on November 5th, a disturbed shooter killed 26 people and wounded 20 others during Sunday services at a small church in Sutherland Springs, Texas, near San Antonio. When the killer exited the church, he was wounded in a shootout with a local resident, then took his own life after the resident and another Samaritan pursued him in a high-speed car chase.
Supplementary Reading:
Catastrophes in the Latter Days
Photo: Tornado, source unknown.