Channeled via Phillel on June 10, 2015
CONRAD: Conrad team commander. Relay mechanisms are in place. Stand by for input from multiple sources. We have engineered our hieronic gauges to establish new matrix of cooperation on your plane of action.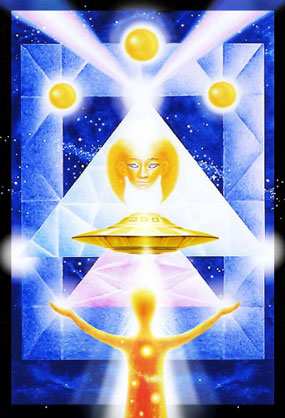 Be alert to our signals as you close out current cycle.* We shall inform you in necessary formats to enhance all success of hierarchal actions now in progress from our plane.** Be at peace, in harmony with us. Conrad team commander, over and out.
Note: A few minutes after we began our meditation, Conrad contacted me with a hieronics beam. He and his space team monitor our headquarters for Dr. Hannibal. The team commander did not open up a two-way telepathic exchange. "Stand by," he said, indicating he had a busy workload to accomplish. Clairvoyantly, I saw Conrad aboard his craft, manipulating hieronic dials, tweaking vibrational frequencies, assessing readouts. I cleared my mind, became a receptive instrument, and decreed that only Spirit's will be done.
Within moments I began to feel accelerations in various chakras, especially my throat. Space transfigurations formed through my face and body. My heart rate and respiration accelerated. My hands began to tingle as energy vibrations coursed through them. Slowly Conrad levitated my hands a few inches, using subtle movements to form magnetic polarities for his energy manipulations. He assessed the reactions occurring through my auric and physical systems.
Given the energy buildup, I thought Conrad might channel vocally. Instead, he began to patch in hieronic relays from other extraterrestrial sources. One by one, as the different hieronic frequencies were fine-tuned, I was overshadowed by various teachers: Dr. Hannibal, my master teacher; Elinor of Sphera and Alanar, the two space commanders from Uranus; Shantar of Saturn, the so-called vice admiral of Tristar Command, Hannibal's unit of transmutation specialists; Hilarion, Chohan of the Fifth Ray of Unity and Integration; and Ashtar Gabriel, the Jupiterian pilot of ship #10, acting on behalf of Sananda.
Perhaps there were others, too, for at one point I clairvoyantly saw a new face in three-quarters profile. My first impression was that the spaceman was a new contact. He wore a space suit and exuded a soft aura of violet light. He smiled at me, and I felt entirely comfortable with his vibration. Before I could latch onto an identity, however, the hieronic frequency switched and the vision vanished.
While I was in contact with Dr. Hannibal, I asked him if he would explain specifically the hieronic projections. He replied matter-of-factly, "You do not need to know right now." My job at the moment was to remain clear and receptive to the work being conducted.
Toward the end of the session, Conrad resumed full hieronic control and personally transfigured through my form. When I asked if he was going to channel vocally, he signaled that he did not want to use my energy further that way. Instead, he would pen a brief message. I opened my eyes, grabbed my steno pad and pen, and took his dictation. I was locked in so tightly to the electromagnetic beam that I could write only with difficulty, using unfamiliar, almost-mechanical jerky motions.
_________________________
* The energy influx of the spring cycle ends around the time of the summer solstice on June 21st.
** "Necessary formats" could include dreams, clairsentience, spiritual inspiration, psychic contacts, perhaps messages, and so forth; in other words, whatever format they would deem appropriate for relaying their signals.
Photo: Blue Dimension Two © by Hartmut Jager.