The Vet

August 31, 2013. DREAM. I went to see Dr. Mike, the vet, to review with him the events surrounding Cheyenne's transition on August 9th. I inquired about the diagnosis of her terminal condition and my decision to put her to sleep. "Doctor Mike, that was the hardest thing I've ever had to do, emotionally, in my life. But there was no other recourse. It was the only decision I could have made."
"I know, Philip," Dr. Mike replied sympathetically. "I, too, had a knot in the pit in my stomach about that. But I had to tell you up front the truth of the diagnosis and the prognosis, so that you could make the right decision." He went back in his office and made copies of Cheyenne's official medical diagnosis, and returned to give them to me. Shaking hands with him, I thanked him and left.
Interpretation: In my subconscious, I continue to process the trauma of Cheyenne's death.
The Bark

September 2, 2013. DREAM. I was awakened abruptly from a dream with the sharp, familiar sound of Cheyenne barking once at the door to come in,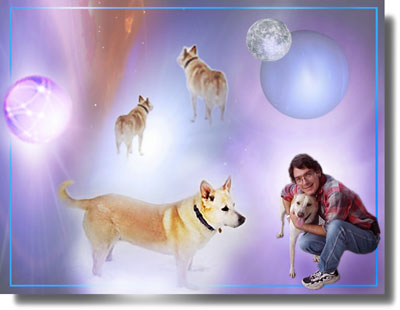 wagging her tail in anticipation. Only this time her bark was not physical but was part of the interdimensional dream state. It was about 7 a.m.
This same routine, only physical, had occurred countless times during her recent life here. Often I would let Cheyenne out around dawn and would go back to sleep, whereupon she later would awaken me with a characteristic "yip!" that she would only employ to signal she wanted to come back inside.
I got up, wrote the dream down, went back to bed, and fell asleep. In another dream an hour and a half later, I watched a video of Cheyenne happily romping around with some other dogs.
Interpretation: From the astral, Cheyenne is signaling her presence.
The Water Bowl

September 4, 2013. DREAM. I was in Nada-Yolanda's former office upstairs at Trinity House. Zeke (MariLyn's cat) was with me. It was almost six o'clock and I was due next door for supper. I realized I needed to feed Zeke before I left, so I went into the kitchen to get his food. Suddenly Cheyenne appeared. She was happy and energetic. The water bowl we typically had used for her was not in its usual place, so I moved it so she could get a drink. As she started to lap the water, I awoke.
Interpretation: Through a series of dream contacts, I am continuing to build "crystal bridges" interdimensionally with Cheyenne, interacting with her in a new vibration of existence. (See the symbolism of "crystal bridges" in my dream with Nada-Yolanda on June 5th.) Upstairs at Trinity House refers to the astral planes; it is a symbol I've had in dreams before. Yolanda's office alludes to a connection with her functions on the inner planes; in this case, her responsibility for Cheyenne's retraining. As with my dream of two days ago, Cheyenne is signaling her astral presence in our I Am Nation force field.
The Dog Whistle

September 4, 2013. HIERARCHAL BOARD MEDITATION. In our weekly meditation, Robert, MariLyn and I focused on Sananda's mantra Love God and Love One Another, both as preparation for the upcoming Teton Mission in October and as a key projection to President Obama and other world leaders who will meet tomorrow at the G20 Summit in St. Petersburg, Russia, where they also will discuss the Syria crisis in the Middle East.
After these spiritual projections, three angels, arrayed in gleaming white light, appeared in our midst. Sananda had sent them as his personal emissaries to minister to the three of us, each of whom was in need of healing energy for one purpose or another. Clairvoyantly, I saw the angels approach us and surround us in the comforting folds of their appendages of white-light radiation. I was greatly uplifted into a cosmic consciousness of peace and healing.
Later, I sensed I was carrying on an inner plane conversation with Nada about Cheyenne. Although I was not privy to the details we exchanged in our light bodies, she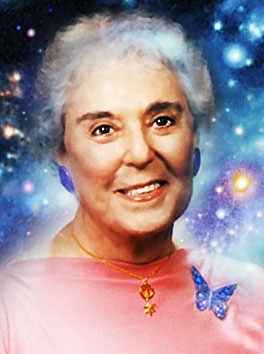 kept impressing me with the image of a dog whistle. I actually have a dog whistle that I used in Cheyenne's training many years ago. I had set the frequency pitch of the whistle to her unique canine hearing, beyond a human's audible range. Perhaps Nada was telling me to "whistle" to Cheyenne — that is, call to her — on a higher spiritual frequency in order to forge the "crystal bridge of light" for our interspecies and interdimensional communication. Coming out of meditation, I determined to explore this idea further in my meditations.
The Bicycle

September 5, 2013. DREAM. Nada-Yolanda and I were living in the same house at I Am Nation headquarters. She emerged from her room after a nap and wanted to talk with me, but her voice was hoarse because she earlier had been speaking with others for quite some time. I walked up to her, kissed her on the cheek, and suggested that she drink some hot tea with lemon to soothe her throat. Meanwhile, I would go ride my bicycle for a while, and would return and speak with her then.
Interpretation: It is interesting that this dream follows on the heels of my meditation last night wherein I was engaged in an inner plane conversation with Nada-Yolanda. Her hoarseness suggests that, on the higher planes, she has been involved in hierarchal conferences or negotiations that entail extensive projections of spiritual power (throat and voice). Part of these projections undoubtedly have been concentrated on the world's governmental leaders to resolve the present Syria crisis. Our United States Congress also is involved in an active debate over whether to authorize President Obama's plan to strike Syria militarily in response to Assad's recent use of chemical weapons against his own people in their ongoing civil war.
Riding a bicycle suggests my own exercise of balance as I heal from my grief over Cheyenne's death. Since the two wheels can represent conscious and subconscious, or physical and astral, riding the bike would symbolize my ability to balance equally both aspects of consciousness, or both planes of vibration. The main point is that Nada and I are actively engaged on the inner with one another, sorting out plans of action through our interdimensional teamwork. Again, the dream evokes the symbolism of the "crystal bridge of light" being forged between planes.
Photos: (1) Cheyenne's Spiritual Adventure, collage of Mark-Age photos of Cheyenne and Phillel courtesy of Hartmut Jager. (2) Nada-Yolanda, 1997, Mark-Age Archives; collage courtesy of Hartmut Jager.