Channeled via Phillel on June 30, 2010
SANANDA: Om. Om. Om. I am Prince of this realm, Sananda. We have sealed this force field for my return. I speak to my light brigade on Earth; for the collective force field that you establish and anchor through your thoughts and prayers, aligned with Christ consciousness, prepare this planetary force field for my redescent. No one knows the hour, but your hour has come.
This I have commissioned you to hold for me. This commission you have accepted as I Am Nation citizens. Your hour has come. My plan of action has been engaged.
I speak as planetary commander from ship #10, my etheric headquarters. For I have brought in further support ships to aid in this anchoring of the force field, to seal and to heal any fractures evident within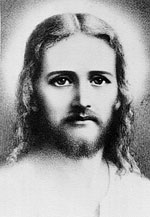 mortal consciousness. Therefore, align yourselves in this intent with this empowered force for the implantation of the I Am Nation on Earth.
Within this conclave you receive my thoughts and my new images of light, which pierce through your individual force fields of consciousness and snap you to the I Am presence. We are one in this effort. You have seen its effect. Much more is to come. Be vigilant. Be clear. Receive this kingdom which I now bring unto mankind of Earth in these ensuing steps, and through these last stages as you will see them unfold in the Battle of Armageddon in years ahead.
My support team is with you, as well, and reaches out from the celestial, etheric and higher astral realms where they are stationed to bring through these energies to concretize this enhanced force field for my return, and for the second coming of all into Christ consciousness who can bear this light.
All is well within the I Am. That is as I see it, therefore now you be it. This is my commission to you.
This message goes forth from I Am Nation headquarters, amplified through hieronic commands, that all frequencies on Earth may see this effect come into action now.
There is only one Power: God, the Supreme Creator of all. Channel this power. Bring this power to Earth, because it is in Earth and through Earth and with Earth that the power uplifts all into this augmented light.
All who do not adhere to this command shall fall away, as the dried leaves are blown by the wind. Concern yourselves not with others, but focus on yourself and your own attunement to this higher frequency of light which I now bring, stitched into the very fabric of this third dimension.
Call on my name! For I am Sananda, Son-of-God consciousness, Prince of this realm, and I guide you with sure-footed steps. Come to me. Let me lead you into the Age of Aquarius, where the Brotherhood awaits. I have prepared the place for you, as I said I would.* Now come. I lead you as the true Shepherd.
I am that I Am, Sananda/Christ Jesus, to be with you sooner than you may think. So may it be. To all who follow the light my blessings endure. So be it. Om. Om. Om.

CONRAD: Conrad team commander, under Hannibal's bidding, standing in, assuring you of our spacecraft presence, answering Sananda's call. We have sealed any outstanding fractures, as heretofore declared.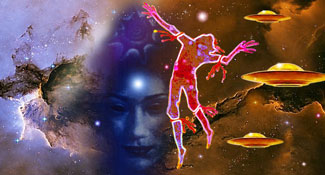 Prepare yourselves, therefore, for clear infusion of these higher projectiles of light. Be secure in your knowledge that as you abide in this higher consciousness, so you shall be shielded and shall produce a higher manifestation than you have known to this date.
Unseen we may be. But in your inner sight you know we are one band of brothers and sisters, come to serve our planetary Prince, Sananda/Jesus the Christ. Thus have we been commissioned with you long before these days, and stand ready at every instant to serve.
Blessings from those who know you best, your leaders of this I Am Nation Unit. This is Conrad team commander. We have successfully knitted these lines of force and now sign off. Over and out.
Note: Conrad contacted me with hieronics prior to Sananda's appearance, to prepare the force field for the communication. To assure me of his identity, the space commander manifested the same form he had assumed when he first revealed himself to me in a dream in 2001. In many respects, I was not surprised by the contact, as I have been receiving hieronic signals from Conrad on and off for the past few days.
Via telepathy, Conrad conveyed that his team had beefed up their protection of us. (The three of us at headquarters had had disturbing dreams in recent days, including lower astral attacks, indicating the need for increased protection.) Also, the Conrad team had negotiated further security measures with higher Indian astral forces in our area.
When Sananda overshadowed me, prior to the channeling he performed universal sign language, particularly manifesting his J sign (for Jesus). The silent hand signals more or less foreshadowed what he vocally channeled.
____________________
* "In my Father's house are many mansions. If it weren't so, I would have told you. I am going to prepare a place for you. If I go and prepare a place for you, I will come again, and will receive you to myself; that where I am, you may be there also." — John 14:2-3
Photos: (1) Sananda/Jesus, Mark-Age Archives. (2) Nebula © by Hartmut Jager.

LISTEN TO PODCAST: Click on the "Play" button below to listen to the above communication, as recorded live on 6/30/10. This recording was released on I Am Network of Light tape #996A, for the week of 7/18/10.