"Shooting Star"

When I was a small child, one of my favorite pastimes was to lie outside under the stars and gaze at the night sky. Immersed in the marvels of outer space, how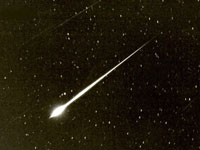 gleeful I became at the fleeting sight of a meteor streaking across the heavens: a shooting star!

In the mid-1950s, my father and I joined the YMCA's Y-Indian Guides, a father-son organization steeped in Indian lore. For club powwows and campouts, we dressed as Indian braves. We also gave ourselves Indian names. It was only fitting that I chose "Shooting Star." Even then, as a five-year-old, I was prescient about my soul mission for the Federation of Planets. (My father, a metallurgical engineer who worked at the local iron and steel foundry, chose the name "Iron Star"; a moniker he uses to this day.)
As a Boy Scout in the 1960s, attaining the rank of Eagle Scout, I was also inducted into the Order of the Arrow, an honorary organization of Scout campers that is imbued with Indian tradition. A "Brotherhood" member, I had occasion to dress up in homemade Indian garb and, in mystical ceremonies, induct other Scouts into the secrets of the tribal order. (My lips are sealed!) My most memorable moment came one starry night during a firelit ceremony: from a wooded hillside, at the end of a solemn speech to inductees, I drew my bow and shot a flaming arrow into the lake below.
In 1971, at age twenty, my spiritual awakening led me to Mark-Age, by way of a Lakota Sioux medicine man named Jack "Redeagle" Reese (photo below). Living in a small cabin deep in the piney woods of East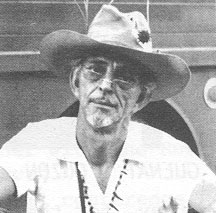 Texas, Redeagle gladly shared his spiritual knowledge with all comers, mainly college students like myself.
Quite the showman (he once had been a jazz drummer on Miami Beach), he "beat the drums" loudly — and literally — for the Second Coming program. Interwoven in his New Age rap on Mark-Age was a magical mixture of Amerindian and East Indian mysticism, exciting adventures of shamans and yogis alike. I sat mesmerized as he spoke of his tribe's age-old tales of encounters with the sky people, who came in their "flying canoes" and "flaming arrows": Native American descriptions of our modern-day flying saucers.
In Redeagle's parlance, Sananda/Jesus the Christ, commanding from his master ship #10 in etheric orbit around Earth, is the Great Chief over all "tribes."
Redeagle made the transition from this Earth plane in 1993, and reunited with his astral Indian ancestors in the shamanistic band of the Great Chief. Aho!

As "Shooting Star," I still revel in the nighttime glimpse of a shooting star … and dream of the marvels of outer space.
Amerindian Traditions of ET Contact

The legends of Native American cultures recount a rich history of contact with extraterrestrials (ETs). Amerindians long have referred to these "cosmic tribes" as the Star Nations.
In an article entitled "Native Elders Reveal Extraterrestrial Contacts," (Nexus magazine, December 1996/January 1997), Richard J. Boylan, Ph.D.,* reports on an extraordinary conference held on the Yankton Sioux Reservation in South Dakota in June 1996. The Star Knowledge Conference and Sun Dance was convoked by Lakota (Sioux) spiritual leader Standing Elk, who was told in a vision that Amerindian spiritual knowledge about the Star Nations, a closely held oral tradition, was to be shared with all peoples, thereby fulfilling ancient prophecies of both Hopi and Lakota tribes. Present at the conference were leaders representing many Plains, Eastern and Southwestern tribes, as well as hundreds of Native and Euro-American listeners, including a number of ufologists.
According to Dr. Boylan, the Native traditions revealed include "their origin from the stars; the influence of Star People visitors on the formation of their cultures, spiritual beliefs and ceremonies; and the imminent return of the Star Nations."
In his opening remarks, Standing Elk stated: "The Lakota/Dakota medicine men are now being instructed to share the spiritual knowledge of the Star Nations because of the contamination of Mother Earth and the pollution of the air." He also revealed some of his own close encounters. As a child, he witnessed UFOs flying down the Missouri River valley. They appeared as "green balls of light four times larger than a school auditorium. Through portholes on the sides of these ships he could see shadows of persons inside." During another contact, he "met a seven-foot-tall man in white clothes who looked like a middle-aged Caucasian. The room was filled with light. It contained computerlike machines which operated on light and 'the law of thought.' "
All My Relations
The most holy prayer of the Lakota Indian tribe is: Mitakuye oyasin. It means "All my relations," a sacred affirmation of our eternal oneness with all creations of the Great Spirit, including our brothers and sisters of the Star Nations of other planets.
Communication and exchange between Native peoples and ETs are revealed in many of their myths and legends, oral traditions passed down for many generations. Some of these are recorded by author Lewis Spence in Myths and Legends of the North American Indians. Via storytelling we see how the Indians view their contact with the Star People, who are represented as loving, beautiful, wise and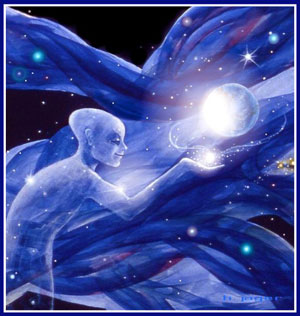 supernatural. The Star People act as instruments for healing and harmony, and give direction and guidance to the Native medicine men and women.
In her book Phoenix Rising, Mary Summer Rain discusses the vision and prophecy of her Indian teacher No-Eyes, a blind Chippewa medicine woman/shaman. No-Eyes talks about increased space vehicle sightings and interactions between aliens and humans that will give physical proof of their existence. She sees this as an important advancement for mankind, bringing about positive changes in consciousness and an awakening to spiritual truths.
No-Eyes revealed, however, that there will be challenging reactions to this new information and awareness, as people will question their religious leaders and beliefs as well as their political leaders for concealing information about UFOs. There definitely will be a mass reevaluation that will bring people together "within a united circle of truth of the spirit. It will sow the seeds of knowledge and the thirst for truth."
In fulfillment of ancient prophecies, Native elders of many tribes now are revealing their most closely held oral traditions of extraterrestrial contact. Let us return to the information gleaned for us by psychologist and popular author Dr. Richard Boylan, who attended the Star Knowledge Conference held on the Yankton Sioux Reservation in South Dakota in June 1996.
Standing Elk, a spiritual leader of the Lakota tribe who convened the council, asserted that "the way of the Stars is in every culture" and that Jesus himself was "a Star Man." He related that Sioux legends say the Star People come from the Pleiades, and also from the Sirius and Orion systems. He spoke of spiritual visitations he'd had with ETs in the sweat lodge.
Other Lakota elders also revealed their knowledge of space visitors. For example, Steve Red Buffalo affirmed that the Sioux people trace their origin to the Star People coming from the Pleiades, or "Seven Sisters" constellation. He reported that the Pleiades "have a connection with the chanupa, the sacred pipe which symbolizes the union of the Earth (stone bowl) with the sky (hollow stem through which smoke is drawn and sent heavenward)."
Lakota elder Harry Charger, reporting that the Star Nations are "concerned about our destruction of the planet," claimed that "50% of what we see as ET appearances are mental projections from the ETs." He relayed the sacred Sioux origin legend of White Buffalo Calf Woman, "a young, beautiful, pale-white luminous woman" who appeared to two Lakota scouts and instructed them about their origin and gave them spiritual teachings and ceremonies to take back to their people. "One scout had lustful thoughts for the woman and sought to approach her erotically, but he perished. The other scout paid respectful attention and brought back her teachings to the people, who were sustained by them." Charger teaches that we each face the same choice between materiality and spirituality: "How will we react to the return of the Star People's presence?"
Another Lakota medicine man, Gary Holy Bull, related his sighting of UFOs over Bear Butte, "a volcanic peak in the Black Hills and the sacred heart of the Sioux Nation." He also spoke of the Star Nation altars: "the sacred ritual-object altars kept by certain designated spiritual leaders as shrines where knowledge of the Star People is gathered, kept and honored." Holy Bull says the Star Nation altars project a blue light to the heavens, which the Star People see as a beacon.
For example, Holy Bull tells of a visitation he received while performing a ceremony. A Star Elder landed nearby, responded to the medicine man's traditional calling-in song, and communicated to him. The ET, who was tall, gray and had large eyes, told Holy Bull that "Mother Earth will clean the ozone."
Other Sioux tribes also honor the Star Nations, our visitors from the Federation of Planets. Dakota Sioux spiritual leader Deer Man said, "The Star Nations are here to help us," because the Earth is out of balance. "We have to help the Earth come back into balance," he added. "Time as you know it is coming to an end, sooner than you think."
Oglala Sioux spiritual advisor Floyd Hand, referring to world religious teachers such as Jesus, Buddha, Mohammed, and White Buffalo Calf Woman, says, "The avatars are Star People." He claims that seven different galaxies are represented on the Earth and that "each Native American tribe has its ET race [its origination counterpart]." He predicts that the Star People "will return. . . . Changes will happen as their time draws near. The first signs are floods, fires and earthquakes," plus a worldwide "great drought." Many will starve, and there will be "loss of cities and many lives." He also predicts that White Buffalo Calf Woman will return to Turtle Island in the U.S.
The Hopi tribe, whose esoteric teachings for decades have recognized that we are in the prophesied end days, prior to our emergence into a new era, also safeguards knowledge of extraterrestrial contact. In his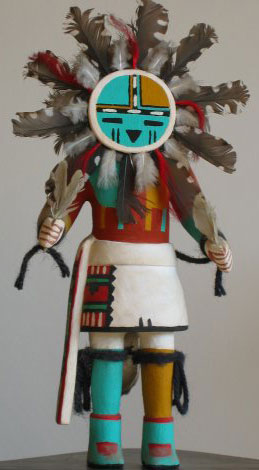 landmark Book of the Hopi, Frank Waters chronicles many stories of the kachinas, who are "spirits from other planets and stars." In fact, according to Hopi understanding of the evolutionary Road of Life, mankind passes through "seven successive worlds of each of the seven successive universes." Upon entering another stage of existence after so-called death, "if a man adheres rigidly to the ritually pure pattern . . . he is released at death from plodding through the remaining three worlds of this universe and goes directly to the next multiworld universe as a kachina." As with the Sioux, the Pleiades star cluster figures prominently in Hopi culture.
Moreover, Hopi chief Dan Katchongva states: "Hopi petroglyphs show flying saucers and travel through space. They show that when the Purification Day comes, those Hopi who survive will travel to other planets. The faithful Hopi know that other planets are inhabited and that their prayers are heard there."
Richard Boylan reports that, at the 1996 Star Knowledge Conference, Roy Little Sun, speaking on behalf of his Hopi Grandfather Titus, Keeper of the Prophecy Tables, shared his understanding of the Star Nations' influence on Earth. He informed the audience of a solar system planetary alignment that was moving into place, with the outer planets lining up with the planets near the Earth. "The power of the heavens steps down to the Earth," he said. Correlating the timing of astronomical influences with the new openness to share sacred Star Nation traditions, he reported that the new moon, which coincided with the conclusion of the conference, was "an opening of a gate of Star Knowledge."
Little Sun also likened the conference unto a medicine wheel: the participants, radiating out from that center, would spread the information to others, "taking the teachings of the Star People and applying them to human interactions." This statement pinpoints our responsibility as light workers not only to honor the spiritual teachings of the Federation of Planets, which have been propagated through many sources, but also and most specifically to apply them in our daily life on Earth. For our brothers and sisters of the Star Nations have come only to help us awaken to our spiritual Selves, to understand the nature of our times, to unify with one another and with them, and to prepare ourselves for our solar system's entrance into the Golden Age of Aquarius.
The Iroquois tribes, located in the Midwest and the Northeast of the United States, also keep sacred their traditions of otherworld contact with the Star Nations. Affirming our unity with all life forms of other planets, Elder Paula Underwood states emphatically: "All who walk on two legs are our brothers and sisters. We come from the unity of the universe."
From the channelings of the space visitors through Nada-Yolanda, it often has been stated that it is this same heartfelt sense of oneness, this fervent desire to welcome visitors from other planets as our cosmic brothers and sisters, that creates the proper receptivity for space contact. So, with the beacon of love, a true light of friendship, we attract the space visitors to Earth. (See Visitors From Other Planets.)
Paula Underwood also has revealed an Iroquois oral tradition of a mental telepathic exchange between ETs and Native elders. In this encounter, the representatives of the Star Nations stated: "We are coming."
The elders replied: "Don't come; we are not prepared."
The star visitors then replied: "Prepare yourselves."
Let us give thanks to all Amerindians, and to indigenous peoples everywhere, for sharing their knowledge of the Star Nations. With love in our hearts, with peace and brotherhood in our thoughts, we open our arms wide to the heavens and invoke the calling-in song: "Come, brothers and sisters of the stars, join us in our sacred circle. Mitakuye oyasin! All my relations! We are one."
Universal Rainbow Tribe
We are one with all creations of the Great Spirit, Wakan-Tanka, who is One. As sons and daughters of the Light, universal Indians all, we form what the Chippewa Indian teacher Sun Bear has termed the Rainbow Tribe.
Just as the rainbow contains multiple colors representing all races on Earth, it also arcs through the sky, linking heaven with Earth. So, those cosmic visitors from other planets, whom the Indians call the Star People, also are joined with us in the universal Rainbow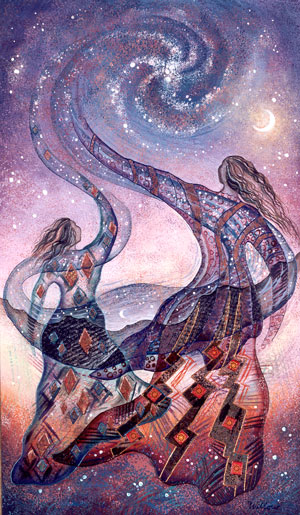 Tribe. "All my relations."
In fulfillment of ancient prophecies, sacred oral traditions are now being revealed by Indian elders throughout the Americas. One of the medicine men and women who spoke at the Star Knowledge Conference, hosted by Lakota elder Standing Elk in 1996, was Choctaw Indian Preston Scott, known as Panther. He shared a vision he had had of three Grandfathers. "He was told that he was going to go north to the Lakota land, where they would give him a foundation of spiritual knowledge to take back to his people, because the Choctaw had lost their spiritual ways." He reported that he now sees "spirituality rising among the Choctaw."
Panther was responding to the universal impulse from the Great Spirit that is now bringing together all tribes, in order to share the traditions of ET contact. We light workers recognize that this new openness of spiritual education is part of the divine plan to prepare the masses for more overt exchange with the Star Nations.
To bless these efforts of the Native elders, six spirits visited Panther during a sweat lodge ceremony that he held on one night of the conference. At the same time, others who were outside the lodge reported that a UFO traveled across the heavens. "At first it looked like a satellite," they said, "but then it stopped and gyrated in geometric patterns of light."
Also responding to the divine mass-educational plan at the conference was the chief spiritual elder of the Maori people of New Zealand, Mac Wiremu Ruka, who had accepted Standing Elk's invitation to share the spiritual truths and ancient prophecies of his people. Relating accounts of the star origin of the Maori, Elder Ruka revealed that "a special star alignment in 1988 told the old Maori Grandmothers that the time had arrived to make public the Old Stories which had been kept hidden for centuries."
Another shaman, Rod Shenandoah, of the Blackfoot-Oneida tribe, also spoke of contacts with the Star People that he and many others had experienced. His people deem these contacts to be sacred events. When they occur, he said, "Indians consider themselves privileged."
Standing Elk, in closing the conference, reminded the listeners that "the Star People are here to teach, to foster spiritual growth and to prepare us for dealing with the challenging Earth changes coming up in the next several years. The Star People are included as honored Elders in the Native American key reverential saying, Mitakuye oyasin! (All my relations!)."
As we have seen in all of these sacred traditions of Native contact with ETs, our exchange with dwellers of different dimensions and worlds is based on a solid spiritual foundation of peace, love, cooperation and coordination. These are the true values of brotherhood proclaimed throughout the Federation of Planets of our solar system — and now to be anchored on Earth through all of us as universal Indians, true sons and daughters of the Great Spirit, Wakan-Tanka.
It is through the divine vibration of this Christ matrix that we make contact with the Star Nations. The metaphysical principle is "like attracts like." What we project out from our consciousness and via our actions, draws unto us those contacts of the same vibrational wavelength. So, as we establish peace, love, cooperation and coordination within ourselves and with one another, we form a connective link on Earth with all the Star People. As symbolized in the rainbow that links heaven and Earth, we are one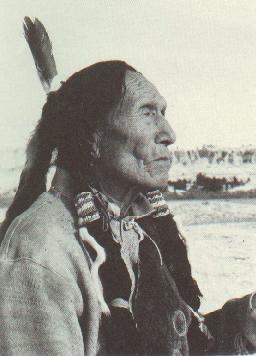 multicolored ray of light and hope for all humanity. We are the Rainbow Tribe of Rainbow Warriors. Joined as one, Star People with Earthlings, we help awaken all people to their heritage as cosmic citizens of the unified confederation of Star Nations.
In his book The Sacred Pipe, Oglala Sioux holy man Black Elk (photo at left) speaks of the universal peace and cooperation that are found within as well as without. His words offer sage advice as we honor our Star Elders and invite them into the sacred lodges of our hearts.
Black Elk writes: "The first peace, which is the most important, is that which comes within the souls of men when they realize their relationship, their oneness, with the universe and all its Powers, and when they realize that at the center of the universe dwells Wakan-Tanka, and that this center is really everywhere, it is within each of us. This is the real Peace, and the others are but reflections of this. The second peace is that which is made between two individuals, and the third is that which is made between two nations. But above all you should understand that there can never be peace between nations until there is first known that true peace which, as I have often said, is within the souls of men."
With peace in our own hearts, we radiate love to all sons and daughters of light throughout the cosmos. In sacred friendship with our brothers and sisters of the Star Nations, we welcome all our relations to Earth. Mitakuye oyasin!

____________________
* Richard J. Boylan, Ph.D., is a behavioral scientist, anthropologist, university associate professor (emeritus), certified clinical hypnotherapist, consultant, and researcher. Since 1989 Dr. Boylan has conducted research into extraterrestrial-human encounters, and is the author of several books, including Extraterrestrial Contact and Human Responses, Close Extraterrestrial Encounters, and Labored Journey to the Stars. He is president and founding director of the Academy of Clinical Close Encounter Therapists, a nonprofit educational and research organization.
Note: For more information on Native American traditions of contact with the Star Nations, see Star Ancestors: Indian Wisdomkeepers Share the Teachings of the Extraterrestrials, by Nancy Red Star, published by Destiny Books, a division of Inner Traditions International.

This article is a revision and an expansion of I Am Network of Light tapes #687 and #688, broadcast by Phillel in 1998.
Photos: (1) Leonid Fireball, 1966, NASA (James W. Young); (2) Redeagle, circa 1972, Mark-Age Archives; (3) Creator Square by Hartmut Jager, copyright by H. Jager (used with permission); (4) Tawa (Sun) Kachina; (5) Spiral Dance by Willow Arlenea; (6) Black Elk, photographed by Joseph Epes Brown.