In our meditation projections, let us continue our work to decrystallize and to transmute what Sananda has termed the "criminally-minded" consciousness, that is to say, all those negative aspects of our mortal mind — thoughts, words and deeds — that are contrary to spiritual truth, law and righteousness. It is one of our primary tasks as light workers during the elevated crises of the current War of Armageddon on Earth.
In this battle of light versus darkness, we are separating the wheat from the chaff, the positive attributes from the negative or sinful ways of our mortal nature. The so-called "wheat" is that which is spiritually life-enhancing: those thoughts, words and deeds of our Christ, I Am Self that sustain our healthy, evolutionary growth. The "chaff" is the debris, the detritus, the lifeless, useless husks and seed coverings we thresh out and throw into the purifying fires of transmutation.
This separation or elimination, of course, begins within our own consciousness; and, once we have achieved a satisfactory stage, we become effective light workers to help harvest the entire mass consciousness for the Second Coming and the anchoring of light bodies on Earth. For this have we come into physical incarnation.
In Part One of this article, I shared excerpts from hierarchal communications through Nada-Yolanda to give us a keynote for our projections and pronouncements for the light, in the light and with the light. In Part Two, I would like to highlight a powerful visualization technique that my master teacher, St. Germain, Chohan of the Sixth Ray of Transmutation, revealed to me in a Hierarchal Board meditation on January 5, 1994.

UNIVERSAL  MAGNETIC  ESSENCE

This visualization, which I dub the "Universal Magnetic Essence," stems from my work with the Motah Council of the Federation of Planets. Now, to give a little background, on the afternoon prior to that Hierarchal Board meditation, Nada-Yolanda had intuned that there would be a co-channeling experiment that evening, with Sananda working through her [see Part One] and with St. Germain simultaneously instructing me. At the time, we were in two separate locations: she was in Tennessee; I was in Florida. In her diary, Yolanda explained the following: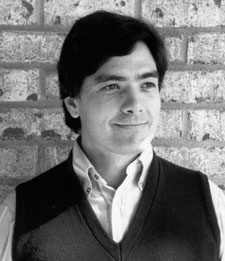 "Through Phillel there will be guidance as to how the ascended masters and advanced souls in this solar system have succeeded in dematerializing the criminally-minded aspect in mankind in other spheres of our solar system. That is one of the primary reasons why Phillel has been recruited as a channel at this point in the hierarchal program of Earth. He has experience, expertise and knowledge about systems used in other parts of this solar system to bring about Christ-conscious awareness on other planets.
"The key, always, is to bring up the level of Christ awareness in those souls who are going against the grain of cosmic law. Enlightenment combats darkness, ambivalence and deliberate contrariness to the flow of evolutionary grace."
Yolanda's intunement set the stage for the co-channeling session that evening. Neither she nor I had any idea what would transpire. Here then are the details from my diary:
"Entering Hierarchal Board meditation, I was drawn slowly into the force field of Hannibal's mother ship #1235. Hieronic lines of force gradually were manipulated to bring my bodies into alignment. Finally, as I was synchronized, my head became a brilliant sphere of light, like unto a sun, and I was raised into Hannibal's energy field.
"Once aboard the craft and in solid communion with my master teacher, I heard a single word uttered: 'Magnetics!' That is the key on which to focus, I was told. My inner vision opened, and I was shown a technique that select bands of ascended masters use in this solar system to help decrystallize encrusted souls and draw them into the light.
"The masters, fully united with their own Christ consciousness and braided in their light bodies one unto another, tap into a magnificent and powerful stream or radiation of magnetic energy that constantly emanates from the core of our galaxy [see artist's conception, below]. This great stream of magnetism enters our system by way of the solar logos. Thus, to tap into it, the masters must link directly in Christ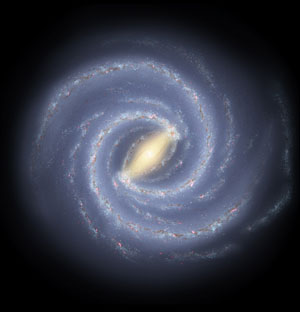 consciousness with our own sun, and through the power of that force field make the solid connection. The wave of magnetism, therefore, goes from galaxy to solar logos to Christ Self of the ascended master. Because at least several masters are braided fully in their light bodies to make this magnetic linkup, the power is indeed awesome. For magnetism of this vibrational level refers to God consciousness, that universal magnetic essence by which we each are bonded in total beingness with our Father-Mother Creator.
"I was then shown how the energy is channeled for decrystallization, transmutation and upliftment. First, I was made to understand that no matter how encrusted with negativity any soul in the universe may be, there is still visible at least a pinpoint of light within him or her. In vision, I was shown an example of an individual whose form appeared almost entirely dark, except for a tiny pinpoint of golden light that shone dimly from his third eye.
"To uplift the soul, the masters, having tapped as one band into the galaxy's magnetic stream, simultaneously focus that powerful radiation of God consciousness directly onto that pinpoint of golden light. The intensity of their united focus may be likened unto a laser. Slowly, through the power of the magnetism, the inner spiritual essence of the individual, his light body, is drawn forth. Like attracts like. The magnetic God consciousness of the masters exerts a pull on the inner Self of the encrusted soul.
"The dark fabric of the person's thought field begins to give way. If we liken the individual's aura unto a one-piece jumpsuit, then it is as if that auric covering is finally dissolved or unzipped; and it limply falls to the ground. Out steps the bright, liquid-gold form of the person's light body. All the while, the masters are focusing their laserlike magnetism, drawing out the individual's light body completely, holding it steadily in their magnetic matrix, ensuring its full emergence into their protective, loving, purified energy field. Once the emergence is secured, the masters braid the individual's light body with their own. The light-body braiding completes the treatment. The once-encrusted soul, now enlightened, is solidly bonded with the galactic stream of holy God consciousness.
"After this vision ended, I asked to be used in a working experiment, in order to anchor this understanding indelibly into my consciousness. Because I had been under hieronic amplification during this time, and was braided fully with Hannibal and his team, I myself had tapped into the magnetic stream flowing from galaxy to solar logos to my Christ mind focus. So, tuning in to this radiation, I let it flow through me and focused it on each one of the staff, including Yolanda . . . in Tennessee. . . . I beamed the magnetism directly into each one's third eye. In one graceful movement, our golden light bodies lifted up and out through our crown chakras and bonded, appearing as one intertwined force field in a circle of light above us.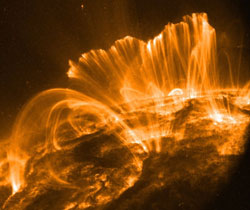 "Next, a shifting of frequency occurred in my force field, producing another synchronization within my four lower bodies. Gradually, the hieronic beam was tuned further. Magnetism and electricity flowed through me. My head gently tilted back, and my mouth opened. Into my consciousness and form streamed a most glorious torrent of compacted magnetic light! I touched the galactic river of God consciousness and willingly accepted it into my whole being. After a few precious moments of immersion, my head slowly tilted forward. With my mouth still open, I sang a silent and powerful Om to anchor the magnetic light into all beings on Earth, into the very logos itself.
"I had experienced but briefly the resplendent power of the magnetic energy field. Emanating from the galaxy's core, it constantly energizes all sun systems, rejuvenating them, nurturing them, drawing them ever into its God-conscious matrix of light. I could incorporate only so much of the vibrational frequency into my conscious being and physical form. Thus, as I gave great thanks to my teachers for reawakening me to this knowledge, the power slowly ebbed and I came out of meditation."
Each one of us has the inherent ability to tap into and to channel the universal magnetic essence that sustains our divine being as a child of God. In our unified network, linked with one another and with our master teachers on higher planes, this power, this stream of light is magnified many times over. Truly, there is no one and nothing of this world that can withstand the transforming power of the light!
So, in our meditations, let us use this cosmic technique to transform ourselves and one another. With the light, in the light, for the light we decrystallize the criminally-minded consciousness of Earth and its astral planes. With the light, we bring a new heaven on a new Earth. So be it.
Adapted from I Am Network of Light tape #925B, for the week of 11/4/07.

Photos: (1) Phillel, 1990, Mark-Age Archives. (2) Milky Way, artist's conception, NASA/JPL-Caltech/R. Hurt (SSC-Caltech). (3) Coronal Rain, Solar Storm, NASA.