Visualization by Phillel

Welcome visitors from other planets. In your meditations, use the following decrees and visualizations to translate the frequency of your four lower bodies, to bring them into synchronization with the fourth dimensional, light body of your I Am Self. This will help stabilize your vibration for communion with space beings of other vibrational frequencies.

MENTAL: We are one with the race of mankind throughout the universe. We are one brotherhood under one God under one Federation of Planets in this solar system. Our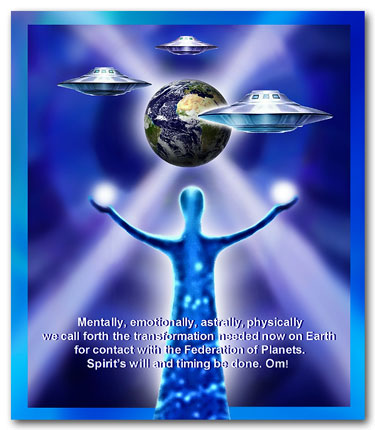 mental body is now raised to conceive the pure thoughts and images of our Christ mind, which is one with Divine Mind. These thoughts are of truth, equality, brotherhood, and communion with the one Life Force within all life in our solar system. We visualize that free and open exchange with the Federation is now fact.

EMOTIONAL: Our hearts blossom to the divine love being gently poured upon us by our fellow citizens of the cosmos. Through love, all fear is dissolved. In love, we are attuned with the cosmic symphony of life in God's creation. With love, we extend our hand in cosmic friendship to welcome our visitors from other planes and planets.

ASTRAL: Psychically, we awaken to our soul memories of sojourns on other planets at other times. We remember, through the stirrings of our soul, the harmony and the fluid energy exchange we have had with all life in the past, even on Earth. We call forth now from the Akasha the full potential of interplanetary exchange. From the great reservoir of our soul experience, we materialize again on Earth our desire for space contact.

PHYSICAL: We establish the readiness of our physical body and dimension for contact with extraterrestrials. We see ourselves solidly grounded and balanced. We see our light body enfolding itself around the pivotal point of our physical body, sustaining it, transmuting it, translating it step-by-step into our higher light form. We are ready to hold the contact force of physically materialized spacecraft and beings.

Mentally, emotionally, astrally, physically we call forth the transformation needed now on Earth for contact with the Federation of Planets. Spirit's will and timing be done. Om!

Based on concepts in Visitors From Other Planets, published by Mark-Age. See also podcast of public lecture by Nada-Yolanda, "Welcome Visitors From Other Planets."

Photo: Welcome Visitors © by Hartmut Jager.