IN OUR MEDITATION PROJECTIONS, it is time once again to focus on close encounters of the spiritual kind; that is, contact with extraterrestrials through dreams, meditations and other psychic experiences. As we have covered on past broadcasts, such encounters are part of the educational program to condition mass consciousness to contact with visitors from other planets.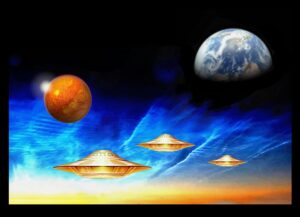 In the past year or so, as we have prepared ourselves and mankind of Earth for greater, more-overt contacts with space visitors, here at Mark-Age we have received a veritable flood of reports from light workers who have related vivid new dream and meditation encounters. In our view, these experiences are now being accelerated through light workers in order to fine-tune the force field of Earth for mass demonstrations to come.
In effect, we are acting as grounding rods, anchoring points, who, in advance of the landings, are being used as channels through which the thought temperature of the planet is being raised. Each dream or meditation encounter we have — indeed, each physical encounter we may have — actually helps anchor a higher vibratory frequency in our consciousness, which we then transfer to all life on Earth. Thus, in incremental steps we are helping to elevate mass consciousness to a vibratory level suitable to sustain the higher frequencies inherent in space contacts and landings.
Revelations from the spiritual Hierarchy through Nada-Yolanda and myself indicate that in the coming years extraterrestrials will be able to give proof of their existence to man of Earth. The prophecies all point to a steady stepping-down of their frequency, as we raise ours to meet them halfway, so that more-overt demonstrations can occur.
The point is, in recent years we have seen much progress to bring about fulfillment of Operation Landing Light. Now we are in the overlapping period wherein the harvest can be reaped.
The following three dreams all show the linking that is being solidified between Mark-Age, as the externalization of the Hierarchal Board on Earth, and those visitors who may be involved in upcoming waves or landing attempts. As the avant-garde, we are being notified of our roles and responsibilities in advance of the landings.
A Spaceship Lands
The first close encounter of the spiritual kind comes from our longtime member Cathie Bird, who recorded this dream on April 26, 1988: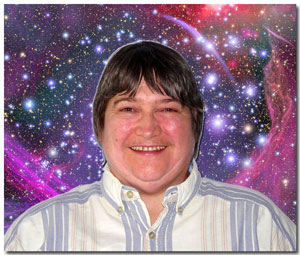 "I was in a city area with other light workers. I noticed that citizens on the street were becoming very excited about something. Word or news of some event was being spread from person to person with great speed. The reaction was always joyous. As I watched I thought: My God, I think the spaceships have landed!
"Then I was in a station wagon. I don't recall who was driving, but Phillel and one other light worker were sleeping in the rear section. I looked out into the night sky and began seeing sparks, like fireworks, of many colors. As I watched them, various forms of spacecraft began to be outlined, like energy line drawings first, then more clearly solid.
"I yelled at Phillel to wake up and look at the craft. I told the driver to go to a spot where I knew the craft would land. We were in Boulder, Colorado, and the landing area was the open space around the National Center for Atmospheric Research. [This location possibly symbolizes that the purpose of the dream encounter was to research the thought atmosphere, both in Cathie and in mass consciousness.]
"I was ecstatic," Cathie continued. "I kept thinking: This is it! This is the real thing! (Meaning landing and contact with man of Earth.)
"When we arrived there, at least one of the craft had landed. Phillel and I got out to investigate. As we walked into a clearing, I saw a person who I knew was from one of the craft. He was not very tall, but was not noticeably short. I think he was wearing a space suit, a kind of dark coverall. His facial features were less distinct than a human's. He appeared to be looking for someone.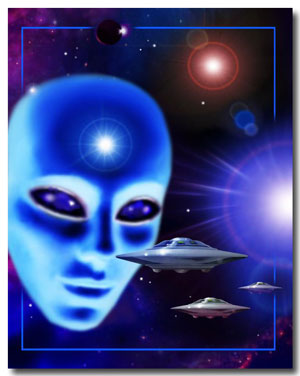 "When he saw us he turned toward us and approached. Phillel and I raised both hands in greeting. He returned the gesture. He asked, 'Are you from Mark-Age?' We said yes. He handed me a thick book. It seemed to contain, among other things, information on who they were, a kind of identification code and set of orders that would verify for us that they were part of the hierarchal plan.
"The problem was that the text contained what looked like cartoon drawings, some of which were familiar to me. I knew in the dream this was not the real message. At another level I seemed to understand the text, and I was overcome emotionally as I read certain information. In fact, I cried with joy during several parts of this dream, feeling just as I do in waking life when I feel I'm in contact with higher consciousness.
"After I had looked at the book, the space brother gave me a photograph. He said it was a picture of the space sister with whom I had made contact in two previous meditations. She was with a man and a child who seemed to be her husband and son or daughter, and was very beautiful. All three looked very human. As I looked at the photo, I felt it was just a symbolic representation of the person. I did not recognize the photo, and wondered if it might be a picture of her as I might have known her in a past incarnation on Earth or another plane. The space brother indicated she was not in his wave of craft or landing force, but would come with a second wave, and that I could meet her personally then. She wanted me to see the picture so that I would recognize her.
"As this was going on, I was aware that other craft had landed and were making contact with other ordinary citizens. After our conversation, all of the space beings returned to their craft and departed. As they went, the lights throughout the city — house lights, street lights, yard lights — all changed to different colors, like Christmas lights. I remarked to Phillel that I thought the energy emanations from the craft were causing this phenomenon.
"I then woke up and was quite surprised to realize this experience had not physically happened."
Close Encounter at Headquarters
The next dream comes from Nada-Yolanda, who recorded this on June 13, 1988:
"I was in a field on the I Am Nation property with a male staff member. Several scout craft appeared. At least two landed, one close to us and one a short distance away. The one close to us landed on a tilt. The staff member wanted to approach but I delayed him, reminding him that because of the magnetic force field, it might not be safe.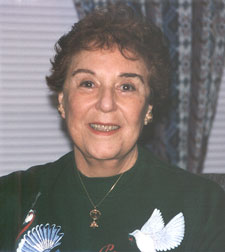 "Eventually, a woman came out of the craft. She was medium built, with red hair, wearing a short skirt and what appeared to be soft boots to her knees. She explained to us that she was checking some information and asked to see some written material released by Mark-Age. I directed her to the building that holds our archives.
"Later, when she returned, she seemed satisfied with what she had researched but would give no information about further contacts or landings. This was a preliminary research trip. When I asked her if I could relay the information to other staff members, she approved. I touched her arm and discovered that the feeling of it was exactly that of Earthlings in substance and density. I phoned the office to report this to them, particularly to speak to Phillel about it."
Note the similarity in symbology, in certain respects, between Yolanda's and Cathie's dreams. Both involve space visitors who land specifically to contact Mark-Age. Both involve contacts where written information is sought or received, for purposes of research. Both point toward future landing waves or contacts. Both include female visitors. Both are vivid in their sense of physical reality.
A Spiritual Harvest
Now, take note of this next dream, which is from a fellow Mark-Ager, whom I'll identify as Jason. When he had it, on June 20, 1988, he knew nothing of Yolanda's dream of exactly one week earlier.
Jason writes: "A UFO visitor came down to show himself to me. He stayed with me and ate the food I was accustomed to. I then brought him to Mark-Age to meet Yolanda. Phillel was sitting outside on a rooftop porch. He greeted me and the UFO being with a warm, loving smile as we entered the house.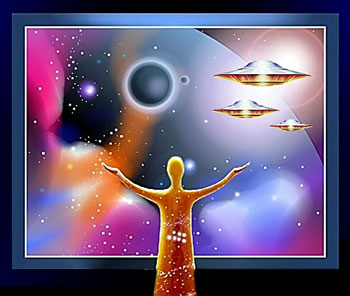 "It was now suppertime. The visitor wanted to cook the meal. His meal consisted of two large brown pod-like seeds. He asked Yolanda to breathe into the tops of the seeds, which had star-shaped openings on them.
"He held the seeds in his hands and by the power of his thoughts mentally connected with the energy within. He called forth the seeds' true pattern to awaken fully.
"Yolanda then charged the seeds with the power of her breath. Her breath was a visible white light. Instantly the seeds manifested their full pattern, which filled up five tables of food!"
Jason's dream is rich in symbolism. Food, of course, represents spiritual nourishment. Space contacts are mutual exchanges. We have something to give to them, and they definitely have something to share with us; it is an equal give-and-take.
Within the two seeds is the balanced pattern for exchange to be manifested between man of Earth and the space visitors. This is a veritable feast that fills up five tables. The number five represents spiritual harvest.
To awaken these seeds requires dual action. The space visitor, representing the superconscious, calls forth the spiritual pattern to be awakened fully in mankind. Yolanda, representing the subconscious, next breathes life into the seed ideas, so that the pattern can be manifested physically. The action of the breath symbolizes enacting the will and power of God. As the subconscious aspect of the trinity, Nada-Yolanda serves as the Hierarchy's manifesting agent for helping bring forth the spiritual harvest on Earth in these Latter Days.
As indicated in all these dreams, the spiritual harvest is at hand. Space contact will manifest according to Spirit's will and timing. In our meditations, let us help reap this abundant harvest. Let's add our breath of light to this manifestation. Through our action of love, we set the stage for coming demonstrations.
Revised from Mark-Age Meditations audio broadcast #422B, released in July 1988.
---
The following are a few more representative dreams of contact with space visitors, as recorded in my spiritual diary.
Ayncar the Martian
September 10, 1985. DREAM. In a dream, I projected into my astral body and went flying through the night sky in search of space contact. Finally, I landed back on the ground. . . . I found a large book, which I thought was some kind of manual or instruction book. I opened it, but could not make out what was written. . . .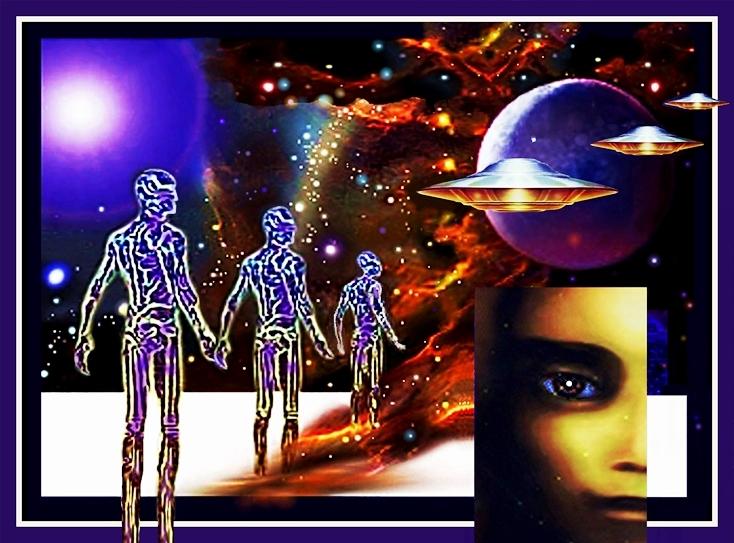 Immediately after looking at the book, I sensed that spacecraft would appear imminently, so I walked into a clearing to look up into the sky and to await their arrival. Suddenly, the sky was filled with dozens of craft, which had instantly materialized. One ship quickly swooped down and landed in front of me, about twenty feet away. A spaceman stepped out of the craft. He was younger looking, shorter, and of smaller build than I.
I walked up to him. When I was only a few feet away, simultaneously we raised both our hands, palms outward, in silent universal greeting to one another. I moved closer to him, with hands still raised, and we gently touched both our palms. Upon physical contact, a smooth yet powerful flow of energy instantly pervaded both our beings, uniting us in complete cosmic oneness.
We said nothing to one another, yet it was indicated that I should come with him. So, I stepped into his craft. . . . One of his "mechanics" also joined us, . . . but he was not introduced. The first spaceman, who was the pilot, . . . started to [fly] us . . . to a rendezvous of some sort. Then, for the first time he spoke! He introduced himself, and even spelled his name for me: Ayncar.
When he spelled his name, I immediately jolted awake in bed. It was 5 a.m. My first thought was: is he Martian?
Two Extraterrestrials Materialize
September 14, 1994. DREAM. I had awakened at 3:30 a.m. and finally began to fall asleep again around 5 a.m. In full conscious awareness, without any break in consciousness, I rose into my astral body, levitating above the physical form. For several minutes I hovered, but then redescended to the surface of the bed. Suddenly a space visitor appeared at the side of my bed. He was about four feet tall, had short-cropped bright-golden hair, small round eyes and a petite nose, and chalky white skin.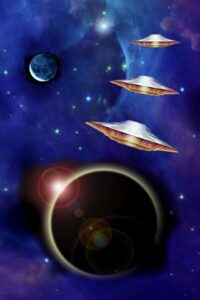 Because the experience was so physically vivid, albeit I was aware I was in my astral body, my first thought was: I can understand why so many persons, though in altered consciousness, would swear that such a contact is really physical. Many of them have no experience with out-of-body projections, and naturally would be convinced in their own minds that the contacts are physical, for the sensations are real and tangible. I realized, too, that someone who would be inexperienced with extraterrestrial exchange and who would be timorous of the unknown might very well experience great fear and hesitancy upon direct contact. Proper spiritual awareness and love are needed to turn around the knee-jerk reactions of negative thinking on Earth.
My next thought was to surround myself with light, intune with my spirit and that of the space brother, and remain receptive to the exchange. The visitor's purpose, as it turned out, simply was to check up on me. He made his quick observation, touched me a couple of times, and then left, without initiating conversation.
Still in my astral body, I got out of bed. Within moments, another space visitor materialized. He was entirely different than the first one. He was about six-foot-two, was well built, had dark brown hair coiffed in the Prince Valiant style, had closely-spaced brown eyes and tanned skin, and generally resembled a human. He exuded a quiet composure that definitely was otherworldly, but was obviously making friendly contact.
I spoke with him, attempting to synchronize our vibrational exchange. He did not answer me vocally but telepathically. I heard his thoughts clairaudiently. Taking my cue from him, I raised the palm of my left hand and pressed it against his right palm. A vibration passed smoothly between us, which further aligned our force fields. I asked him his name. His telepathic answer, if I received it correctly, was: Andor.
Next, I placed my right hand on his chest, near where a human heart would be. It was my way of lovingly connecting with his soul essence, via the heart chakra. Our energies became further synchronized. Then I asked him what planet he was from: Venus? Mars? Jupiter? Before he could answer me, the materialization began to recede and I woke up.
Nada's Report on Space Visitors
April 6, 2022. DREAM. At Mark-Age headquarters in Florida, I went into the Routing Room and checked the bulletin board. It was full of memos that Nada-Yolanda had posted for the staff to read. One memo, in particular, caught my eye. It was a comprehensive report Yolanda had written about visitors from other planets, wherein she mapped out plans and projects going forward.
Displayed prominently on the first page of the report was a large photograph that had been taken while Yolanda had been aboard an etheric spacecraft, in interdimensional conclave with a group of eight or more extraterrestrials or ascended masters.
Note: Later that day, I heard on the news that on April 5th the U.S. Defense Intelligence Agency, in response to a Freedom of Information Act (FOIA) request, had released from its archives a report of more than 15,000 pages that detailed a number of unexplained cases of the alleged physiological or medical effects of close encounters with UFOs and space visitors. The DIA had conducted the research study from 2007 to 2012.
Photos: (1) Sister Worlds © by Hartmut Jager. (2) Cathie Bird, Mark-Age Archives. (3) Outer Space Mind Meld © by Hartmut Jager. (4) Nada-Yolanda, 1993, Mark-Age Archives. (5) Oneness with the Universe © by Hartmut Jager. (6) ET Frontiers © by Hartmut Jager. (7) Cosmic Alignment © by Hartmut Jager.