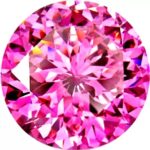 March 30, 2022. HIERARCHAL BOARD MEDITATION. Rededicating myself to Sananda and his trinity function with Nada and El Morya for the Second Coming program, I received the vision of a brilliant, multifaceted pink diamond, about ten inches in diameter. I firmly embedded this luminous etheric gemstone in my heart chakra and began to radiate Third Ray love and self-sacrifice to all light workers.
From our I Am Nation headquarters, Dr. Robert and I both hold the crystal purity of this selfless devotion as an example, a matrix of Christ thought from which all may draw strength in their own spiritual demonstrations, in service to Sananda as Prince of planet Earth.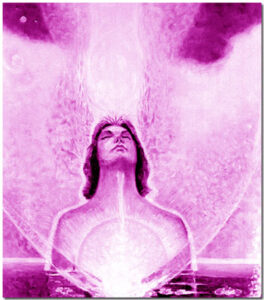 For the rest of the meditation, serving as a beacon of light, I broadcast the pink flame of the Third Ray to all who would be receptive to its regenerating power of love in this Easter/spring cycle. In the final few minutes, I expanded the visualization and surrounded the entire Earth in a beautiful sphere of pink light.
"Love one another as I have loved you." — John 15:12
Supplementary Reading: Have a Pink Heart by Dr. Robert; Healing Haven under Hilarion blog.
Photos: (1) Pink Diamond. (2) Channeling, painting courtesy of Arthur Douët (colorized); Mark-Age Archives.